Wilmington on DVDs. Pick of the Week: Classic/Box Set. The Complete Jean Vigo
(Two Discs) (Four Stars)
France: Jean Vigo, 1930-34 (Criterion Collection)
I. Jean Vigo, The Rebel
 He died at 29: Jean Vigo, in many ways, the spirit of youth, of art, of cinematic rebellion, of France between the wars. He was the sacred enfant terrible and the laughing rebel and grand martyr of French cinema, a first citizen of the world cinema (he belongs to us all), even though he was a film director who directed only four films: two shorts, a featurette, and one feature, all of them to some degree commercial and critical failures, mutilated by producers, mauled by critics, pulled from the screens by censors, and hacked to bits by distributors.
 His work was trashed, then forgotten (but not by everybody), then resurrected again in World War II, a decade after his death, then restored and revived and re-distributed and re-seen all over the world, in all of the decades since. He still lives, his films still live — and if you see them (as you should) in this essential anthology from Criterion, they will make you feel more alive as you watch them. These films will flood your heart with love and sensuality and your eyes with beauty and mad comedy, and your mind with poetry and dreams, and, if you let them, they will set your soul on fire. They will make you feel young again. I guarantee it.
 He made movies about sunny resorts and the bourgeoisie at play (1930's A propos de Nice), about an Olympic champion swimmer in (and under) the water (1931's Taris), about schoolboys in revolt in a school run by monsters (1933's Zero de Conduite) and about two lovers and a wild old man on a barge on the river (1934's L'Atalante). These works are both records of the real — they're about "real" French culture, cities and countryside, love and sex, wealth and poverty, about French life as it was lived in the 1930s — and documents of the surreal, of that mysterious land that lies behind the darkness in the back of our dreams.
 The producers and distributors who cut his films, the critics who attacked them, the censors who shelved and locked them away — they are all dead. Good riddance. Their contemporary counterparts probably wouldn't bother themselves with a few French films almost eight decades old. And if they did, no one who matters would listen to them. Only Jean Vigo's admirers are still on the field. Too late for him, of course, but not too late for these films of his, these cinematic poems that are still so burningly, madly, hilariously, lovingly, rebelliously, eternally alive.
A propos de Nice.
 Taris.
 Zero de Conduite.
 L'Atalante.
 There are only four Jean Vigo films, but they open up a world for us. If we let them.
II. The Son of Miguel Almereyda
 He was the son of a revolutionary who died in a prison (probably murdered), a Catalan named Eugene Bonaventure Vigo, who took the name Miguel Almereyda, and who was usually on the run from fascists. In Jean's boyhood, he discovered movies, and he responded to them all of his short life, with that same transcendent wonder with which children react to the things in the world they love best: to sunlight on the grass, to their mother's eyes, to a blue lake lapping the shore, to the sight of horses and the sound of hooves, to books, to chocolates, to music — or to Charlie Chaplin kicking someone in the ass in the silent blacks and whites of Easy Street or The Immigrant.
 Jean went to boarding school, a bad time he immortalized in Zero de Conduite, whose title refers to the worst score possible for schoolboy deportment, something Jean may have gotten himself. He contacted tuberculosis in his early 20s, first went to Nice because the sun was better for his lungs, and met his wife Elizabeth "Lydou" Lozinska in a sanatorium. (Her father financed A propos de Nice.) He met also, earlier, his great collaborator, the cinematographer Boris Kaufman, a photographic genius and poet of light whose brothers were fellow cineastes Mikhail and Denis (a.k.a. Dziga-Vertov), and who shot Nice, Zero and L'Atalante — and many films later in Hollywood for Elia Kazan and Sidney Lumet, including On the Waterfront and 12 Angry Men. Vigo's financier for his masterpieces Zero de Conduite and L'Atalante was the independent producer Jacques-Louis Nounez, who agreed to make Zero de Conduite and then, when it failed and was censored, proposed the project (a novel by Jean Guinee) for L'Atalante.
III. Zero de Conduite
 Zero de Conduite, a 44 minutes featurette that still can fill us with shock and wonderment , was based on Vigo's memories of boarding school days, climaxing with reveries of the schoolboy revolution Vigo didn't mount with his friends, but could dream of. The film begins on a dark train carrying returning pupils Caussat (Louis Lefebvre) and Bruel (Coco Goldtsein/Constantin Kelber) and teacher Huguet (Jean Daste) — and in a dark station that both irresistibly suggest the genre to come: film noir. The school, when they get there, is a nightmare of absurdities, tangled up with lyrical flights of freedom that grow in magnitude, until they finally reach an incredible, fantastic culmination in the scene of the pillow flight, erupting in a mad shimmering drizzle of pillow-feathers and a nighttime arena of leaping boys shot by Kaufman in slow motion. As in the gunfights in a Sam Peckinpah Western, the slow-mo confers eerie balletic grace on a scene of violence.
 The cast is an amalgam of poetic or madcap youth and ridiculous age. The evil little headmaster is performed by Delphin; the bad or dumb teachers or supervisors, Perrain (a.k.a. Old Tightass) and Beanpole by Robert Le Flon and Blanchar. Jean Daste plays the good teacher Huguet, who looks (and walks and acts) like Chaplin. It's probable that the rudely sarcastic treatment given these bizarre academics is at least partly responsible for the film's long banning in France (1933-45). Certainly no one in their right mind could have believed Zero de Conduite was intended as an instigation to an actual schoolboy revolt, fought with real books and weaponry. Instead, it helped ignite an artistic and cinematic revolt that continues to this day.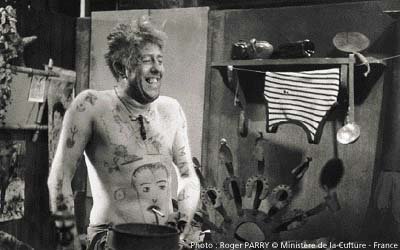 IV. L'Atalante
 L'Atalante, one of the most hypnotically beautiful and earthily poetic of all French films, and of all black-and-white films, is set mostly on a barge on the River Seine, on the gorgeously scenic route between the village Conflans-Sainte-Honorine and Paris. First, at the beginning, we see a handsome working class young couple, Jean and Juliette (played by Daste of Zero de Conduite and Dita Parlo, the memorable blonde German actress in Jean Renoir's Grand Illusion), getting married in the village church, the wedding procession, and, scuttling ahead of them all, waving a bouquet, the crew of Jean's barge, L'Atalante: The Kid (Lefebvre) and the magnificent First Mate, mellow Caliban and tattooed shaggy old man Pere Jules (played by the magnificent Michel Simon, only two years away from his other classic '30s "river" role, Boudu in Jean Renoir's Boudu Saved from Drowning.)
 As they drift on the river, sexuality bathes and drenches the atmosphere on the boat and in the world around them. (The ultra-romantic music is by the immortal Maurice Jaubert — who died young, like Vigo, but in World War II.) The couple are in love, but Jean is madly jealous of everyone, including Pere Jules — and, after a rake tries to pick up Juliette in a bar, Jean leaves her in Paris, and then goes quietly and unquietly mad. The film ends happily, though it could have just as well have turned noir, with a murder and a pursuit and a sad, bitter ending. But, happy or not, Vigo's great ballad remains one of the lyrical films ever made, and twice, in 1962 and 1992 (after the films' restoration to its full 87 minute length), L'Atalante has been voted one of the ten greatest films of all time, in the Sight and Sound International Film Poll of critics and filmmakers.
 It is now a national treasure in France.
 V. Vigo Lives
 So is the memory of the prodigy Jean Vigo, treasured also by all of us who love the poetry of the movies, who love rebellion and vulnerability, who love the music of Maurice Jaubert and the images of Boris Kaufman, who love Michel and Dita and Jean and Louis and the schoolboys and their pillow fight, who love little mementos that break, who love a river and romance,  and who love French cinema. Vigo lives.
 Includes: A propos de Nice (France: Jean Vigo & Boris Kaufman, 1930) Three and a Half Stars. With Vigo. (Silent, with English intertitles.)
 Taris (France: Jean Vigo, 1931) Three Stars. With Jean Taris. (In French, with English subtitles.)
 Zero de Conduite (France: Jean Vigo, 1933) Four Stars. With Jean Daste, Louis Lefebvre, Coco Goldstein/Constantin Kelber. (In French, with English subtitles.)
L'Atalante (France: Jean Vigo, 1934) Four Stars. With Michel Simon, Dita Parlo, Daste, Lefebvre. (In French, with English subtitles.)
 Extras: Commentaries for all films by Vigo historian/critic Michael Temple; New score by Marc Perrone for A propos de Nice; Alternate edits from A propos de Nice; 1964 "Cineastes de notre Temps" TV show on Vigo; Conversation between Francois Truffaut and Eric Rohmer on L'Atalante; Animated tribute to Vigo by director Michel Gondry; Documentary Le Voyage de L'Atalante (Bernard Eisenschitz, 2001) (Three Stars); Interview with filmmaker Otar Iosseliani; Booklet with four essays by Michael Almereyda, Robert Polito, B. Kite and Luc Sante. (No, I don't know why filmmaker Almereyda's name seems so similar to Jean Vigo's father's. Family name? Pseudonym? Reincarnation?)
One Response to "Wilmington on DVDs. Pick of the Week: Classic/Box Set. The Complete Jean Vigo"