Wilmington on Movies: Killer Elite
(Two Stars)
U.S.: Gary McKendry, 2011
There are lots of reasons to get irritated with Killer Elite — a big-bucks, big-star, mucho-macho, heavy-duty actioner that throws up several hours of murkily photographed violence, preachy dialogue and byzantine plot twists, while wasting three good actors — Jason Statham, Clive Owen and, sadly enough, Robert De Niro (again) — in three ridiculously unoriginal roles that, but for the British accents, might have more appropriately gone to Arnold Schwarzenegger, Sly Stallone and William Shatner.
So, here's what happens in this allegedly fact-inspired movie, based by director Gary McKendry and co-writer Matt Sherring on the "fact-based novel, "The Feather Men," by Ranulph Fiennes (not one of the acting Fienneses). In the movie's first scene, in the middle of an assassination in traffic somewhere, free-lance hit guy Danny Bryce (Statham), on the job with his aging mentor Hunter (De Niro), suddenly finds he doesn't have the stomach to kill kids, and decides to retire, move to Australia and make love to bombshell blonde farm lady Anne (Yvonne Strahovski). Lights, music, bring on the bed sheets.
But, as quick as you can say "Bourne Yesterday," Danny is pulled back into the game by a conniving agent (Adewale Akinnuoye-Albaje), who takes him to Oman, where the dying shiekh Amr (Rodney Afif) hires him for six million dollars to kill the three SAS agents who killed his three sons. (Is there a pattern here? "The Six Million Dollar Man?" "My Three Sons?" Maybe "Have Gun, Will Travel?") In addition, the shiekh will promise not to kill Hunter, whom he has locked up in his palace's dingy dungeon, but instead release him. But impetuous Danny jumps the gun, breaks Hunter out, and kills a few of the shiekh's guards, and he and Hunter get caught, after which the shiekh lets bygones be bygones and reopens negotiations.
It seems this finicky shiekh actually wants to dictate to Danny, the pro's pro, how those three SAS hit-men are supposed to be whacked. First, Danny has to get them to make a tape-recorded confession of their guilt in his sons' murders. Then he has to kill them, preferably in some gruesome way involving an action scene. Then he has to photograph the corpse. Then he has to do a song and dance, with cane, around the dead body in emulation of Malcolm McDowell's Singin' in the Rain number in A Clockwork Orange. (Sorry, that last one was a fib. But a factually-based one. There is a movie called Clockwork Orange, directed by Stanley Kubrick, based on a novel by Anthony Burgess, and, for all we know, it was ghost-written by Ranulph Fiennes while he was thinking of going to Oman.)
Danny, tired of death and violence, sick of the shiekh, finally agrees, collects his weaponry and expense account and flies off to Paris (still not recovered from Liam Neeson) and London (still not recovered from Hugh Grant), eventually joined by old pals Davies (Dominic Purcell, pretty good) and Meier (Aden Young), who have decided to hop aboard and help out with this incredibly foolish-sounding assassination scheme. Pitted against them are the SAS vets, who call themselves The Feather Men, and Clive Owen as Spike, the grim-faced, perturbed, mustachioed fairy godfather of the SAS, whose job is to keep his blokes alive and laughing, to thwart Danny's endeavors, and also to defy those mean old men, babbling away around their table, nostalgic for old atrocities. From then on, you could write this one yourself: a veritable feast of gunfights, car chases, wisecracks, mayhem and parkour, spewed at you with an almost joyous embrace of unashamed stereotypes and narrative incoherence.
This movie tries to touch all the bases, but it has the look and feel of an expensive financial project constructed entirely of baloney. It's loud, nervous and full of violent clichés. Its plot is over-complicated and messily told. Morally, it's a quagmire, and there's little distinction made between supposed good guys and supposed bad guys, or any one in between. Almost the only way we know Statham's out-of-retirement hit-guy Danny is sort of the hero, is because he's billed first and he's the one with the pretty girl friend.
What else can you say? The photography is drizzly and ugly, and the smudgy light makes almost every scene appear as if the film was shot on a rotten day when you don't want to get up in the morning. The editing is so frenetic, that watching the movie's action scenes sometimes feels like viewing the world with your head stuck in an Osterizer.
Other than all that, it's not so bad. It'll make money. But that seems to be the movie's only point — beyond maybe making a plea for better retirement benefits for SAS veterans and better working conditions for Oman sheikh guards.
The biggest irritant though may be that the moviemakers have the temerity to tell us that Killer Elite is based on a true story.
Oh yeah? The movie, in fact, is based on Fiennes' "The Feather Men," which is described as a fact-based novel about Fiennes' British SAS (Special Air Service) experiences in Oman in the early '80s — involving four SAS agents targeted for assassination, who are helped by a secret society called The Feather Heads (Excuse me, The Feather Men.)
But, if anything resembling what we see in this movie ever actually took place in or out of Oman or anywhere else — except possibly the scenes where Danny makes love to Anne — I'd be amazed. And I refuse to read the book, or skim it or even Google it to try to find out if I'm wrong.
Not that a movie has to be based on reality, or even has to resemble reality, to be good — especially a reality-be-damned action show like Killer Elite. But why try to excuse a lousy script — something that seems to have been jiggered together in a fever of unoriginality — by claiming that it was based on a true story? That's like saying that Night of the Living Dead was inspired by actual hiking experiences in Pennsylvania, or that Neeson's To Paris With Love was inspired by the French Revolution, updated and told backwards. Or that Attack of the Killer Tomatoes is based on fact because the screenwriter and producers have actually eaten tomatoes.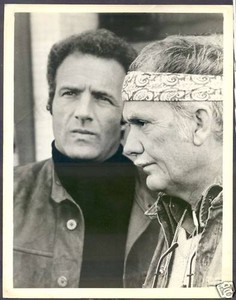 McKendry's whole movie is so unoriginal that it often seems to be its own sequel. Even the title of Killer Elite was stolen, for no reason that I can figure out, from a fairly good 1975 action thriller starring James Caan and Robert Duvall, and directed by the great Sam Peckinpah — who probably did his movie for the money too, but did it better. The Killer Elite wasn't one of Peckinpah's classic shows, though it's still miles ahead of this one. This Killer Elite would have been better off trying to be a spoof. Its better stuff comes in scenes like the one where Statham, tied to a chair, and taunted by Owen, does a somersault, hits Owen and then bounces off and out a window. And its only really good performance is by De Niro, who despite getting reviled (again) by critics for not living up to Mean Streets or The Godfather II, gives this nothing part a lot of that old Spencer Tracy paternal warmth.
You may wonder why De Niro, Owen and even Statham agreed to be in a movie with a plot (and dialogue) like this, no matter what their payday was. So do I. My theory is that they told Owen they had De Niro, told Statham they had Owen, and told De Niro that they had Statham and Owen and that Scorsese was directing. Then they told everyone else they had Statham, Owen, and De Niro, a strategy that seems to have continued right into the movie's marketing campaign. But maybe I'm fabulating. Maybe this talented trio all just wanted the challenge of doing something really dumb, and making a lot of money doing it. Certainly, they're entitled. But aren't we all entitled to movies that make sense and don't look like a bad day in Bangkok?
Yeah, I know. It all really happened. Or part of it. Sure. Meanwhile, I have a suggestion. Since the Killer Elite creative team was caught stealing Sam Peckinpah's title (but not his movie), they should be forced to give it back. I'm serious. If we let them get away with something like this, if they can just pilfer Peckinpah's titles with impunity, somebody else might try to steal "Ride the High Country" and sell it to Cheech and Chong. But don't worry, I have an even better title for it: "Avatar II." Or "The Godfather IV." Maybe then they'll get off Bobby De Niro's back.