Wilmington on DVDs. Pick of the Week: New. The Tree of Life
The Tree of Life (Also Three Disc Blu-ray/DVD/Digital Combo) (Four Stars)
U.S.: Terrence Malick, 2011 (20th Century Fox)
I. The Tree
In The Tree of Life, Terrence Malick, an artist/perfectionist who never rushes a movie, dares the cinematic heavens again and, as far as I'm concerned, he wins the bet.
The movie, still best American film of this year at the time at the time of its DVD release, marks another grand, offbeat, wildly ambitious work realized with striking artistry and beauty by its unfailingly brilliant and usually controversial 69-year-old writer-director.
Malick, a Texan and a veteran of the rebellious '60s and '70s, has written and directed four other uniquely personal films, three of them, I think, inarguable masterpieces: 1973's bloody, childlike killer saga Badlands, 1976's lyrical epic Days of Heaven and 1999's masterful WW2 movie The Thin Red Line (that last adapted from from James Jones's novel) plus one other picture (2005's revisionist colonial romance The New World) that's more of a flawed work, though done with a daring, grace and poetry that beggar most movie "successes."
In The Tree of Life, he transports us cinematically to his own past (fictionalized),  and to the foundations of the Universe, toward the Eye of God, and into the depths of his own identity. He recreates the war he remembers fought over his soul between his father and his mother against the backyard swing world and under the leafy streets of his Waco, Texas home town and boyhood.
All of The Tree of Life has the preciousness and power of some long-lost memento, found again at last and stuck in your front jeans pocket, where its pressure and rub is a constant solace. All of it — no matter where we came from ourselves, I think — should remind us, at least a little, of our own childhood, our own parents, our own ruminations on the past and on the infinite and on who and what and where we are.
As he embarks on his film's extraordinary journey, Malick unleashes all his powers and gifts. He makes something profound and beautiful and very moving out of what amounts to a triangle psychological romance among a mother (Jessica Chastain), father (Brad Pitt) and son (Hunter McCracken), a combat between that father and son, a love story among that family set against the vast backdrop of the universe and the tiny town of Waco, deep, deep, within old love and old memory.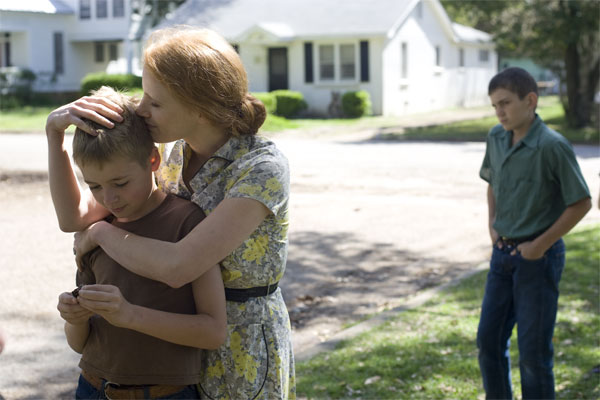 II. The Town
Malick's Tree of Life gorges us on cinematic beauties, steeps us in seemingly commonplace but magical sight and sounds — musical, painterly, poetic, novelistic — while telling us what does seem at times a simple story of a boy, Jack O'Brien (McCracken), growing up in Texas in the 1950s (like Malick), an adventurous, sensitive youngster who is eventually stunned by tragedy, while being pulled in opposing directions — the masculine way of nature and strength, the feminine way of grace and love — by his very different father and mother.
Jack is played as boy by McCracken (an excellent performance, imbued with all the boldness and clumsy self-absorption of a kid in the '50s) and as a man by Sean Penn. Jack the boy wanders down strangely empty streets shaded by large trees, from one broad-porched house to another, followed by a camera that keeps tilting exaltedly toward the sky and the treetops. Jack the man walks through towering, sterile skyscrapers in a big city (a place as sterile-seeming as the voice of Hal in 2001), staring out at rows of windows at a sky that seems fallen partly below him. The boy is so pensive and venturesome and the man so quiet and sad, that we know instantly how badly older Jack would like to escape back to the past, where he could still say the things to his tough father and gentle mother that now he obviously wishes them to hear.
But, after introducing us to the O'Brien family, and showing how the three boy babies were born and grew, Malick does something extraordinary. Aided by Douglas Trumbull of 2001, he takes us on a quick compressed journey through the creation of the universe, with lights blazing in darkness, big bangs of a sort somewhere up there, and on Earth, the long slow evolution from amoeba to fish to mammal to man, now made very fast, as in Fantasia's "Rite of Spring" sequence. Malick balances this evolution tango with Christian imagery, quotations from The Book of Job. And the Mother (neither she nor the Father are given first names), often echoes Job's lamentations, his seeming conversations with God.
Is Malick showing us creation, or evolution, or both mixed together, or is he implying that God has a hand in it all, whatever it was? Most movies wouldn't bother with speculations like these — or they'd hire someone like Anthony Hopkins to recite a passage or two from The Bible's Book of Creation (King James Version) to impress us into silence. But Malick also draws on family and sexuality and good and evil as well as religion for his back-story. (Kazan and Steinbeck's East of Eden is another of the films that lies behind this one, and so perhaps is the David Attenborough nature documentary also called The Tree of Life.)
When we see the boys being born and torn, and the world being born, Malick draws on those reveries of the limits of the universe and of ourselves that often hit us most strongly as children. And stay with us. For a lifetime.
Why was I born? (Why am I living?) Where does the world come from? (Where is it going?) In The Tree of Life, a child is born of man and woman, the world is born of Evolution and God. And, in trapping all the universe, and his memories, Malick returns us to some of the wonder we knew as children, when we tried, and failed, to sort it all out, and then turned to our parents, our fathers or our mothers or both, to sort it out for us.
III. Life
So high are The Tree of Life's ambitions, so personal its story, so rich its artistry, that I would probably be moved to stand up strongly for it even if I honestly thought — as a few do — that its pretensions overpowered its rewards, that its ambitions obscured its beauties, and that, for Gods sake, why can't Malick just tell a simple story, unfussily and clearly and on time, like everybody or most everybody else?
For God's sake, and his own and ours, Malick did. But he also gives us a symphony, a heroic poem, a gorgeous gallery of landscapes, a movie that uses many of the vast resources of the cinema to take us into the mind of a child (Jack of Waco), and the adult whom that child became (Jack of Houston), and of that child's father and mother and his brothers (Laramie Eppler a the ill-fated R.L., Tye Sheridan as Steve). And of his childhood's end.
Malick's movie has a kind of hard, gem-like grandeur. The production design (Jack Fisk), and the cinematography (Emmanuel Lubezki) are often ravishing, and the performances move easily from the simple and rustic to the mysterious and rapturous. All the acting has a mixture of realism and poetryl, but that's especially true of the performances of Chastain, McCracken and Pitt — who is his youth, sometimes reminded us of James Dean (in Johnny Suede and Thelma and Louise) and now suggests a Jimmy Dean grown old, a Dean with a touch of Raymond Massey grown and soured in him. Pitt's performance and the movie, took Malick a while to edit, so it's just coincidental that paternal small town Pitt in The Tree of Life and wily baseball executive Pitt in Moneyball come out in the same year. But it's a formidable acting double feat, maybe the peak of his career so far.
Now, we have plenty of simple stories, simply told, in our movies. More than enough. And we have some pretensions in even the most popular and most expensive ones, mostly visual pretensions. (And in some reviews as well.) But we should be glad when, occasionally, something like The Tree of Life — Palme d'Or winner at the last Cannes Film Festival — shows up.
Here is a movie bent not on box-office glories (which it didn't receive), but instead on cinematic, philosophical and aesthetic riches — a film to set beside, in the American movie canon, The Magnificent Ambersons and The Grapes of Wrath and The Godfather Trilogy and Days of Heaven and Splendor in the Grass and even 2001 (though it's really a kind of anti-2001) — and also to summon up American literary triumphs like "Moby Dick" and "Huckleberry Finn" and "The Great Gatsby" and "Let Us Now Praise Famous Men." Not placed above them certainly, and maybe not even beside them, but definitely together with them in their honorable high tier of striving and achievement.
IV. The Judgment
The Tree of Life is a beautiful film, a thrilling film, a poetic and wondrous film. I loved it. You should see it.
Extras: Documentary.
2 Responses to "Wilmington on DVDs. Pick of the Week: New. The Tree of Life"