Wilmington on DVD. The Rest: The Change-Up, 13, Bolt
"The Change-Up" (Two Stars)
U.S.: David Dobkin, 2011 (Universal)
The Change-Up, a big star body-swap comedy starring Ryan Reynolds and Jason Bateman, is a movie that begins with baby poop jokes and climaxes with its two "heroes" urinating together in a public fountain, before an audience. And you can almost hear the moviemakers yelling at each other "We're Number One!" "We're Number Two!"
 
That's a crummy joke, I admit. (Number One, Number Two: Get it?) But most of the jokes in The Change-Up are even crummier, and those people are making millions. It's only the show's look of sexy professional Hollywood gloss, and the talent of Bateman and Reynolds playing each other inside each other, that keeps the movie afloat — despite the fact that, as advertised, The Change-Up unites the director (David Dobkin) of the highly popular (and highly lewd and scatology-packed) buddy-buddy wedding comedy Wedding Crashers, with the writers (Jon Lucas and Scotty Moore) of the unprecedentedly popular (and highly lewd and scatology-packed) buddy-buddy wedding comedy The Hangover. 
 
It's not really a summit meeting. And there's nothing in The Change-Up you wouldn't expect, except perhaps that first glob of baby poop (Zing!) flying into daddy Bateman's face. (And now you will expect it. But was it really worth a SPOILER ALERT?)
 
The movie offers Bateman and Reynolds as Mitch Planko and Dave Lockwood, two longtime buds whose lives have diverged yet merged in ways that only a Hollywood rom-com buddy-buddy writer could properly understand or explain. Dave is a well-paid corporate lawyer with a rosy future, heavy corporate responsibilities, poop-happy tots and a discontented wife (Leslie Mann as Janie). Mitch is a sometimes-paid playboy and occasional porno actor on semi-permanent vacation from responsibility, whose various main and subsidiary and one-shot squeezes, including the ferocious Tatiana (Mirceau Monroe), keep him jumping.
 
Neither guy is really happy; both think the other guy has it made. So…One night while pissing together in a park fountain (natch), they unwisely make a double wish, and the God of Indecent Exposure grants those wishes. They wind up inhabiting each other's bodies. Soon Mitch-in-Dave is trying (not too hard) to master his role in a corporate merger showdown without offending everybody, and to keep his hands off Janie. And Dave-in-Mitch is partying hearty without feeling really comfortable, especially when Dave's sexy assistant, Sabrina (Olivia Wilde) shows a yen for Mitch, not realizing it's Dave inside. Also, the damned fountain has been carted off somewhere else, leaving the cancelled-wish option temporarily kaput.
 
Wedding Crashers and The Hangover were both very funny comedies, with funny premises, good casts and good execution. The Change-Up, on the other hand, is just sort of funny, with a good cast and half-good execution. Its main plusses are the performances of its leads, the way Reynolds and Bateman push their own mannerisms at the start and then mimic each other's tics after the switch. Bateman lays on his white collar neurotic inwardness and sneakiness, and Reynolds sells his jock stud affability. Then Bateman puts Reynolds's jockishness and irreverence under his skin and Reynolds goes ditto with Bateman's establishment-man-with-a-twitch routines. They're good, but not good enough to put us inside the movie.
 
Body swap comedies may have a long history. In a way, they're variations on those classic role-switching comedies: Shakespeare's "The Comedy of Errors" of Elizabethan England and Mark Twain's "The Prince and the Pauper" from 19th century America. In their movie fantasy form, they go all the way back at least to the Thorne Smith-derived, Hal Roach-directed 1940 comedy Turnabout, in which John Hubbard and Carole Landis inhabited each other's bodies, with risqué results. (I would have liked to see Cary Grant and Carole Lombard try the same premise.) Later of course came Like Father, Like Son, Vice Versa and a few others.
 
The Change-Up is neither best nor worst in its dubious sub-genre. (By the way, isn't a change-up an off-speed baseball pitch?) Thanks largely to Bateman and Reynolds, this movie is just sort of okay at times, as long as the poop isn't flying. Otherwise it's another four-letter buddy-buddy bromantic comedy with a switch, a pretender to the throne, haplessly yelling "We're Number One!" "We're Number Two!" before somebody flushes.
13 (One and a Half Stars).
U.S.: Gela Babluani, 2011 (Anchor Bay)
Director-writer Gela Babluani's English-language version of his smash European hit 13 Tzameti, about a secret, illict high-stakes sort of semi-Russian Roulette tournament. (The contestants, all wearing numbers and observed by a rich, jaded, sick audience, twirl their partly-empty gun barrels, point the guns at each other, and press their triggers.) The original worked on some levels — at least I don't remember being violently annoyed by it. But this one is an ugly, sordid bore, with dialogue so empty-formulaic and bad that not even a top-notch tough-guy cast including Sam Riley (the protagonist/outsider), Ray Winstone (his main competition), Jason Statham (Winstone's brutal manager), Mickey Rourke, Michael Shannon, Alexander Skarsgard, Curtis "50 cent" Jackson, David Zayas and Ben Gazzara (assorted creeps, villains, observers and participants) can redeem it, or make it more than marginally involving.
It seems to me the movie is up against a major obstacle, along with the lousy dialogue. Despite The Deer Hunter and despite the popularity that Reservoir Dogs brought to movie Mexican standoffs, Russian Roulette, or at least this circle-jerk variation on it, is not very photogenic or dramatic. In fact, this daisy chain of armed contestants is a little silly-looking. You get sick of the premise pretty fast, this time out. At least I did. The movie's theatrical release seemed to be a few minutes before the DVD release, which suggest somebody didn't want to let the word get out. They were right on target. No extras.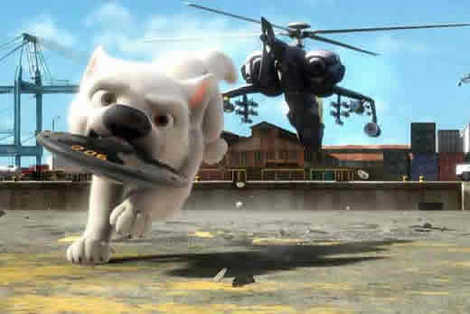 Bolt (Three Stars)
U.S.: Byron Howard, Chris Williams (Walt Disey Video)
     A better, and funnier, movie than you might think. Directors Byron Howard and Chris Williams and writers Williams and Dan Fogleman imagine an intrepid dog named Bolt (voiced by John Travolta) and his loving mistress Penny (Miley Cyrus), who are the stars of an unlikely TV series where Bolt is a superdog, and Penny his on and off-screen mistress, and where Bolt has been conned into believing that all his fantasy heroics are actually happening. That's not such a hot idea.
 But once Bolt and Penny are separated and Bolt starts to fight his way back through the fly-over zone from New York to L. A., the show becomes amusing — thanks to some stellar 3D effects and character animation, and good voice characterizations by Travolta, Susie Essman (a wow as the feline cynic Mittens) and Mark Walton, a double bow wow as the irrepressible hero-worshipping hamster Rhino. The result is a kind of hopped-up cartoon "Incredible Journey." Yet it got to me.