Wilmington on DVDs. Box Sets: Georges Melies, The Wizard of Cinema (1896-1913); Melies Encores
This week, happily on my birthday, November 23, a truly wonderful film is opening: Hugo, Martin Scorsese's amazing and beautiful fiction feature about an inventive  boy named Hugo Cabret (Asa Butterfield) who lives in a spectacular Parisian railroad station (Modeled on the Gare Montparnasse), and the bearded, embittered shopkeeper he meets there, a man who turns out to be the great silent film master Georges Melies (Ben Kingsley).
 See Hugo by all means. But if you're wise, you'll also seek out the grand bounty and great treasure of actual Georges Melies films available in these two superb DVD sets from Flicker Alley.   
Georges Melies, First Wizard of Cinema (Five Discs) (Four Stars)
France; Georges Melies, 1896-1913 (Flicker Alley/Blackhawk Films)
 It'll sound like hyperbole. But this jewel-box of a five-disc set, containing over 170 movies by the astonishing French cinematic pioneer/master Georges Melies, as well as Georges Franju's brilliant 1953 documentary Le Grand Melies, is definitely one of the most important DVD releases ever, as well as a bottomless source of cinematic joy and pleasure.
Melies' career began in '96, shortly after the Lumiere brothers' invention of motion pictures (or so the French have it; sorry, Tom Edison). Quickly, he became world-famous. A magician and creator of theatrical spectacles at his Robert Houdin Theatre, Melies instantly took to cinema, creating little mini-spectacles that would rivet the nickelodeon audiences, as well as the ones that packed the Robert Houdin (where Melies played piano and narrated his own films).
  
Melies made several types of movies — predominantly fantasies (romps full of imps, devils and playful monsters), and journey and adventure films, including his most famous work, the 1902 masterpiece A Trip to the Moon; comedies (full of explosive slapstick), magic and trick films (based on his own magic acts), but also dramas and "actualities" (faked documentaries). He was almost outlandishly prolific. This set includes 173 films and excerpts. But, in his life, in less than two decades, he made over 500. True, they weren't features — they ranged in length from a minute to a half hour — but they're as satisfying as many a feature. Watch these 13 hours' worth over several evenings, and don't let the antique style (no close-ups, painted backdrops) throw you, and you'll be infallibly amused, wildly entertained.

Melies was a true genius, a cinematic artist of the first rank and this collection proves it. No only did he write and direct his little gems, but he designed and executed the gorgeous sets and fantastic creatures, and he's also the bald, slender, bearded lead actor or comedian in many of them. And he was a pioneering maestro of special effects and camera effects, liberally employing the camera and editing trickery that let him make his characters appear and disappear at will.
All his better-known masterpieces are here (with the original tinting and sometimes with Melies' own narration recreated):  A Trip to the Moon (1902),  The Kingdom of Fairies (1903), The Impossible Voyage (1904), The Palace of the Arabian Nights (1905), The Merry Frolics of Satan (1906), The Eclipse (1907) and The Conquest of the Pole (1912), as well as some gems you've probably missed, like The Devil in the Convent (1899), The Christmas Dream (1900), Blue Beard (1901), The Infernal Cakewalk (1903), The Inn Where No Man Rests (1903), A Moonlight Serenade (1904), The Chimney Sweep (1906), and Baron Munchausen's Dream (1911).

 But there are also some films and genres you wouldn't expect at all: an 1899 serial on the Dreyfus Affair. some Lumiere-like "actualities" (reality films or faked documentaries), outdoor and real-life train films, a 1900 historical epic on Jeanne d'Arc, adaptations of Rip van Winkle, Faust and (twice) Cinderella. And there is also what I suspect is the first-ever film noir, the 1906 true crime thriller A Desperate Crime — a mini-shocker that includes robbery, murder, a chase, a police battle, a death row expressionist nightmare and a chillingly realistic beheading at the guillotine, all in only seven breathless minutes.
    
It's customary to juxtapose Melies and the Lumiere Brothers as the poles of early cinema: fiction/fantasy and documentary. True enough, in a way. But Melies was the greater inventor, artist and genius. Sadly, the coming of World War I helped spell his artistic ruin. He went bankrupt in 1913 and, desperate now himself, rashly burned all his priceless negatives in 1923 to get more living space for his family. It's a sad tale (poetically told by Franju). But the films themselves, assembled from around the world, provide the ultimate happy ending. They are unfailingly merry and brilliant. They make you almost drunk with delight.
 Melies was a cinematic Vivaldi; so masterly, one never cares if he repeats himself. Discover him — or discover him again. You'll be bewitched.
Extras:  Documentary Le Grand Melies (France: Georges Franju, 1953).  Three and a Half Stars. From Franju's great documentary years, the period of Blood of the Beasts, comes this excellent tribute to France's grand master of magic cinema. (In French with English subtitles); Booklet with essays by John Frazer and Canadian animation master Norman McLaren, plus an annotated index to all the Melies films.  
 
Melies Encores (Three and a Half Stars)
France; Georges Melies, 1896-1911 (Flicker Alley)
     One of the great DVD releases of the last decade was Flicker Alley's fantastic, wonder-strewn five-disc set Georges Melies, First Wizard of the Cinema (1896-1913), which contained  173 short films by the early pioneer-master Melies. (See above.) We know Melies today primarily for his famous science fiction short A Trip to the Moon, but he turns out to have been amazingly creative otherwise as well. In addition to directing, Melies also was the star actor and performing magician in his movies, he wrote them, and designed and executed the sets. And he was astonishingly prolific. 

        The Flicker Alley box set of Melies contained 173 films, lovingly restored, with music scores, ranging in length from a minute or two to a few just under a half hour. Though there's a tendency to dismiss most of these movies as too stagebound and repetitive, I saw more than a hundred of them and was vastly entertained. There's something intoxicating in his speedy, packed little epics: their immensely good-humored and hyper-active magicians, devils, outlaws, lovers, beauties, angels, servants, and sly shape-changing Parisians, appearing and disappearing in puffs of smoke as they dance and caper before Melies' delightful, richly detailed sets. (There are some typical racial clichés here, but nothing malicious, even when the jokes are directed toward his oft-appearing, highly distinctive,   
evil-looking and rather mischievous devils.)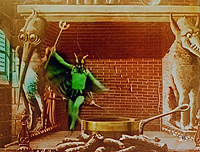 Melies, after all, was adapting his highly successful stage act, carefully developed over years before his Parisian audiences. And he was the inventor of many of the camera and stage special effects used to heighten those performances. He was also a genius, rapt with dizzy joy and merriment.

     Here are 26 more newly discovered Melies shorts, most in good shape, with a bonus of two faked Melies forgeries by the mimic filmmaker Segundo de Chomon (which sounds like a fake name). I repeat what I said before: Melies is one of the great, but too much neglected (except for A Trip to the Moon) early pioneering giants of the cinema. If Griffith and Chaplin loved his work, who are we to ignore most of it?  I had another devilishly good time watching these angelic, monsrously entertaining shorts. So will many of you.

         High spots of the 26 Melies movies here, with the best of them starred.* All films here are silent, with English inter-titles, or English and French narration, and original music scores: The Haunted Castle (1896), An Hallucinated Alchemist (1897), On the Roof (1897) Robinson Crusoe (1902), The Wandering Jew (1904) The Christmas Angel* (1904), The Mysterious Island (1905).  The Inventor Crazybrains and his Wonderful Airship (1907), Robert Macaire and Bertrand"* (1907)  How Bridget's Lover Escaped (1907) Satan in Prison (1907), The Diabolical Church Window * (1911).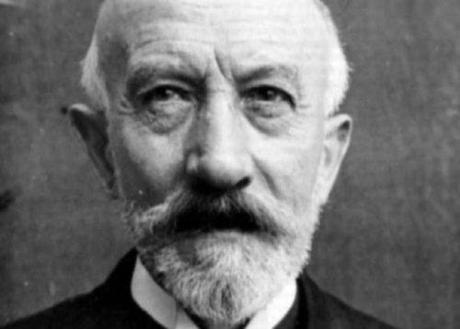 All films here are silent, with English inter-titles, or English and French narration, and original music scores.