Wilmington on Movies: The Muppets
The Muppets (Three Stars)
U.S.: James Bobin, 2011
It's good to have them back.
Jim Henson's Muppets — among the most delightful puppets and most engaging fuzzy-furry fictional beasties to ever pop out of a TV or movie screen — haven't been around much in recent years. Oh, once in a while we've seen them: a snatch of Fozzy, a smidgen of Gonzo, an eentsy-weensy hunk of Miss Piggy, and a dash of Kermit.
But the last Muppet movie was Muppets from Space, which came out in 1999, and the long-running TV "Muppet Show" is long gone, and was never quite replaced, despite several attempts. Henson himself, the Muppets' witty, good-hearted, highly gifted creator, studio head and puppet master (and the puppet master for "Sesame Street"), died (too young) at 53, in 1990, and it's safe to say the gag has never been quite the same since his death — not even when the Disney Studio purchased them and their studio in 2004.
But I have happy news for everyone who's missed the Muppets — and though we're older than the usual demographic for puppet shows, there are quite a lot of us. Their new movie, The Muppets, which brings back almost all of them (including Rowlf the Dog, oldest active Henson creation of all), has been made by people who clearly love the Muppets, understand their humor, and want to be as faithful as they can to Henson's vision — making it as cracked and sweet and bravely schmaltzy and very funny as it was in its prime.
Mostly they succeed. We're held, charmed, moved and amused, by this affecting tale of a little boy named Walter in Smalltown, U.S.A., who is really a Muppet and is also the Muppets' biggest fan, and who travels to Hollywood with his best friend Gary (Jason Segel, about whom more later) and Jason's best gal Mary (the delectable Amy Adams, about whom there's never enough) to the surviving but bedraggled Muppet Studio (located near a disheveled replica of Disney's real life crown jewel the El Capitan), to meet his puppet idols. But Little Walter finds (alas!) that their home studio is bankrupt, that Kermit has run out of ideas, and that an evil biz-whiz named Tex Richman (played by Chris Cooper with all the meanness he can muster), plans to buy the studio, destroy it and drill for oil.
What's to be done? Well, the munificently talented and ever-enthusiastic Mickey Rooney is one of this movie's cameo as-themselves or small-part guests, along with Whoopi Goldberg, Alan Arkin, Zach Galifianakis, Selena Gomez, Neil Patrick Harris, John Krasinki, Ken Jeong and Sarah Silverman — and I honestly think I just heard somebody, maybe the Mick himself, yell "Hey kids, lets put on a show!" Or maybe it was "Hey Kids, let's put on a telethon to raise ten million dollars to pay off the Muppet mortgage and save the day and send Tex Richman back to the tanning studio, where he belongs. And if the TV executive played by Rashida Jones nixes a new TV show and says that we're old stuff and off the demographics chart, we'll just stand behind Kermit and shout "Hey, lady, you'll be old some day too. Ya dig?"
Trust me. Unless you just plain hate the Muppets, and hate Jiri Trnka and Kukla, Fran and Ollie and want to stomp every puppet you see, or plan to vote for Tex Richman for President (the guy may be fictitious but he has everything he needs to be a candidate this season but the smile), this one will work for you. And that's even though it's a show probably even more geared for the adults who remember and love the old Muppets than it is for their children who will now be introduced to Kermit and the crew — many of whom will love them as well.
Among the heroes who have rescued our old friends are director James Bobin (whose directorial credits include, of all things, Sacha Baron Cohen's hip, irreverent comedy "Da Ali G. Show"), and co-writer Nicholas Stoller (whose credits include, of all things, the raunchy rock n' roll comedy Get Him To the Greek). Then there are the original Muppets (I assume they're the original Muppets, they certainly look like the original Muppets, but, if they aren't, they're first rate replicas), the surviving or new Muppet voice actors (Steve Whitmire as the great green frog Kermit and others, Dave Goelz as Gonzo and others, Bill Barretta as Rowlf, Fozzie and others, Eric Jacobsen as everyone's favorite porky prima donna Miss Piggy and others, and David Rudman and Matt Vogel as whatever others are left). But not here sadly, except in spirit, is the late Jim Henson, who did the unmistakably wistful voice of Kermit. Nor the not-present Frank Oz, who was the unmistakably overbearing voice of Miss Piggy.
Well, you can't have everything, and the movie offers as compensation for the absence of the wizard Henson and Oz, Emily Blunt as the secretary in this Miss Piggy's Paris fashion house.
The main hero in all this — besides the spirit of Henson — is Jason Segel, who stars as Gary and who also co-wrote the script with Stoller, and who obviously must count this movie among his real labors of love (and maybe a little money too). Segel is best known in movies as Paul Rudd's raffishly macho scene-stealing buddy in I Love You Man. But here, even though he co-wrote the script, including his own star part (handing himself a big showstopper song number, "Am I a Man or a Muppet?"), he keeps handing scenes and big moments over to his fellow cast members, whether human or muppet. (One of the beneficiaries is Jack Black, who plays himself in something more than a cameo, as the telethon's kidnapped and fuming guest host.)
Segel's Gary may seem to some a somewhat sappy character. (He's the lifelong friend of a puppet with whom he shares a bedroom, he's kept his marriage to Mary on hold for ten years, and he's almost always smiling, perhaps to make up in the movie for Cooper's taciturn Tex.) It's true that Gary lacks the edge of cynicism and knowing satire that made the original Muppets appealing for adults. (After all, the gang started on TV with the Hipness Mob on the original Saturday Night Live.) But it seemed to me that Segel (and Adams) were pitching their performances directly to the kids in the audience, as the two nice adults whom you could trust. Their "sappiness" didn't bother me.
Jim Henson was in many ways a quintessential son of the '60s. (I still remember with some affection his early pre-Muppets experimental short film Time Piece, which used to play regularly as an art house or film society short subject.) And he had a sensibility formed partly by Burr Tillstrom's old Kukla, Fran and Ollie TV puppet show, and also by Walt Kelly's great comic strip, "Pogo." Both the Kuklapolitans and Pogo's Okefenokee Swamp friends (with their very similar show-hogs Ollie the Dragon and Albert the Alligator) were full of charm and wit, and their worlds were very clearly pitched simultaneously to children and adults. They were also progressive in their politics, Pogo almost defiantly so. So, in a gentler way, was Henson, and so is this new movie, which is another reason it should please people from all age groups.
Popular movies give the audiences what they want, but in a clever enough way that the audiences who want something else, won't be alienated. I must admit: I really wanted to see another good Muppets movie. I wanted to see Kermit wrinkling his little face, and Miss Piggy going starry eyed, and Fozzie and Gonzo and the whole happy crew doing their hilarious stuff. I never actually watched the original shows that much, because TV was not on my must-see agenda in their heyday. But whenever I watched, I was pleased. And I was very pleased by the movie, The Muppets.
Perhaps , in the end, that's because John Lasseter and his people at Disney seem to be experts at giving us what we want, without alienating the smart-alecks and sophisticates, among us or in us. (There's even a funny short Toy Story cartoon tagged onto The Muppets as a curtain raiser, with the Toys getting group therapy.) Giving us what we want is what the new Muppetmasters have also done here, while hitting enough popular chords to keep the big bad wolves (and the Richmans) from the door. Good show. Profitable show, I bet. And take it from the "demographics" boys: It's not easy being green.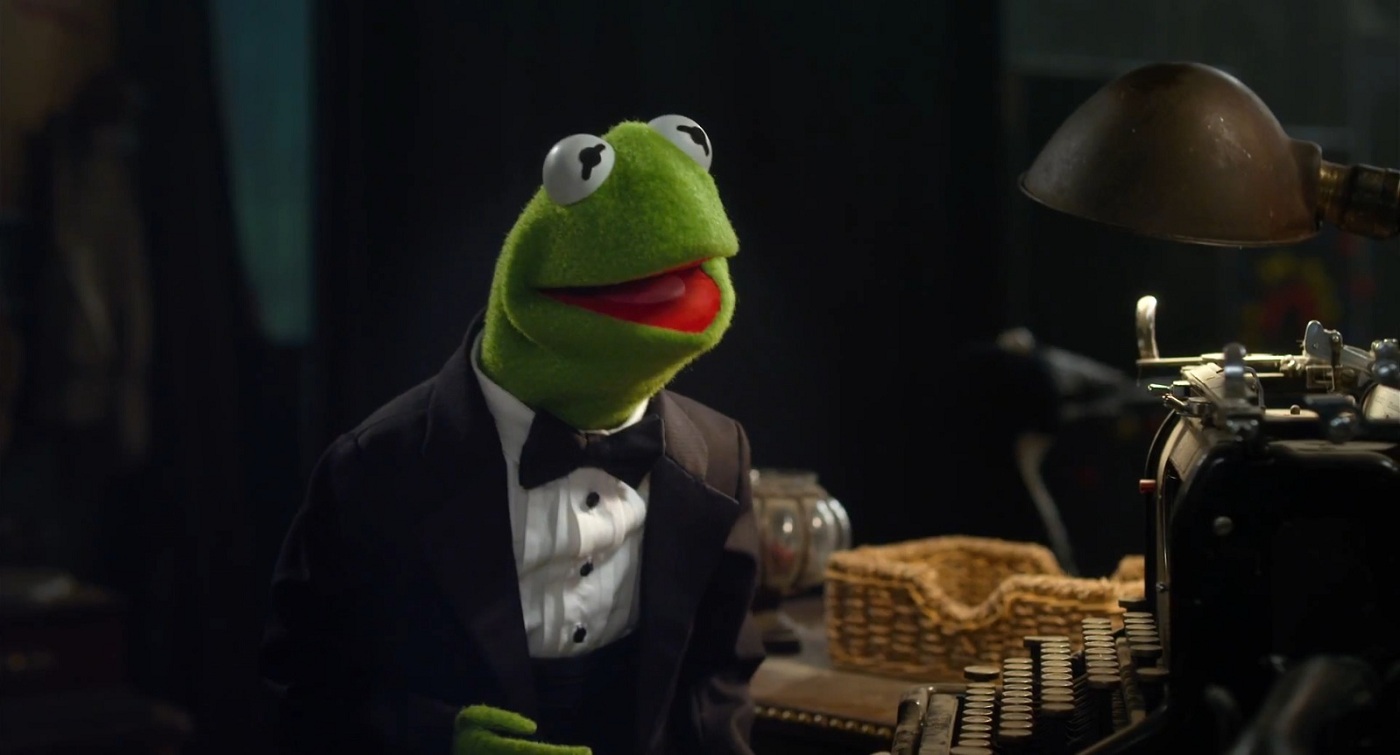 One Response to "Wilmington on Movies: The Muppets"