Wilmington on DVDs. The Rest: Dolphin Tale, Warrior, Straw Dogs (Lurie), Colombiana
Dolphin Tale (Blu-ray/DVD Combo with Digital Combo; also movie only) (Three Discs) (Three Stars)
U.S.: Charles Martin Smith, 2011 (Warner Bros.)
Winter, the dolphin star of Dolphin Tale — an inspirational if sometimes far-fetched animal movie surprisingly based on fact — is a truly inspirational figure in a sometimes inspirational and often entertaining movie. Caught and crippled in a crab trap on a Florida beach, Winter was brought to the Clearwater Marine Hospital, where part of her severely injured tail had to be amputated. She was also befriended by humans who knew she would have to be killed unless the tail could somehow be repaired, something  unprecendented. Neverthless, a local prosthetics expert (played in the film by the matchlessly avuncular Morgan Freeman), volunteered and ….
Well, since the actual Winter, six years later, is playing herself in this movie, and performing with the acting chops, presence and charisma of a true pro, it's obvious that there was a happy ending of sorts. It's an amazing story. But what isn't obvious is how much of the rest of the story we see here is true as well — at least as scripted here by screenwriters Karen Janszen (Duma, Free Willy 2) and Noam Dromi, and directed by Charles Martin Smith.
 The rest of the movie gives us a lonely alienated fatherless 12-year-old, Sawyer Nelson (Nathan Gamble of Babel) who finds and helps rescue Winter and then bonds with her; his hardworking, uderstanding mother Lorraine (Ashley Judd); his plucky new young friend Hazel Haskett (Cozi Zuehlsdorff) who befriends the boy and his dolphin and whose dad Dr. Clay  (singer/actor Harry Connick, Jr.) runs the hospital; the kindly grandpa (Kris Kristofferon); Sawyer's cousin Kyle (Austin Stowell), an ex-champion swimmer and injured Iraqui War vet and the lovably crusty prosthetics expert Dr. McCarthy (Freeman) who makes the tail….
It all seems a bit much for one (factually based) movie, however inspirational. Sometimes all that seems to be missing from Dolphin Tale is the cure for cancer that the alert Winter discovers in another crab trap, after rescuing a boatload of people from the hurricane that suddenly hits Clearwater. There is a hurricane by the way, and also an impending foreclosure of the hospital, and a benefit to save it. Did Harry Connick sing at the show? I don't quite remember, but somewhow "You Are the Wind Beneath My Wing" from Beaches (accompanied by ecstatic leaps by Winter) is swimming around my brain. Maybe Winter played it on a xylophone, leaping and waving her tail, as a chorus of children belted it out.
I'm not really making fun of Dolphin Tale, which I quite liked, and would recommend to anyone looking for a good family movie, or a good animal movie. Director Smith — whom we all know and love as Terry the Toad from George Lucas' American Graffiti (I also like him as the youg punk dying outlaw in Peckinpah's Pat Garrett and Billy the Kid) — directs it with lots of sympathy and feeling, if not quite the poetry director Carroll Ballard gave another inspirational animal film, that Smith starred in: Never Cry Wolf.
 Surely, you feel, some of these Dolphin Tale plot complications must have been manufactured, or embroidered, or just dreamed up,  for story purposes. After all, it's (only) a movie. But the presence of Winter, and the sight of the prosthetics tail that saved her life — and of the real-life handicapped people we see who are inspired by her personality and example – is genuinely heart-warming. We should remember, while watching her, that dolphins are among the most intelligent mammals, that it was not so much lack of brain power (which they have), and language skills (which they also have), but lack of opposal thumbs to make tools with that held them back. We should  remember also, as Time's Mary Pols suggests, that today, dolphins are still being slaughtered wholesale, for profit, in Japan and elsewhere. Many children and their parents will get great joy from seeing Winter. But try to remember as well her fellow mammals, and ours, and how badly and cruelly they're often treated.
Warrior (Three  Stars)
U.S.: Gavin O'Connor, 2011
Improbabilities won't necessarily knock out a good fight film, if the feeling and the footwork are there. Warrior is a movie about a high profile, multi-million-dollar TV Mixed Martial Arts tournament in which too long-estranged brothers are both competing, and in which they finally meet in the ring. Improbable? Sure. Impossible? Probably. But Christ almighty, the crazy thing works anyway. It's a sports movie that tries to inspire thoughts of brotherhood and humanity, in the midst of showing us guys getting their guts crunched and pummeled and their brains beaten in — and it's surprisingly effective.
Now, Warrior is not really a great fight film, in the way that boxing or semi-boxing movies like Raging Bull, Million Dollar Baby, The Set-Up, Fat City, On the Waterfront or Body and Soul are great, or in the way The Wrestler and The Fighter both almost were great recently; the story is a little too unlikely, the resolution too obvious. But it's capable of moving us just as those movies all do, of quickening the pulse and opening the floodgates of compassion.
The two brothers are Tommy Conlon, alias Tommy Rourke (Tom Hardy), an ex-Marine in the Iraq war, and Brendan Conlon (Joel Edgerton) a high school science teacher in Philadelphia. Their father, who taught the boys their ring skills, is Paddy (Nick Nolte) a recovering alcoholic, with a lined, weary mug seething with shame and guilt, a mean drunk now nearing 1,000 days of kinder sobriety. Paddy taught the boys everything they know about fighting, and nothing that they know about love.
All three have touchy relationships and haven't talked for years: Tommy moved out with his cancer-stricken, dying, much-abused mother long, long ago, while Brendan stayed with his dad and then married Tess (Jennifer Morriso) and started a family, and tried to make it as a teacher. Now Tommy turns up, not feeling any kindlier toward his pop, but wanting his dad's help to train for Sparta, the big bucks TV Mixed Martial Arts tourney. Brendan, whose home is about the be foreclosed by another damned bank, enters the tourney too, with the help of his buddy/manager Frank Campana (Frank Grillo) — and the professionally brash TV announcers immediately brand Brendan as the underdog, longest of long shots, while Tommy, who turns out to be a missing war hero (and also a deserter), is cast as Sparta's finest.
Along for the ride are a wild bunch of colorful fighters with names like Midnight (Anthony Johnson) and Pete "Mad Dog" Grimes (Erik Apple) — and other monikers (and dispositions) suitable for a Rocky sequel. And you may be amazed at what the MMA contestants get away with in the fights, from kung fu kicks in the head to strangleholds. I didn't see any biting. But, as for that old signature move once considered the dirtiest of dirty fight tricks — hitting a man when he's down — I can't remember one Sparta warrior who didn't indulge in it, frequently.
If your eyes are rolling by now, you'll be amazed at how effectively director-cowriter Gavin O'Connor, his fellow screenwriters Anthony Tambakis and Cliff Dorfman, and his cast put this rock-'em, sock-'em hokum across. O'Connor (who made the inspirational Badgers-vs.-Russkies ice hockey movie, Miracle) takes us to the gray, dingy purgatory that is his Pittsburgh, where Tommy and Paddy now live, and to sunnier working class Philadelphia, home of Brendan and Tess, and finally to money-mad Atlantic City, site of the tourney, with its windy boardwalk, cloudy beach, and Trumped-up casinos, and all the gambling city's echoes of those great low-life films Atlantic City and The King of Marvin Gardens. And somehow, he and his cast and crew, make us buy the story and buy the Conlons.
Fighting and love (or the lack of it) is what this movie is all about, from the moment we see Tommy emerging out of the shadows to greet his shambling, mumbling, dry, squeezed-out dad (almost 1,000 days sober and full of shameful pride), to the dark, shivery scene with the ferocious sibling argument in the dark of the city, between the brothers (Brendan reaches out, Tommy slaps him down), to the end we're all waiting for, when the two brothers, we're pretty sure (unlikely as it would seem in real life) will wind up facing each other in a caged ring in a neon wilderness to compete for the big prize, and make monkeys out of the announcers.
It's a violently emotional movie that works much better than it should, because the actors — mostly Edgerton, Hardy and Nick Nolte, but also Grillo, Morrison and Kevin Dunn as Brendan's sports-fan school principal Zito — give it their all, and because the movie, rather ingeniously, contrives a way to have us rooting for both fighters at the same time
We're sympathetic to Tommy, even though he plays the roughest and meanest of all of them because he's a war hero, who pulled off a tank door to save the guys trapped inside, and because he helped his dying mother. And we're sympathetic to Brendan — played by Australian film noir specialist Edgerton  — because the damned bank is foreclosing on their house and because, when he tries to make a little extra money fighting, the school bigwig fires him — and, most of all, because he's a good family man, willing to take awesome punishment and get beaten to a pulp to try to save his home.
That makes the final fight in Warrior — a brother bout on Hell and cable TV — one of the more unusual in the annals of fight films, because our sympathies really are effectively divided, and the ending really is capable of surprising us. Or at least, of not being a sure thing.
In some ways, it's an unusually classy sports drama,with Beethoven on the sound track and allusions to Herman Melville. Even so, Warrior is no operatic instant classic like Scorsese's Raging Bull, no lower-depths classic like Huston's Fat City, no Greek tragedy film noir like Robert Wise's The Set-Up, no moving liberal message drama like Elia Kazan's and Budd Schulberg's  On the Waterfront or Rod Serling's with Brado, or Ralph Nelson's Requiem for a Heavyweight, with Anthony Quinn losing his last fight to the young Cassius Clay (later Muhammad Ali).
But it's good by comparison to the norm todasy. Warrior, like most post-Rocky fight films, is a fantasy, and its full of baloney and coincidences that strain credulity to the snapping point, and you'd be a sucker to swallow it whole. But you can swallow part of it. It's likable baloney, served up tastily on Hearty Italian, or , in this case Hearty Irish-American (played by a Midwesterner, an Australian and a Londoner). It's a movie that moves you, because of the three main actors and the way they play their parts and the way O'Connor directs them. And believe me, it takes a lot to sell me on a movie, and a sport, where it's okay to hit a man when he's down. Shouldn't we leave that to the politicians?
Dolphin Tale (Blu-ray/DVD Combo, with digital copy) (Three Discs) (Three Stars)
Film: Straw Dogs (Two Stars)
U. S.: Rod Lurie, 2011 (Sony Pictures Home Entertainment)
Straw Dogs, Rod Lurie's remake of Sam Peckinpah's 1971 classic — the movie in which Dustin Hoffman played a Vietnam era intellectual forced to face the beast in himself and in others — is an odd blend of two different directorial sensibilities, both somewhat spellbound by machismo.
Peckinpah, who died in 1984 (at 58) after a furious, contentious, addiction-ridden career that left him old before his time, was a great Western moviemaker, and a man whose best films seethe with a roiling mixture of breath-catching beauty and eye-blasting violence that all but set your nerves afire as you watch them. His most famous films — including Straw Dogs and his masterpiece, The Wild Bunch (1969)– were often extremely violent, but also extremely vulnerable, and that was Peckinpah's point. He felt that most previous American action films, including most Westerns, including some that he admired, trivialized violence, cheated on its pain and chaos, and removed much of its sting, and he intended to put it all back in, with a vengeance. He did.
But there was also an almost feminine sensitivity in Peckinpah's work, and an impassioned response to the lyricism of nature and humanity that belied the macho front which he used and which, by now, we can see through — just as we can see through Hemingway's.
Rod Lurie, on the other hand, seems more of a solid citizen. His military tour was in the Army and he's a filmmaker who likes to make intelligent, liberal-minded political movies, with classy casts (Deterrence, The Contender, Nothing But the Truth). Before he became a writer-director, Lurie worked as a movie critic for Los Angeles Magazine and on radio — and he was a sometimes deliberately obnoxious but entertaining critic who liked to deviate at times from the critical mainstream, crack wise, say outrageous things and rile everyone up. I've known him for years, not all that well, but he always seems a nice, smart, movie-savvy guy in person, certainly not the self-destructive genius "Bloody Sam" was.
So now come Lurie's Straw Dogs — a remake of one of Peckinpah's biggest hits and a movie often described as among his best. (I don't agree; I think it's in his second tier.) Peckinpah's film, based on the novel "The Siege of Trencher's Farm" by Gordon Williams (co-scripted by David Zelag Goodman and Peckinpah), is the story of a young American college mathematician named David Sumner (Dustin Hoffman, at the peak of his post-Graduate popularity) who has left the U. S., probably because of the Vietnam War and the turbulent campuses, and moved onto a farm, belonging to his wife's deceased father, in her hometown in Cornwall, England.
Sex and violence are the twin engines of Peckinpah's movie. The wife, Amy, is played, very well, by Susan George, one of the sexy young British actress birds who thrived in the Beatle era and just afterwards, and her Amy manages to stir up sexual fevers in the local louts and layabouts who hang around the local pub — chiefly a pushy old flame of hers called Charlie (Del Henney), who can't believe she loves this Yank wimp and tries to move in again. David, even though he can sense the electricity between them — and even though Amy warns him — hires Charlie and his mates to help repair the roof on his farmhouse. He is an unusually foolhardy chap, dealing stupidly with unusually dangerous people.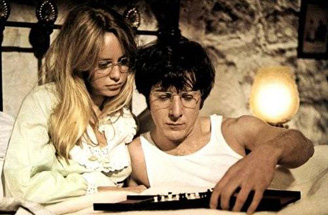 The die is cast. Charlie and his gang want Amy — or Charlie wants her and most of the others are content to watch — and they are all contemptuous of David.  David is a semi-snob and semi-condescending college guy trying to get along with the working classes, who somehow feels he is protected by society. Amy is a hot-blooded lass, aware of her charms, who wants David to defend her, and is irritated when he doesn't. Charlie and his mates are horny, amoral thugs. This simmering sex-charged conflict eventually, inevitably explodes. 
 Straw Dogs is somewhat overrated and often forced, but it's still a powerful film, clearly the work of a master. And the first thing to understand about Lurie's adaptation is that, though (for me) it's flawed as well, it isn't a cheap and sleazy job. It's done with respect for the original — even though Lurie has transplanted the action to a macho-drenched Mississippi town called Blackwater, Mississippi and though he makes the townspeople, who mostly have the same names as the Britishers in Peckinpah's movie, typical Deep South movie types.
Lurie turns brutal old drunk Tom into brutal ex-football coach Tom, played by James Woods with his hardest edge, in one of the movie's best performances. He turns Charlie into an old flame and one time local high school football star, played by Alexander Skarsgard, Swedish actor Stellan Skarsgard's son, who gives an even better one. Lurie makes the sturdy magistrate into a sturdy black sheriff (Laz Alonso), changes David (James Marsden) into a good-natured screenwriter working on a script about the WW2 siege of Stalingrad, and turns Amy (Kate Bosworth) into a beautiful blonde  actress who met David on a TV series they did together.
Despite all those switches, almost every scene in the Peckinpah Straw Dogs turns up in some way in Lurie's version too, and most of the new characters even have the same names as their counterparts in the remake. (One of the louts is a Saw movie fan.) It's clear that Lurie knew he was adapting a movie considered by many a classic, and probably one he also admired, and that he was determined not to make the usual crass, opportunistic overhaul. (Being an ex-movie critic himself, he knew what to expect if he did — though, in some cases, he got it anyway.) Even the famous 1971 poster closeup image of Dustin Hoffman and his broken glasses has been recycled for the new movie's poster, with Marsden.
SPOILER ALERT
Lurie has even resisted a temptation you would have thought irresistible: to clean up the movie's controversial sexual politics and bring David and Amy together for the finale. He has made Amy more of a stand-up gal, mostly in the way Bosworth inflects her scenes. But I wouldn't have objected to even more of a change in her temperament. I've always found it annoying that Amy keeps mum about the rape (why?) and that, at the end, David acts so relatively distant to the woman who went through hell with him and just helped saved his life.
END OF ALERT
But then, Peckinpah, rather confoundingly, always insisted that David was actually the villain of Straw Dogs — something that few audiences then or now take away with them, especially since Hoffman gives one of his sweeter smiles in the movie's last shot. If he's the villain, who in God's name is the hero? Is it Amy? Or isn't there one? Admirers of Peckinpah's movie usually say that the latter is the whole point. Peckinpah sometimes called his movies morality plays, and that's what bothers me about the original Straw Dogs: the fact that many audiences take it as a morality play instead of a nightmare, with David as a hero, however dark. His complexity and bad side should be clearer, as are similar mixed personalities in other Peckinpah movies.
Peckinpah's enemies said that his movies were a bloody mess. They weren't — most of them, anway. (Let's forget Convoy and The Osterman Weekend.) The best of them showed, with great force and white hot intensity, the ways that life can be a bloody mess, and the ways that even good people, or seemingly good people, reveal their dark sides, the bad stuff that can be wrenched free from them in a crisis. That's what Lurie wants too. But his Dogs aren't wild enough.
 (Peckinpah's 1971 Straw Dogs is available on MGM and, used, on Criterion Classics.)
Extras: Commentary by Rod Lurie; Featurettes.
Colombiana (Also Blu-ray/Digital) (Three Discs) (Two Stars)
U.S.: Olivier Megaton, 2011 (Sony Pictures Home Entertainment) 
Young. Tough. Smart. Agile. Half-naked. And  definitely deadlier than the male — at least in this movie.
 
Zoë Saldana, who was kind of blue in James Cameron's Avatar, plays producer-writer Luc Besson's notion of a rock 'em sock 'em action heroine in Colombiana — which means that she's drop dead gorgeous, often undressed, and frequently engaged in slaughtering people.  Lots of people die in Colombiana, many at the hands of Zoë's character, hit woman Catelaya Restrepo, and they usually shuffle off mortal coils in ways as picturesque as Besson and director Olivier Megaton and co-writer Robert Mark Kamen (the Karate Kid movies) can dream up: eaten by sharks in a Scarface-style drug lord's orgy den/swimming pool, blowing up or going down in alleged "safe" houses in hailstorms of bullets.
 
The first casualties are Catelaya's parents — captured and slain by a Colombian cocaine cartel in the first big action scene, when she's only ten (and played by child actress Amandla Stenberg.) But most of the others are just preparation, or practice– part of a furious quest for revenge by Saldana's Catelaya, who, as that little ten-year-old, decides on a career in murder and vengeance and is helped along by her doting gangster Uncle Emilio (Cliff Curtis), who also makes sure she gets a good Chicago parochial school education and her own  extra-curricular lessos in slaughter . (Those must be some confessions.)
 
In later life, when her assassin career heats up, Catelaya's "victims" are mostly miscreants and scumbags whom she kills in order to get to her parents' killers, the fiendish drug lord Don Luis (Beto Benites) and his main associate/torpedo Marco (Jordi Molla), two crook/killers who are being protected by the C. I. A., in exchange for information that Don Luis never quite provides. This may all seem f ludicrous, and it is — though Besson and Megaton try to keep things barreling along at such a blistering clip that we won't notice. They can't. 
 
There's not a scene in Colombiana that isn't nonsensical in some way or another. The only actor who manages a halfway convincing performance is Lennie James as dour FBI special agent Ross. But it's also clear that the filmmakers aren't really trying to avoid nonsense. They're aggressively pursuing it — throwing in a little Salt, a little Lara Croft, a little Underworld, U.S.A., a little Countess of Monte Cristo, and whipping up the whole senseless shmeer into an over-edited frenzy of preposterous hyper-activity.
 
Saldana and Stenberg make the absurdities watchable. Stenberg spins her limber way though extreme action scenes of parkour, with little Catelaya seemingly leaping from rooftop to rooftop to sidewalk to street, pursued through sunny Bogota by Colombian cocaine cartel thugs. Saldana slithers and shakes and strips though slam-bang scenes of firefight and assassination and tiffs with Uncle Emilio.
 
The movie, which is shot well by Oliver Stapleton  just keeps piling it on. Besson and Kamen and Megaton somehow imagine a prison where inmate Zoë pulls open vents, crawls through crawlspaces, kills another scumbag and escapes out the window — or where she blows up buildings single-handedly while being besieged by what seems several SWAT teams — or where she  engages in wild kung fu, feeds her victims to the sharks, or breaks into Don Luis' hacienda and takes on everybody in sight, while dropping Catelaya orchids everywhere as her signature. In odd moments of non-action, she discussed her feelings and her more sensitive side with artist/lover Danny Delanay (Michael Vartan).
 
Colombiana plays like an endless  hallucination brought on by too much cocaine. But, no…It's a carefully plotted mass entertainment, intended for our amusement. We were not much amused, though at least we weren't looking at our watch every ten minutes. There's some crazy fun to be gotten out of all this. But, since when did it become a rule of thumb that action movies has to be so wildly over the top, so utterly senseless — all baloney, all the time?
 
Director Olivier Megaton, ex-graffiti artist and the director of Transporter 3, adopted his curious last name as an allusion to the Hiroshima A-Bomb, which I hope wasn't also the inspiration for his film career. Megaton clearly doesn't want to be confused with Olivier Assayas — though "Megaton" opens up so many pun opportunities for critics, that you'd think that he might consider switching his name back to "Olivier Fontana." Then again, anyone who'd make a movie like Colombiana clearly has no fear of anything — especially movie critics.
 
Luc Besson, whose Franco-American explodig specials have kept banging along since his no-dialogue apocalyptic fable Le Dernier Combat in 1984,  seems able to knock off movies like this in his sleep, maybe especially in his sleep.  Every once in a while Besson does a sort of "serious" picture (The Messenger: The Story of Joan of Arc) or a sort of art film (Angel-A). But he seems most comfortable making movies (or getting others to make them) like Colombiana — the only film I can think of recently where the publicists carefully informed us how to spell the title. That's C-O-L-O-M-B-I-A-N-A. (They should have given us a Spell-check alert on "Amandla Stenberg," which I'll bet came out as Amanda Steinberg or Sternberg somewhere.)
 
As for Zoë Saldana and the movie's attempts to make her a female Arnold Schwarzenegger, or Tom Cruise, or maybe the next Angelina Jolie, I'd rather see her taking off her clothes in a romantic comedy or a drama that made sese, or even keeping them on in an action movie with less preposterous scenes and setups. That might be fun, if out of character for Luc "Rock 'Em Sock 'Em" Besson.