Wilmington on Movies: Young Adult (Two and a Half Stars)
Young Adult (Two and a Half Stars)
U. S.: Jason Reitman, 2011
High School haunts us. It's the great mystery we try futilely to solve afterwards, the great romance that often never happened, the paradise we imagine we lost but might regain, the great redemption that we dupe ourselves into believing can be earned by a quick trip back to the past. In Young Adult, Charlize Theron plays (very well) Mavis Gary, an ex-prom queen and now a professional writer, bedeviled by her high school golden girl past — in this case her teen life and high times in a Minnesota small town called Mercury.
In the movie, written by Diablo Cody and directed by Jason Reitman (the Juno team), Mavis, a little been-there-done-that but still gorgeous, tries to return home in triumph from Minneapolis, even though, despite her superficial success as a writer, her life seems to be going off the rails. Her husband left her, she's facing writer's block, she has a mean streak to go with her stunner's sense of entitlement, and she drinks too much and wonders if she's an alcoholic.
Mavis thinks she has a way out, though. After receiving a baby announcement from her old high school star jock boyfriend, Buddy Slade (Patrick Wilson) and the hometown girl Buddy actually married, Beth (Elizabeth Reaser) Mavis decides to hide her little dog in a bag, travel to Mercury, show up in her best drop-dead gorgeous outfits, steal Buddy back from Beth, and start leading the happy, contented, connected life she hasn't found, or at least kept, in the big city.
It's the kind of dopey plan you'd have to be a little nuts or a little drunk to conceive and try to carry out. But soon Mavis is in mercury, trying to pull it off: trying to reconnect with Buddy (who seems puzzlingly equivocal, or maybe a little dense) and Beth (who's punishingly nice and even a little "hip"), and making new rapport with the guy we suspect will be her temporary best pal, Matt Freehauf (Patton Oswalt). Matt was the geeky guy who had the locker next to her in school, but whom she never noticed, who still lives at home with his sister (Collette Wolf) and makes little action toy figures, and who, back in high school, was hurt for life by a hate crime assault, targeting him (wrongly) as gay, by the very jocks who were in Mavis' crowd.
Mavis and Matt have a lot in common, besides their alliterative names. Matt is a sarcastic guy who always had a crush on Mavis. Mavis is a sarcastic gal who always had a crush on herself — and, secondarily, on Buddy. And they both know pop culture.
I forgot to explain the title, which suggests that Mavis, and Matt, haven't grown up, though they're both pushing 40 — but also refers to Mavis' occupation. She's the writer for a string of young adult novels about teen heroine Kendall Strickland, a high school beauty who leads an ideal high school existence (with a few complications), in a well known series called Waverly Prep.
No, correct that: Mavis ghost-writes the Waverly Prep series, probably for an alleged writer who — just like all those TV personalities and politicians who put their names (falsely) on books written by somebody else — is conning the public.
That synopsis makes Young Adult sound like an offbeat, cool, smart and entertaining movie. And in a way it is — but, actually, I thought it just missed. The script is smart, the actors are fine and entertaining (especially Theron, Oswalt and Reaser), and the atmosphere is heartland-cool. (Mavis has tapes of The Replacements and Beth fronts a local band called Nipple Confusion.) But some of the details and reactions seemed off, the characters sometimes sketchy and under drawn. I found it incomprehensible, for example, that Mavis didn't make some contact with her parents before or on arriving — nothing big, just a call — not because ignoring her parents shows she's not a nice person, but because, unless I missed something, it suggests amnesia. People, even the not-nice people, don't do that in small Midwestern towns unless they're having family feuds. And if Mavis actually wins straight arrow Buddy, what will he say about it?
And a lot of Buddy's behavior, to me, was absolutely incomprehensible. If he doesn't realize that Charlize Theron as Mavis, meeting him in a bar in a low-cut dress, is coming on to him, then he's a dumbo. If he realizes, and wants to extricate himself, or is ambivalent about it, then he's bizarrely inept at doing it. And if he's just confused about everything, and a little shy and unable to respond, he's not like any small-town star jock I ever met. And not like the self-confident and alert guy Wilson portrays here.
Charlize Theron, as she proved in her Oscar-winning role as prostitute/serial-killer Aileen Wuornos, is a first-rate actress who can be daring, sharp and without vanity in her choice of roles. And in many ways, playing Mavis is a gutsy choice too, and a part she does well. Still, something always seems missing, even in her best scenes. In the lesser scenes, like odd blowup and breakdown at Buddy and Beth's party, the flaws seem more obvious. These people, and even the kibitzers, just don't behave like typical busy-body small-towners.
The Mavis-Matt relationship, while very well acted by Theron and Oswalt, always hovers on sentimentality, when what it needs is sentiment. And though I agree that it's refreshing to have such an unlikable lead female protagonist, Mavis would be more interesting, more true-to-life and even funnier, if there were some scenes (other than just the big gift to Matt) that showed other, nicer sides of her. People, even the worst, whether in small towns or big cities, do have contradictory elements, and they're more interesting when we see more or all of them.
Reitman's and Cody's Juno, which also had a sarcastic, unconventional, rebellious heroine (played by Ellen Page), was one of the comedy/critical hits of 2007 and Reitman's last film, Up in the Air, was funny and perceptive, one of the comedy triumphs of 2009. This one is funny and sometimes perceptive too. But not always; Young Adult often seems a little forced and half-baked too. The movie essentially says you can't go home again, at least on your own terms, and that's probably right — at least in Mavis' case. But it takes a lot of moxie to write about going home again too.
Oh, by the way, the idea that a knockout unattached ex-prom queen like Charlene's Mavis would go back to Mercury, and not have at least two or three other guys and old classmates, trying to reconnect with her (an ideal comedy role for somebody like Thomas Haden Church) struck me as the biggest stretch of all.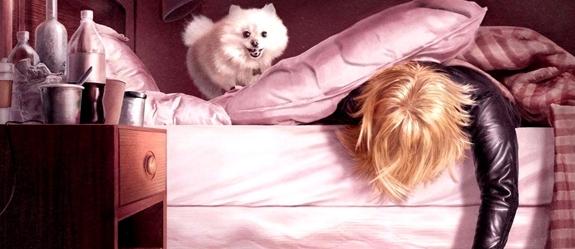 2 Responses to "Wilmington on Movies: Young Adult (Two and a Half Stars)"