Wilmington on DVDs. Casablanca
"Casablanca" 70th Anniversary Edition (Three Disc Blu-Ray/DVD Combo) (Four Stars)
U.S.; Michael Curtiz, 1942 (Warner Bros.)

In a hangout on the Warner Brothers back lot in an exotic city that hums with World War II intrigues, throbs with romance and occasionally explodes into violence, we watch one of the movies' immortal affairs, fiercest dramatic-ideological battles and grandest movies. Here it is in a deluxe 70th Anniversary edition, and once again, we never tire of it. Casablanca, a picture that is, in some respects, the perfect Hollywood Golden Age studio movie, shows us the world in conflict and the scintillating cabaret/gambling den/bar , the "Café Americain" that provided an international respite from the fight —  and, against them both, the frustrated, tormented but finally sublime passion of gloomy hard-case cabaret owner Rick (Humphrey Bogart, in his most popular role) for scared, on-the-run Ilse (Ingrid Bergman, in hers).
Ilse is the emotionally torn woman of mystery whom Rick loved and lost, the angel who won his heart and left him in Paris, but who now belongs body and soul, it seems, to idealistic underground anti-Fascist leader Victor Laszlo (Paul Henreid.) Around them swirl the ideological storms of Nazi-ravaged Europe, at least as Warners saw them. And backing them up is one of the all-time great Hollywood supporting casts: Claude Rains as the suave and lecherous Vichy police head Renault, Conrad Veidt as the reptilian Nazi commander Strasser, Sydney Greenstreet as Ferrari. Rick's club-owning rival, Peter Lorre as Ugati, the rat with papers , S. Z. Sakall as "Cuddles" the barman, Marcel Dalio as the nimble croupier, Curt Bois as the ferret-like pickpocket ("Vultures everywhere!"), Leonid Kinskey, June Duprez, Helmut Dantine, John Qualen, and of course that indefatigable piano man ("All my teeth are pearly; all my hair is curly") Sam (Dooley Wilson) — the fellow who plays (again) "As Time Goes By."
Casablanca," which expertly melds several key '40s Hollywood genres of the era (drama, comedy, noir, spy thriller, love story) was adapted from a truly lousy play "Everybody Goes to Rick's" (a project briefly considered for  Ronald Reagan and Ann Sheridan), written by the Epstein brothers (Julius and Philip) and Howard Koch, and directed by that sometimes underrated master, Michael Curtiz. (You think he's a hack? It's only because he made so many movies. But his list of hundreds includes two or three dozen genuine classics. And the other several hundred aren't bad either. In fact, director-movie-lover Rainer Werner Fassbinder ranked Curtiz at the top of his list, next to Luchino Visconti and Douglas Sirk.)
A big hit in its day and also a multiple Oscar winner, this picture has never stopped pleasing and rousing audiences. I know; I used to watch it and show it in college. Believe me: The audience always cheers when Rains' Renault looks at Major Strasser's corpse, checks out Rick and his smoking gun, and snaps "Round up the usual suspects!" They always feel it deep inside when Bogey's Rick touches Ingrid/Ilse's chin in farewell and says "Here's looking at you, kid!" And they always smile when Rick and Renault walk off together in the fog and Bogey tells his now ex-Vichy pal, "Louie, I think this is the beginning of a beautiful friendship!"
We respond to Casablanca's wily blend of tough guy sarcasm and idealistic romance, embodied by Bogart's Rick and Bergman's Ilse, because it's one of those ultimate romantic fantasies, a movie that has just the right people, the right story and the perfect climax.  British critic Robin Wood once wrote that Howard Hawks' great Western Rio Bravo was the one movie he'd pick "to justify the entire existence of Hollywood." Uh-uh. Rio Bravo is great, but Casablanca is the one. In fact, Casablanca and Rick's really are Hollywood — especially the Hollywood of the '40s and World War Two, when the whole world, menaced by Hitler's demonic legions, beat a path to its jazzy, boozey, sexy, sentimental, wise-cracking, gambling-in-the-back-room doors.
The movie, adapted from hackwork, made on the fly, with brilliant writers, a matchless director, and a marvelous cast that hailed from everywhere, has the guy, Rick, a lot of us (at least the men) want to be, with the girl, Ilse, a lot of us want to be with. It has the knowing buddy, Capt. Renault, we want on our side, and the sadistic fascist, Major Strasser, whom we want to shoot down and watch die like a dog. It has a crooked roulette wheel that pays off the right people, and it has letters of transit (held by Ugati) to get us where we want to go.
It has laughter and terror and, God, does it have romance. It has everything: The world and the war, Rick and Ilse and "As Time Goes By" in two hours. It's not original, but, of its specail type, it's just about perfect.
Yay! "Casablanca" is Hollywood — one terrific show, one of the inarguable triumphs of the Hollywood Studio system, of Warner Brothers and their language-mangling ("Bring on the empty horses!") Hungarian-Jewish workhorse/master  Curtiz, of canny scribes Howard Koch and the Epstein brothers, of that tremendous, unrepeatable cast, and of those two seemingly mismatched but ultimately perfect-for-each-other lovers: tough sad-eyed Bogie and sweet soft-eyed Ingrid.  As long as there's a Casablanca, and as long as Sam plays and time goes by, we'll always have Paris. Or at least we'll have Warner Brothers' Paris.
And, God save us, we'll always have Casablanca.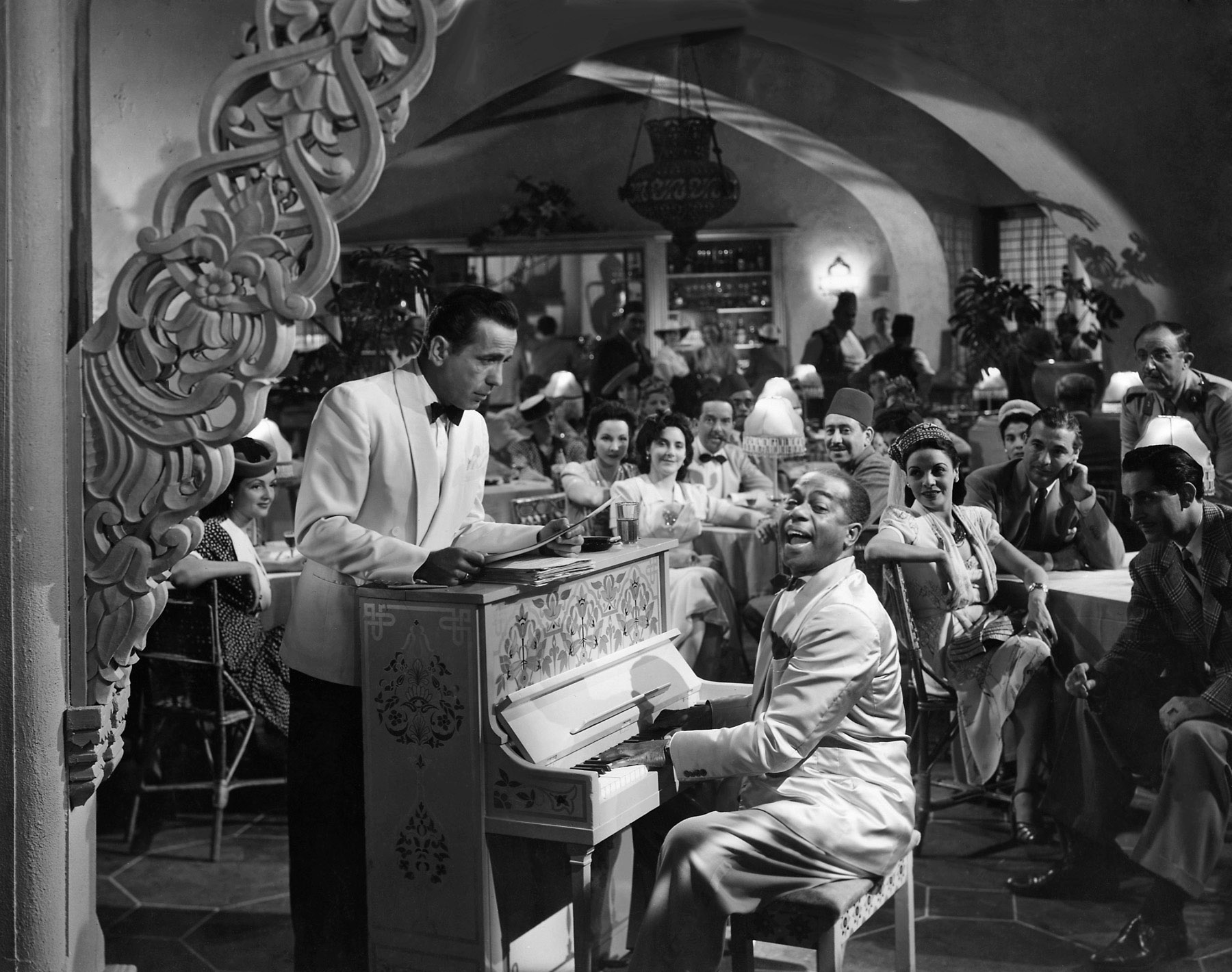 Extras: Commentaries by Roger Ebert and Rudy Behlmer; Documentaries on Casablanca (introduced by Lauren Bacall), on Bogart (narrated by Bacall), and on  Curtiz; Featurettes, Deleted Scenes; Outtakes; Additional scenes and outtakes; Cartoons (with Bugs Bunny andb others);Casablanca radio production.