Wilmington on Movies: Ted
TED (Two and a Half Stars)
U. S.: Seth MacFarlane, 2012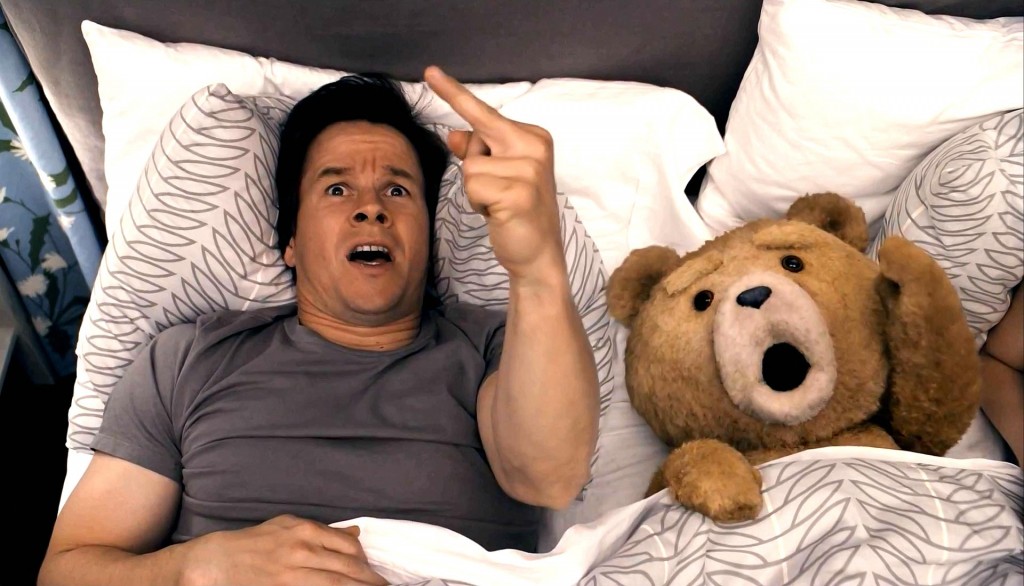 Ted is a vulgar, irreverent, dirty-mouthed comedy about a vulgar, irreverent, dirty mouthed teddy bear named, of course, Ted — a fuzzy horny little stoner who is the best friend of a sweet, somewhat Peter-Pannish Boston Guy named John Bennett (Mark Wahlberg, as likeable and undangerous as he can get).
Why are we reviewing movies about badmouth, pop-culture-obsessed teddy bears — dirty-mouthed funny movies that are also cute and sentimental? Well, long ago, one magical Christmas — narrated, at his most plush-tongued and mock-classical, by Patrick Stewart — Ted was granted the power of (largely four-letter-word) speech, writer-director Seth MacFarlane's speech, in fact, and also the power of motion-capture (CGI's or something) by a falling star. (Yes, by golly: A star. Falling.) And he and little John, the least popular kid in the neighborhood, promised to be best buds forever , through thick and thin, through Celtic wins and Celtic losses, through Flash Gordon and Jack and Jill, through pot smoke and busted relationships — except for the one gal John doesn't want to lose, lovable stick-it-out Lori (Mila Kunis), a knockout who's put up with him (and Ted) for a good chunk of the run of MacFarlane's dirty-mouthed Fox cartoon comedy, Family Guy.
Ted was famous for a while, but now he's gone the way of many faded celebrities — from Corey Haim to Corey Feldman to Professor Irwin Corey to Samuel J. Jones, star of the boy's beloved pet movie fiasco, the 1980 Flash Gordon. But lately he's just been hanging around, providing all kinds of bad examples for John. So now Lori, who is being pursued avidly by her rich narcissistic boss (Joel McHale) gives John a choice: Beauty or the Bear, Lori or the Tedster, a life of couch potato stonery and marijuana-fueled buffoonery, or a life with the Family Gal. It's a hard pick, like one of Kevin McHale's. Lori flashes a real Mila Kunis come-hither look and lays down the law.  Teddy spreads his little Teddy-arms Teddy-Bear-wide: "Bring it in, yuh bastid." Aaaaaw!
Ted, which is MacFarlane's first movie feature, is a brom-com with a difference. It's about two arrested-development types and the bad-judgment, too-horny, screw-up one is a stuffed bear come-to-life. But nobody ever reacts as if it's a toy-come-to-life, not even Johnny Carson on TV, on his show, brought to your screens through the magic of computers, or something. That's the joke, and the whole cast plays it straight — even Giovanni Ribisi as the teddy-bear-fetishist with the overweight son (Aedin Mincks — and there's a great wrap-up gag on him). And well, dammit, the joke works, even though you shouldn't take your small kids to Ted, because it has so much casual swearing. Even though it's the one movie they'll probably want to see, after The Avengers. And even though any Ted talking stuffed bear toy will probably be one of the toy store's biggest sellers, especially in its R versions.
There's a lot of jokes in this movie, and most of them work. Not all of them — in fact, some of them are awful — but, compared to most of the four-letter —- we've been getting at the movies, an indecent percentage of the would-be funny stuff on Ted clicks, a lot of it aimed at other movies and other comedians. Sam Jones shows up, not the ballplayer, but the star of the 1980 Flash Gordon. The music in on the nose. The special effects aren't bad either. The action scene sucks, but you can't win 'em all.
Listen, I'm like almost everybody else. If you make me laugh, I'll forgive you. I'll forgive almost anything. In fact, I feel here a bit like the priest with the Mafia guy on the other side of the screen. There's a lot to forgive and expiate: so many sins, so little time. A lot of Hail Marys here. But what the hell. It made me laugh. I forgive it. Bring it in, yuh bastid. Where's the brewskis?