Wilmington on DVDs: Brooklyn's Finest/Stone; Babes in Toyland (March of the Wooden Soldiers); The Saphead
BROOKLYN'S FINEST/STONE (Three Stars)
U.S.: Antoine Fucqua/John Curran 2010 (Starz/Anchor Bay)
Two-Pack Contains: BROOKLYN'S FINEST (U.S.; Antoine Fucqua, 2010.  (Three Stars) Brooklyn's Finest, the new cop thriller from director Antoine Fucqua (Training Day), is a neo-noir with lots of punch and  swagger. Swooping along through mean streets and dingy hallways, propelled by Fucqua's gaudy repertoire of crane and tracking shots, it's an urban police melodrama composed of three interweaving stories about three bad-news cops. As if in a three-part Departed, we follow, by turns, impending retiree Eddie (Richard Gere), whose gal pal is a whore and who's so depressed he wakes up and puts a gun in his mouth for practice. Then there's narc/family man Sal (Ethan Hawke), a father of five, with two more coming with wife Angela (Lili Taylor)), along with medical and home repair issues, and who augments their depleted income by using his job to rub out dealers and crooks (like Vincent D'Onofrio's Calo) and confiscate loot.
Finally there's quiet, rebellious, had-it-up-to-here Tango (Don Cheadle), who's been undercover with the gangs so long —  including a current gig with buddy/mobster Caz (Wesley Snipes) — that his dreams of a nice, safe desk job seem to have  vanished forever — especially when he has to lock horns with boss Hobarts (Will Patton) and supervising federal agent Smith (Ellen Barkin, at her meanest.) All these actors are high grade, with the edge maybe going to Cheadle — plus a special nod to Hawke and D'Onofrio in their opening Brando-Steiger-style front-seat dialogue rip.
The movie's three main guys don't hang around together. But they're obviously all headed for Crash-style multiple trouble. And though the term "Brooklyn's Finest" is intended with irony, in my view, at least, two of the trio, Eddie and Tango, were getting a bad deal — and Sal's problems could have been solved by decent pay. It's a mistake, I think, to process or judge this movie as if it were a realistic crime story by Joseph Wambaugh, or even an episode of "Law and Order." Director Fucqua, working with an intricate, often implausible script by writers Michael C. Martin and Brad Caleb Kane, uses the surface realism of the street scenes and the profane chatter and fuck-you-no-fuck-you dialogue to set up another street western. Fucqua's specialty.
Fucqua's big wekness are over-the-top endings that don't make any sense, a problem here too. He doesn't even  seem to be trying for realism in Brooklyn's Finest,   either the pseudo-documentary style of a Gomorrah, or the more austere visual strategies and naturalistic acting of Sidney Lumet's Serpico or Prince of the City.  He wants something more Leone-operatic perhaps, and at times he gets it. Street westerns and neo-noirs have their own laws and pleasures. And, in Brooklyn's Finest, what keeps things cracking are the savvy of the actors, the flash of the visual style (cinematographer Patrick Murguia sets the streets on fire), and the grim, mordant, take-us-to-the-dark-side attitude.
Also: STONE (U.S.; John Curran, 2010) 1 Three Stars)
Robert De Niro is a great movie actor trapped in an industry that doesn't seem to want to make great movies — at least with older actors like De Niro, and his colleagues and peers Nicholson, Streep, Duvall, amd Pacino. What a waste! De Niro, who's a national acting treasure, has a potentially memorable dramatic role in Stone, a fairly good script by Angus MacLachlan (Junebug), pretty good 11direction by John Curran (We Don't Live Here Anymore) and fine cast mates in Edward Norton, Frances Conroy and Milla Jovovich — and he tries to make the most of the opportunity. He ca,'t quite, though it's the kind of showcase we'd want for him.
De Niro plays a taciturn prison probation official named Jack, a quiet but selfish and brutal man with a dark family secret in his past, and he gives us many levels of this complex, unlikable man, while keeping him repressed and disguised. He shows us how Jack holds himself in, his weary lack of heart or ambition, how he listens and sizes people up, and how he escapes and explodes (at least twice) into momentary viciousness or madness.
Stone is also a potentially good vehicle for that excellent actor Edward Norton, playing Jack's somewhat psychopathic client, an arsonist and prisoner named Stone, whose hair is in cornrows, whose eyes have a dead meanness and a foxlike glitter, and who speaks in a rapid mushy blur of obscenity, jail yard slang, conman bluster and imitation gangsta rap. It's also a surprising breakout for sex-bomb Jovovich (The Fifth Element), whose compelling performance as Stone's sexually incendiary wife Lucetta (whom he dangles as bait in front of Jack to get his parole) is a mild surprise. Conroy has the much less juicy role of Jack's bullied wife Madylyn, but she brings it alive.
This is a film for adults, by adults, done with intelligence. The first scene between Stone and Jack in Jack's office, with Stone trying to needle and prod the man who will write the report on his possible release, and to dazzle him with verbal footwork and with Jack quietly, sullenly, holding back and prodding Stone back, is great stuff. If the movie had kept that tempo and force and richness, it could have been a De Niro classic, and a Norton classic too.
But the payoff and the ending here, are somewhat confused, vague, and evasive. This movie could have, should have been a powerhouse. Instead it just hits a climax of sorts, not too surprising, not too riveting, goes nowhere very interesting and then slithers off screen. Stone is  kind of punchless noir, and it doesn't live up to its promise. De Niro and Norton, showing us again what they can do, leave us hungry for more.
BABES IN TOYLAND (Three Stars)
 U.S.; Gus Miens & Charles R. Rogers, 1934,  (Grapevine Video).
Exasperated toymaker Ollie Dee and slow, weepy fellow toymaker Stan Dun do their stuff at Christmas in Toyland, in costume, in kiddieland — and it works just fine. One of the tip-top Laurel & Hardy features (they're usually at their best in the shorts), this is their antic, sweetly funny version of Victor Herbert's Christmas operetta — an easy-going musical fantasy-comedy with two great clowns (and a supporting cast that includes Marie Wilson, Henry Brandon, and Charlotte Henry, the "Alice" of the all-star Paramount Alice in Wonderland). It's silly and childlike in a good way and  It does everything you want it to. So do Laurel & Hardy.  (This is the 78 minute restored version, in black and white.)
THE SAPHEAD (Three Stars)
U.S.: Herbert Blache', 1920 (Kino Classics)
Bertie Van  Alstyne in The Saphead — the role that made Buster Keaton a star — is a prototypical Keaton part, even if The Saphead is not a prototypical Keaton movie.  Bertie is another of Buster's naïve, unsmiling, unconscious dreamers and schmos and athletes: a  rich boy in love with his equally naïve sweetheart (Carol Holloway), but ridiculed when he tries to take a seat at the stock exchange (he thinks it's an actual chair), and so unschooled in the ways of the world, and so brainwashed by Roaring 20s clichés, he thinks the only way he can win his love's heart (which he already, unknowingly has anyway) is to be a suave, hard-partying, wicked  young wolf of Wall Street. Good little Bertie tries hard to be bad, with truly inept results, until his truly villainous brother-in-law (Irving Cummings), frames him for  his own adultery and then engineers a stock swindle, trying to destroy both Bertie and his genius speculator dad (William H. Crane). As often with Buster, things get hectic and wild, until finally there's a…
(SPOILER ALERT) …kiss and a fade-out and a family. (END OF ALERT).
Keaton had been Roscoe "Fatty" Arbuckle's brilliant second banana for 4 years (1917-1920), until he started making his own shorts in 1920, and until Douglas Fairbanks, Sr., refused the part of Bertie- which he had played on Broadway in the stage version — and suggested Keaton instead. Keaton plays the part so beautifully, with such grand hesitations and befuddled bewildered woolly-headednessment, that it's hard to imagine Bertie as a part for the exuberant Doug. (But it was). And though this is perhaps the least of Keaton's silent features, both the movie and its star have that grave innocence, and that deadpan slapstick grandeur that were all his own right from the start. (Keaton, by the way, credited the later disgraced Arbuckle, after his scandal, for teaching him everything, and Keaton later employed his old boss-comic partner under pseudonyms, when no one else would.) .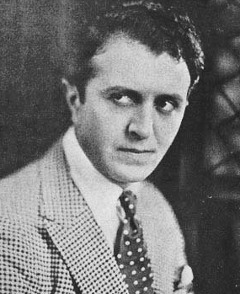 The rest of the cast includes Edward Connelly, a lot of supporting plsynoys nd stock sharpsters and, as the evil brother in-law (and very good at being bad), Irving Cummings. Cummings was a stage and movie actor in the silent era, and later, in the sound period, he was a director of musicals and comedies and Shirley Temple and Betty Grable movies for 20th Century Fox.  Cumming's most famous, and best, picture is probably The Story of Alexander Graham Bell (1939) with Don Ameche , and he also directed Alice Faye in Lillian Russell (1940), the biopic of a legendary actress with whom Cummings (a.k.a. Caminsky)  actually worked on stage. He's a good actor; with his cold charm and buried angst, he's the first one you notice after Keaton, and he even has a chilling come-uppance scene. The director, Herbert Blache does a decent job and he bears a famous historical cinema name: He's the husband of the pioneering woman filmmaker and one-time Gaumont studio head Alice Guy-Blache'. I'll bet she would have loved to direct Buster.
Keaton, of course, built on the stardom he won here to become, along with his friend Charlie Chaplin, one of the two greatest comic movie creators of the 20s, and one of the geniuses of world cinema, playing a succession of sapheads and pork-pie hatted naïf's who became immortal — as well ss knock-down hilariously funny ha-ha. (Silent, with intertitles and musical accompaniments.)
Extras: Two alternate versions of  The Saphead, one of them the original U.S. release version, the other an alternate version, with different takes, prepared for international release; Two original musical scores, composed and played by Robert Israel with orchestra (the U.S. release) and Ben Model on piano (the alternate version); Featurette The Two Sapheads, about the two different cuts; "Buster Keaton: Life of the Party" a 1962 audio recording, with Buster reminiscing about his vaudeville days; A Keaton childhood photo gallery.
The second version of the Saphead on this disc was not included in Kino's essential Keaton box set. The Arbuckle-Keaton silent shorts are also available on Kino: ten short shots of top-chop comedy from two superb, unbeatable  comedians. Keaton, who actually smiles in most of the films,  was not a full-fledged second banana or partner in all of the Arbuckle shows, but he is by the end.  Buyers should be aware there are crude racist jokes in Out West, a shame.)
These are the two Kino Fatty-Buster discs: Arbuckle & Keaton, Volume One (U.S.: Roscoe Arbuckle, 1917-1919) Three Stars. Contains The Butcher Boy (1917); The Bell Boy (1918); Out West (1918); Moonshine (1918); The Hayseed (1919).
Arbuckle & Keaton, Volume Two (U.S.: Roscoe Arbuckle, 1918-1920) Three and a Half Stars. Contains Good Night, Nurse! (1918): Coney Island (1918); The Rough House (1918);  Back Stage (1919); The Garage (1920).