Wilmington on Movies: Grand Illusion
GRAND ILLUSION ("La Grande Illusion") Four Stars
France: Jean Renoir, 1937
1. A Grand Illusion: The Great War That Can Be Stopped
Few films about war and the men who fight them have the resonance, beauty and power of Jean Renoir's 1937 Grand Illusion — which Renoir based on his own experiences as a fighter pilot and a Prisoner of War in World War I.  The movie, considered a classic almost from its first release, was premiered in Europe as France and Germany were set to plunge, in a few years, into another, far more destructive war, WWII. And Renoir wanted his Grand Illusion — which co-starred Jean Gabin, Pierre Fresnay and Marcel Dalio as captured French officers and POWs Lt. Marechal, Captain de Boeldieu and Lt. Rosenthal, and Erich Von Stroheim as their German prison camp warden Captain von Rauffenstein — to help avert that catastrophe. Renoir intended his picture, a labor of love that gathered together many of his favorite actors and collaborators, to be a plea for peace: a rejection of the war fever and bloodlust that had gripped Germany under Hitler, and an attempt to renew the simple bonds of humanity and friendship he had seen spring up between the French and Germans soldiers at the end of his own war.
2. A Grand Illusion: There Are no Borders
The movie is a tribute to just that: to the humanity that could spring up even in the shadows of war and death. In the film, de Boeldieu and Marechal, two French pilots shot down together by von Rauffenstein, later become his lunch guests and still later, his prisoners in Wintersborn, a grim castle-fortress where "nothing grows but nettles." The picture is about the relationship between comrades-in-battle and between combatants-on-opposite-sides: between men who seem naturally alienated from each other — the jailers from the prisoners, the French from the Germans, the aristocrats from the commoners — but who meet inevitably on the battlefield or in prison, their only common ground. The war pits natural friends, as well as natural enemies, against each other — and the only escape from that conflict, or from a part of it, lies across the snowy mountain border between Germany and Switzerland, an escape that may be only another illusion.
3. A Grand Illusion: The Fusion of Cinema and Poetry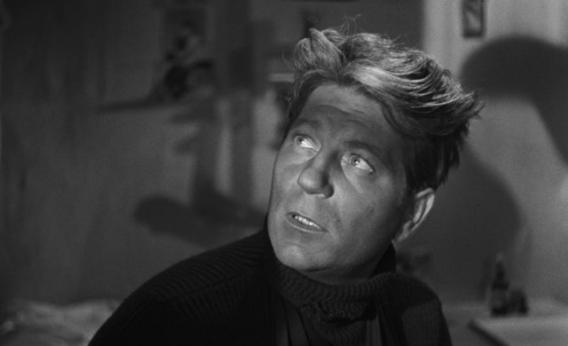 The cast is extraordinary. Jean Gabin, as the roughhewn but warm-hearted lumpenproletariat officer Marechal, was both a great film actor and the superstar of '30s French cinema, France's most charismatic leading man and sometimes its tragic hero — not only in Renoir's great 1930s films Grand Illusion, The Lower Depths and La Bete Humaine, but, around the same time, in other masterpieces of French poetic realism or early noir by Marcel Carne (Port of Shadows, Le Jour se Leve). Julien Duvivier (Pepe Le Moko) and Jean Gremillon (Remorques). Gabin became a movie legend because of the way he combined peasant sturdiness, natural grace, sexy savoir faire, and a fatherly warmth that wouldn't be seen that memorably in French films again until the heyday of Yves Montand.
Marechal is Gabin's greatest performance — and he beautifully sets off the delicacy, polish and heroism of Fresnay's de Boeldieu, a meticulously turned out, idealistic and unselfish comte for whom the phrase noblesse oblige might have been invented. Von Rauffenstein is just as much a nobleman, his body trapped and stiff in a neck brace, his movements robotic, his face suffused with a profound melancholy. The aristocratic von Rauffenstein admires and even loves de Boldieu and is puzzled by the count's loyalty to the commoner Marechal and the others, despite the ties of birth, breeding, milieu and honor that he and de Boeldieu share, indissolubly. Few scenes in cinema are more gravely, beautifully sad than our last view of Rauffenstein, underscored by Joseph Kosma's mournful music, as the Captain cuts the geranium that for him symbolizes his bond with his gallant French opponent.
4. A Grand Illusion: The Gift of Life
Then there is the third major French prisoner, Rosenthal (played by Marcel Dalio, the star of Renoir's The Rules of the Game). Rosenthal should be the most alienated and separate of them all, since he is Jewish. But Dalio is a truly companionable actor. No doubt his presence angered racists like Goebbels, but Dalio's Jewishness, and his superb performance, help create an ultimate statement of tolerance and pacifism and against bigotry and Fascism. Why should they imprison and kill each other? And why should their counterparts in reality? Could Renoir have foreseen when he and Charles Spaak wrote Grand Illusion, thedepth of the  horrors that the next war would unleash? Well, what can a filmmaker do? He did his best to stop it…..
Renoir's gift of endowing life (the gift of life that his father, the painter Pierre-Auguste Renoir had too) beats and pulses in the other characters as well: Julien Carette (later the wily poacher of Rules of the Game) as the bouncy little Paris vaudevillian  Cartier, Gaston Modot (Rules of the Game's bad-tempered gamekeeper) as the rngineer; Dita Parlo, the blonde river goddess of Jean Vigo's L'Atalante as Elsa the German farm widow, whose daughter Lotte has blue eyes; Habib Benglia as the Senegalese prisoner, who has brown eyes. When we watch this movie, or any of Renoir's movies, we re-enter a world, and revisit old friends (and an occasional enemy), and we are both elated and sad, because we know some of those friends must die or leave us. Death is the destroyer of all illusions.
5. A Grand Illusion: The Oscars.
Renoir tried.  He gave Grand Illusion all his skill, all his heart, all his art, everything. Together with the actors and with great collaborators like Christian Matras (cinematography), Eugene Lourie (art direction) and Joseph Kosma (music), he made this matchless cinematic tragedy and poem of wartime camaraderie and friendship, one of the most moving of all films on men at arms. And the world — or part of it — hailed the film, and has hailed it as a classic ever since. Grand Illusion became the first foreign language film to be nominated for a best picture Oscar, againt American studio films, and it was defeated by a decent but inferior picture, The Life of Emile Zola, with Paul Muni as the  French novelist who wrote "J'Accuse" to save Dreyfus. Almost everyone would now agree that Oscar was a mistake, that Renoir's film should have won. It doesn't matter because…
6. A Grand Illusion: All Men Are Brothers
Renoir's plea failed. The second world war broke out, raged, exploded, worse than anyone could have imagined. Millions died, on the battlefields and in the camps. Whole cities were decimated. There was no reforging of the old soldierly bonds. Jean Renoir, the ultimate French filmmaker, fled France, fled Europe, settled in Beverly Hills, and never returned to live in his own country, except to make a few films — one with Jean Gabin, about the Moulin Rouge and the French CanCan. Nazi propaganda minister Joseph Goebbels declared Grand Illusion "Cinematic Public Enemy Number One," and ordered all prints confiscated and destroyed — except for the treasured private copy of Nazi war minister and Luftwaffe commander (and apparently sentimentalist) Hermann Goering. Although Grand Illusion was a world wide commercial and critical success, it failed to reach Germany, to whose people it was specifically addressed. The film was even banned in neutral Belgium, out of fear of offending the Nazis, by a government that included prime minister and foreign minister Paul-Henri Spaak, who was the brother of Grand Illusion co-writer Charles Spaak.
7. A Grand Illusion: Great Art is Eternal
But if Renoir's film failed to stop a war, it has served ever since as one of the screen's greatest pacifist statements, loved by audiences around the world, including audiences in Germany. The picture — whose negative was lost for years, then found and restored decades ago, to be re-released now in a stunning 35mm print — is one of the treasures of the cinema: a brilliant, deeply touching human portrayal of men in conflict and the dream of peace.
Renoir's supreme gift, according to his cinematic apostle Francois Truffaut, was his power of instilling life in his films and in his characters. "He has made the most 'alive' films in the history of the cinema," Truffaut said, and he was right. Along with Renoir's 1939 masterpiece The Rules of the Game, about aristocrats and socialites at a  country chateau, and his 1935 The Crime of M. Lange, about working people  in Paris, Grand Illusion is one of his three most thoroughly alive films. (But wait: There's Boudu Saved from Drowning, and The Southerner, and The River, and The Lower Depths and La Chienne and French CanCan. And…..) Watch it. Watch it again. You know these men and women, you know their loves and wounds, and sadly you know their wars. Peace, honor, bloodshed, carnage, comedy, tragedy, life, death, all the grand illusions: You know them all. Or you will know them….How ironic perhaps that a movie about wartime soldiers and prisoners, about men sent on missions of death, about captives trapped and imprisoned, should be one of the movies that most powerfully celebrates life and freedom.
(In French, German and English, with English subtitles.) Grand Illusion has a week Chicago run at the Gene Siskel Film Center of the School of the Art Institute