Wilmington on Movies. Ice Age: Continental Drift
ICE AGE: CONTINENTAL DRIFT (Two and a Half Stars)
U.S.: Steve Martino/Mike Thurmaier, 2012
Animated features have gotten so generally good these days, so surprisingly witty and adult , that it's almost reassuring to run into one that's just as poorly written, confusing and juvenile as a lot of  the live action movies for adults. Take Ice Age: Continental Drift,  the fourth and least of the "Ice Age" series. (The first is still the best.)
The movie has its moments, including has some knockout visual effects and action scenes and some good sprightly visual comedy — usually the scenes involving Scrat the obsessed squirrel and the elusive acorn he keeps chasing everywhere. And it has an amusing cast that includes the old series regulars (Ray Romano as Manny the amiable wooly mammoth, Denis Leary as Diego the suave sabre-tooth tiger, and John Leguizamo as Sid the wacky sloth), as well as some engaging newcomers (Wanda Sykes as cantankerous Granny Sloth  Peter Dinklage as the sadistic baboon pirate Captain Gutt, and Jennifer Lopez as a sexy tigress named Shira). And, of course it's done, in 3D or flat, with the drop-dead technical ingenuity we tend to expect these days from feature cartoons.
But it also has a lazy, unfunny script, full of obvious gags and  silly dialogue:  an uninspired cliche-puddle of a screenplay that makes for a lazy, unfunny show — at least, I'm guessing, for most of the adults who get dragged to this and the other later, weaker Ice Ages by their kids. The kids are more the target audience for these movies anyway, and if they like it (and they probably will) well, fine. Maybe they'll just have to get used to the sound of Mommy and Daddy snoring or  groaning away, or stumbling out to the concession stand, in search of an acorn, or something stronger.
The story takes place once more in that bizarre prehistoric cartoon age invented for the movies by original directors Chris Wedge and Carlos Saldanha, and writers Michael J. Wilson, Michael Berg and  Peter Ackerman, a jam-packed span of time that seems to spread over millions if not zillions of years, and that mashes together everything from the Pleistocene to the Paleolithic to the early ages of TV sitcom. As with the last two Ice Ages (2006's Ice Age: The Meltdown and 2009's Ice Age: Dawn of the Dinosaurs), the story tends to resolve around the curious but solid friendship of Manny, Diego and Sid and also the family life of Manny, his buxom and outspoken woolly mammoth wife Ellie (Queen Latifah) and now their perky and slightly rebellious daughter Peaches (Keke Palmer), who has dad worried. (You'd worry too if you had a woolly mammoth wearing mascara for a teenage daughter.)
Continental Drift though, has gotten around to trying to supply Manny's buddies with more of a family, or some possibilities of families, to wit, the gorgeous and growly Shira, voiced by Lopez  (just the kind of gal to give stripes to  a sabre tooth tiger), and in Sid's case, not a girlfriend — that'll have to wait until Episode Five, Ice Age: Sloths in Paradise — but the smart-alecky indomitable old Granny voiced by Sykes.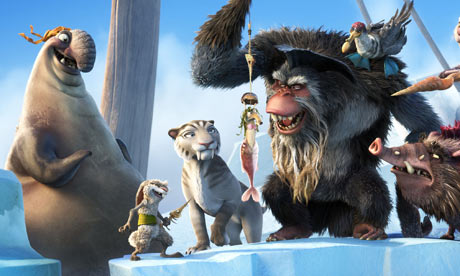 Don't imagine that the boys won't break out and embark on another icy epic adventure though. Only minutes of Drift pass before the continent the guys inhabit suddenly cracks in two — dividing the boys from Manny's family and herd — and a chunk of it starts  drifting away, carrying Manny, Diego, Sid and Granny out to the ocean. Fairly soon, they run into a sight to shiver the timbers of any audience, or even raise up  Robert Newton as Long John Silver (Aaaarrrrr!): Dinklage  as the monstrous baboon Captain Gutt (so named because he likes to gut his victims) and Gutt's piratical crew, including Shira and a nervous sea lion named Flynn (Nick Frost) — and only the endless cleverness of writers Berg (a longtime Ice Ager) and Jason Fuchs, spare poor old Granny from having to walk the plank.
I won't describe what happens next, and I doubt if you want me to, except to note that most of it is spectacular, lazy and unfunny —  and executed with the drop-dead technical ingenuity we tend to expect. The direction this time is by Steve Martino (who's done some of the Scrat shorts) and Mike Thurmeier. Acorn choreography is by Scrat Q. Squirrel. There is no truth to the rumor that Ray Romano pulled a Robert De Niro and actually became a wooly mammoth to play Manny.
Of course, the culprit behind all this continental drifting is Little Scrat with his inevitable acorn — a determined little rodent who never seems to learn (How many years, how many ages has it been?) that it's never safe anywhere in one of these movies to try to stick an acorn into an earth surface, whether icy or whatever. One tap of the acorn by the hungry little fella and our entire planet, or a lot of it, is plunged into cracks and chaos, while Scrat is plummeted to the earth's core, or cast adrift on the boundless ocean, or shot into space, or is seen descending into a Scrattian paradise called Scratlantis.
Scrat, of course is the true star of the Ice Age series, and a critics' darling as well (as is Leguizamo's slothful Sid). Probably only the great Wile E. Coyote has ever matched this insanely plucky squirrel for sheer Sisyphean balls. (Thank you, critic and Scrat-lover Tony Scott. But I have two words for Tony's suggestion in an otherwise estimable review that  "one of the golden rules of animation" is "No talking." The words: Mel. Blanc.  )
I should mention, as many have, that Ice Age: Continental Drift has, as a curtain-raiser, a short Simpsons cartoon, which is indeed somewhat better than the feature it accompanies, and executed with the drop-dead technical ingenuity we tend to… At least it has a better script.  Wasn't hard.