Wilmington on Movies: Red Lights
RED LIGHTS (Two Stars)
U.S.: Rodrigo Cortes, 2012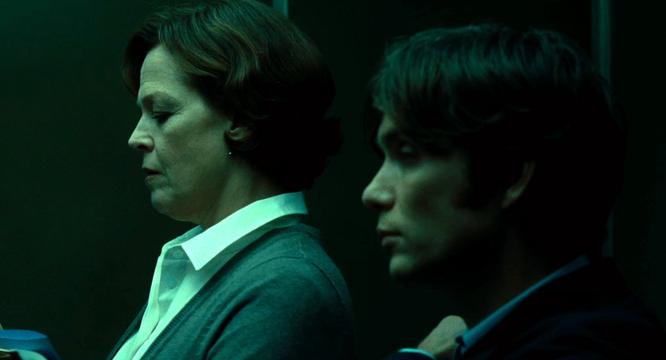 Movies, like other things that go bump in the night, can cloud your judgment — especially it seems, if they're about paranormal activity. In the beginning, I was so happy to settle down to Red Lights to  see Robert De Niro and Sigourney Weaver playing substantial lead parts in a fairly big movie by a Spanish auteur, with the star pair getting chances to dominate the screen again, that it took a while before it dawned on me how awful the movie was, how, despite all that talent — which included fellow actors Elizabeth Olsen, Toby Jones and Joely Richardson  and writer-director Rodrigo Cortes (who made the fairly effective Ryan Reynolds-in-a- coffin picture, Buried) — Red Lights was proving to be an arty but incoherent thriller that made little sense, went nowhere sensible  and was leading us all to a terrible, mind-boggling, but not necessarily scary, resolution.
Still De Niro and Weaver make parts of it worthwhile. He plays Simon Silver, a blind psychic and one time glowering mega-media star, who retired several decades ago from bending forks and communicating with the beyond, but has now returned for a gala comeback farewell appearance, while also cooperating in a huge scientific investigation into himself run by Toby Jones, who plays a sniveling academic opportunist named Shackleton, snivellingly. She plays Margaret Matheson (named in honor of writer-Twilight Zone mainstay  Richard?), who was once Silver's prime nemesis and is now a celebrated paranormal activity debunker and phony-ghostbuster who — together with her loyal and mysteriously obsessed assistant Tom Buckley (Cillian Murphy) — exposes phony séances and fake spiritualists and we can only hope, a few ersatz paranormal movies too.
Buckley is gung ho to take on Silver and show him up. Margaret is wary of crossing him again, thanks to a family tragedy in which Silver was distantly involved. Meanwhile this ridiculous academic investigation into Silver's paranormal powers, which seems to be driving both Toby Jones and Sigourney Weaver and everyone watching it (including us) to  distraction, wends its way forward, becoming more ridiculous by the second. Olsen pops up occasionally, to little avail. The film's most memorable scene is a vicious fight in an odd mostly empty men's room — which shows you what kind of movie it is. There's a twist ending that would have worked better if it were twisting something more sensible.
As I said, the first half of this movie is pretty good — which may be a case of digging yourself a beautiful hole and then getting trapped in it. Cortes mercifully doesn't direct like a rock video maker and he knows how to tighten knots and turns screws. But he's not that good yet — at least here — at untying and unscrewing.
Despite all that, De Niro and Weaver do decent jobs. I wouldn't blame them just because the movie isn't Nightmare Alley or Séance on a Wet Afternoon or The Sixth Sense (or even Ghostbusters) , and I wouldn't blame De Niro that this turns out to be another disappointing late De Niro movie — because the problem almost certainly is industry and cultural ageism and the fact that they're mostly not writing enough good or worthy parts for him or Weaver or Pacino or Nicholson or most anybody else over 60 (except Streep) to keep decently busy in (though De Niro keeps himself busy enough in dubious projects). And yes, I wish De Niro and Scorsese would get back together too.
The name "Red Lights," by the way, doesn't refer to the famous red light districts where the hookers hang out, but apparently to  the gimmicks that phony spiritualists use to distract and con their suckers. I won't comment on the appropriateness of that title, but you should know that this movie will show you how to stage a phony séance, which may be valuable information these days. Still, where is Margaret Rutherford as Madame Arcati when you really need her?