Wilmington on Movies: The Watch
THE WATCH (Two Stars)
U.S.: Akiva Schaffer, 2012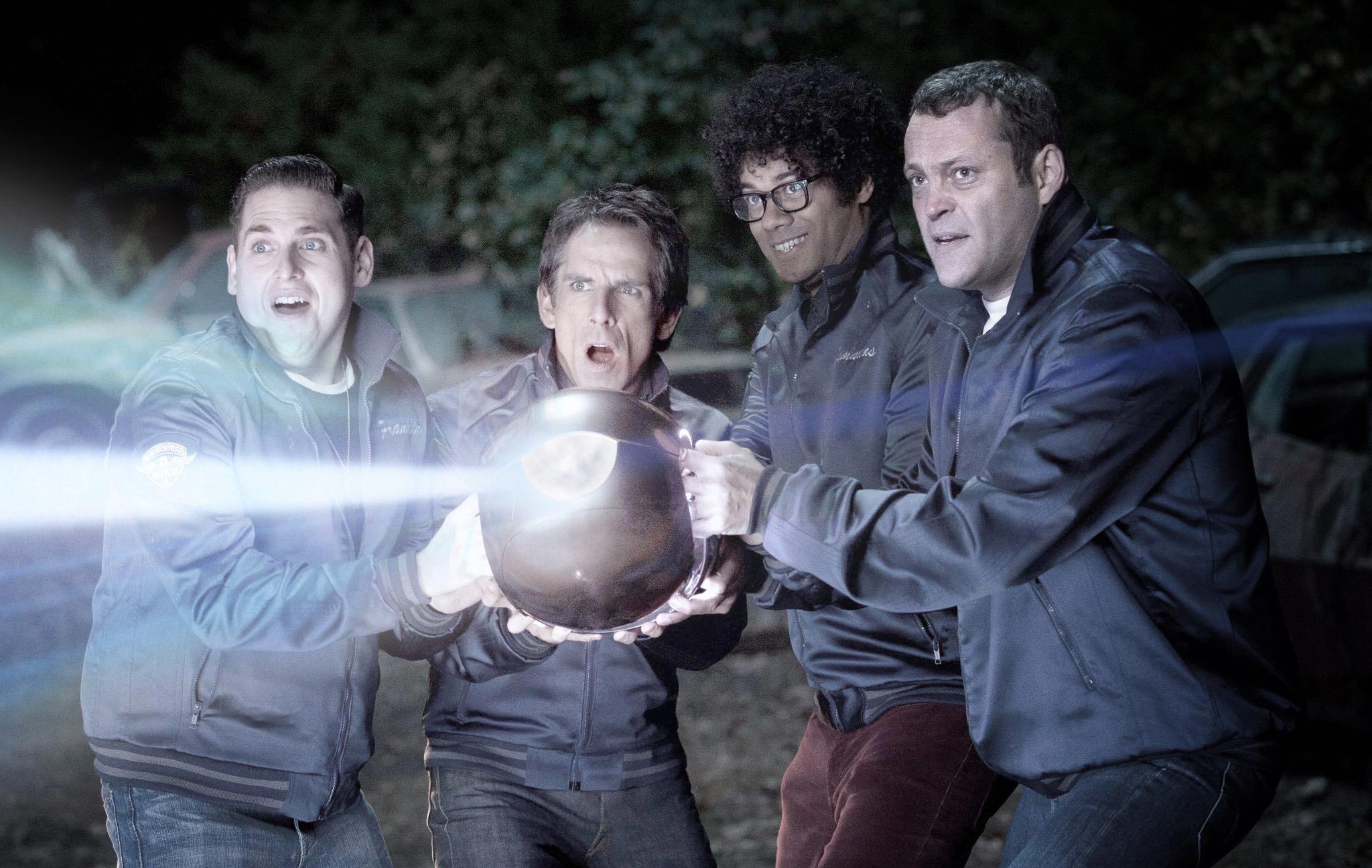 Somehow, the other night, I found myself in this movie called The Watch  — and, let me tell you, it was a chore, a bore, a genuine snore. Nothing made sense. Everything was ridiculous. I kept wanting to leave, but I couldn't, because I had to write about it.
In the movie — which was well-photographed and technically sharp but inane and a waste of time — the world was invaded by bloodthirsty extraterrestrial monsters and our only defenders were four hopeless idiots in an amateur suburban neighborhood watch, who kept trying to patrol the streets and be funny but failing miserably. The entire show, an incoherent jumble interspersed with bloody violence,  seemed to be an attempt to put  Ben Stiller, Vince Vaughn, Jonah Hill and a British comedian named Richard Ayoade (pronounced ai-yo-wah-de) — four smart guys —  together in a big dumb funny, trigger-happy comedy with a lot of guns and blood and guts and  dirty jokes about penises. But all they seemed able to manage was the big and dumb and trigger-happy and blood and guts and penises parts. Funny somehow eluded them.
This picture was once called Neighborhood Watch (until the Trayvon Martin shooting made that title seem distasteful — as if all the rest of it weren't) and it was almost mystifyingly hackneyed, with a plot borrowed (sloppily) from Invasion of the Body Snatchers (or at least the first two Don Siegel and Phil Kaufman versions) and bits and pieces of every goofball-buddy comedy you can think of — and with Stiller, Vaughn, Hill and Ayoade behaving as if they were all trapped in a misfiring "Saturday Night Live" sketch that never ended. (But should have, after four minutes or so.)
Star Stiller plays the standard Ben Stiller part of  Evan ("Eavn" is also the first name of one of the writers), a troubled suburban schmo in "Glenview, Ohio," here trying and failing to have a baby with wife Abby (Rosemarie DeWitt), because of sterility (always a great subject for somedy) and later ignoring her even when she dresses up like a lingerie ad. Does he need a machismo injection? Maybe. Evan, besides possibly writing bad scripts, manages the local Costco warehouse store, where one night the night watchman Guzman (Luis Nunoz), who just became an American citizen, gets killed, skinned and splattered  by some mysterious maniac, probably from outer space. Since the police are mysteriously unhelpful,  Evan decides to speechify at the local high school football game and  put up posters and recruit some neighbors for a neighborhood watch — excuse me, a watch.
Anyway, three civic-spirited chaps, all seemingly strangers to Evan, though they all live nearby, show up at his house. Vaughn has the standard Vince Vaughn part of Bob, a fast-talking Good Time Charlie, who just wants to hang out with the guys; Hill has a standard Jonah Hill part as sullen Franklin, a would-be cop who flunked his tests and has his own private gun collection (another now queasy-making  plot twist); and Ayoade, an amiable British TV star  who does relatively little except smile engagingly, do reaction shots, make one weird confession and wait for all the good reviews he's getting from reviewers who have  seen his apparently very funny British TV shows and films. (I haven't, but I'll take everybody's word for it. For the time being.)
The movie begins by trying to get us to laugh (maybe) at Evan's sexual dysfunction and at horror night at Costco and fast-talking macho Bob and all the penis reference, then tries to get us to accept that there actually is an alien invasion, part of a sinister conspiracy to take over human bodies and conquer the earth. But these guys mostly won't call the police or the FBI or the government or the Army, no matter how bloody and awful things get, maybe because the one cop Evan does talk to at first — Will Forte as sarcastic Sgt. Bressman — has a bad attitude. Instead they run around the neighborhood  peeking through bushes and staking out the Costco parking lot and arguing  about the beers Bob brought, and otherwise acting like four doofuses who'll do anything to try to milk a laugh. (So will the space aliens, who turn out, inevitably for this movie, to have their brains in their penises.)
Jeez, what a nightmare! One thing wrong here: These vigilante dudes just get too easily distracted in the middle of the invasion. Bob is prone to running off in the middle of crucial moments, to try  to keep his teen daughter Chelsea (Erin Moriarty) out of the hands of the local high school stud. At one point, they find an outer space bazooka and start firing it off (without any instructions) on the property of a bad-tempered home-owner, blasting vehicles and trees and other targets right and left. Nobody complains about this shooting spree or tries to stop it, or mentions it afterwards (though it must have woken up the whole damned neighborhood).
Then there's Evan's very friendly across-the-street neighbor, played incognito by Billy Crudup — who seems to be trying to invite Evan over for some kind of orgy, probably (but not definitely) sexual. Crudup, who doesn't take a credit, delivers the best performance in the movie, if not the best orgy.  Maybe they all should have demanded anonymity, including…
SPOILER ALERT
director Akiva Schaffer.
kiva Schaffer ("S.N.L."), the director.
END OF SPOILER
That goes triple for the writers. The biggest problems with most failed Hollywood comedies these days are the crummy scripts — that's why To Rome With Love looks good by comparison  — and The Watch has one of the crummier ones. It was manufactured by Jared Stern (The Princess and the Frog) and  Seth Rogen and Evan Goldberg (Superbad). Those are good credits, but however they divided up the labor here, The Watch script is a lousy, lazy job. Stiller (the straight man, particularly around Crudup) and Vaughn and Hill and Ayoade occasionally say or do or set up funny things, but they probably could have done just as much  without a script — especially without this script.
In fact I can only think of one logical explanation for this screenplay (which isn't much interested in logical explanations itself), and that's that, before these three guys started writing it, monstrous aliens from outer space burst into their working rooms, took their places and wrote the script themselves — as part of  a sinister conspiracy to befuddle moviegoers, and then, while everybody was wandering around flabbergasted, conquer the earth. Maybe they already have.
I told you it was a nightmare. But listen, maybe there's a funny movie to be squeezed out of this yet, one that Billy Crudup, or even Alan Smithee, would put their names on. Think about it. Four goofy neighborhood guys — Ben Stiller, Vince Vaughn, Jonah Hill and Richard Ayoade, no less, playing their standard roles — are writing a screenplay about a hilarious invasion from outer space and four hilarious vigilantes. Suddenly their bodies get taken over by four hilarious space aliens played by Will Ferrell, Jason Segel, Chris Rock and Nicolas Cage, who give the original guys their old bodies in exchange.
Now, all over Hollywood, bodies are being snatched and switched: Creatures played by George Clooney, Robert De Niro and Whoopi Goldberg take over the bodies of Brad Pitt, Al Pacino and Meryl Streep and vice versa — and Lily Tomlin takes over Steve Martin, again. Robert Pattinson takes over Taylor Lautner. Kristen Wiig is taken over by Kristen Stewart. Clint Eastwood takes over Billy Crystal. Robin Williams is taken over by everybody. The Coen Brothers are snatched by The Farrelly Brothers, who are snatched by The Wachowski Brothers, or by The Wachowski Brother and Sister. Chaos ensues. Meanwhile Costco holds a huge hilarious storewide sale, invaded by hilarious secret agents from WalMart, who undersell everybody.
Somebody finds the space bazooka, and the N. R. A. drafts a bill to protect its use as a concealed weapon. There's a hilarious bidding war over the screenplay (plus cameos for the Weinstein Brothers snatched by the Marx Brothers, who promise a great Oscar campaign). Nothing makes sense. Everything is ridiculous. But there's been a title change. It's now called "Neighborhood Blockbuster," or maybe "Neighborhood Fiasco" — or, excuse me, "Fiasco."