Wilmington on DVDs: Marilyn Monroe
MARILYN MONROE (1926-1962)
She was blonde and beautiful and often late. She grew up poor and unhappy. Her life changed. She became a starlet and a notorious nude calendar model and finally she became a movie star to the world, and the dream girl of many people, and many cultures. She played dumb in a lot of her pictures –but she was actually smart and very talented and well-read and the friend or favorite star of major writers and artists, and even of one great French philosopher. She became a remarkable, but seemingly tormented, actress. She had trouble remembering her lines. (Everyone else couldn't forget them or her.) She had legendary affairs. She married an aircraft factory worker, a great baseball player and a great playwright — and she was the mistress, it was said, of men even more famous and more powerful: a president and his brother. She died mysteriously — a suicide, the records say. She was loved by many: the famous and the powerful, but also the common people, the poor and unknown (as poor and unknown as she was herself, as a fatherless child). Her "real" name was Norma Jean Baker. She died 50 years ago. We still love her.
CO-PICK OF THE WEEK: Classic
Gentlemen Prefer Blondes (Blu-ray) (Four Stars)
U. S.: Howard Hawks, 1953  (Twentieth Century Fox)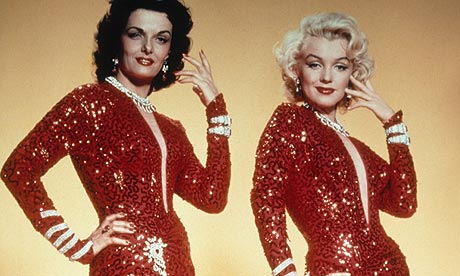 One of that great Hollywood professional Howard Hawks' most atypical, but delightful, entertainments, was this gaudy, sexy musical from the Anita Loos-derived show about "two little girls from Little Rock" — Marilyn Monroe's Lorelei Lee, who wants diamonds, and Jane Russell's Dorothy who wants loving — and how they conquer every man in sight, aboard a transcontinental liner and in the streets and cabarets and courtrooms of Paris: Everyone from Charles Coburn's elderly lech and diamond mine magnate Piggy, to child star George "Foghorn" Winslow's canny rich kid Henry Spofford III. ("You've got as lot of animal magnetism," "Foghorn" tells Lorelei, foggily, when he finds her with her shapely hips stuck in a porthole.)
The songs are by ace tunesmith Jule Styne ("Gypsy") and lyricist Leo Robins, with a few extras by Hawks' To Have and Have Not piano man Cricket (Hoagy Carmichael). And they include Jane's plaintive lament, as the shipboard Olympic team exercises and ignores her, "Ain't There Anyone Here for Love?"; the bouncy, bluesy, happily seductive "Be My Baby," sung up tempo by Jane, and with hair-raisingly slow innuendo by Marilyn; and, finally, of course, Marilyn's masterpiece, the pink-gown, all stops-out, Jack Cole-choreographed  showstopper "Diamonds are a Girl's Best Friend" ("Talk to me Harry Winston! Tell me all about it!"). Was part of this song, maybe the high notes, dubbed by someone else? Who cares? Hawks specialized in genre pieces that were often, as he said "love stories between two men." Here's his best and zestiest love story between two women. And what women!
The gorgeous, red-hot, vava-voom twosome of Lorelei and Dorothy are a knockout pair. (Marilyn was never better, though she was just as good in "Some Like It Hot" and "Bus Stop," and this is my favorite Russell performance too.) "Those girls couldn't drown!" cracks one enamored Olympian as the two busty bombshells sashay by on the ship. Bashful millionaire Tommy Noonan and resourceful private eye Elliot Reid are the lucky guys who get the gals, and the great French film actor Marcel Dalio (Rosenthal in Renoir's Grand Illusion, which is a Hawks kind of movie) pops up as an exasperated French judge, trying to make sense of a plot that's become as beguilingly opaque as Hawks and Raymond Chandler's and Leigh Brackett's and William Faulkner's The Big Sleep.
Other new Blu-Ray Marilyn Monroe pictures now available from Fox:
The Seven Year Itch (Blu-ray) (Three and a Half Stars)
U.S.: Billy Wilder, 1955 (Twentieth Century Fox)
Manhattan. A short hot summer. And just upstairs, Marilyn Monroe herself… Tom Ewell is a day-drreaming New York City middle-class husband suffering a seven-year extra-marital itch while his wife is away on vacation; Marilyn is the unattached blonde beauty upstairs who keeps her panties in the refrigerator on sweltering nights and likes to stand above subway grates in her white dress to feel the cool breeze. Will something happen between them? Will Rachmaninoff's Piano Concerto, that ultra-romantic theme song of Brief Encounter, help? Will the itch get a seven-year scratch?
George Axelrod's Broadway comedy hit about Manhattan summertime adultery (maybe) is given the full Billy Wilder treatment, with co-writer Axelrod's help (and unfortunate 50s-style interference by the censors and the Production Code). This movie offers Monroe at her most comic and beguiling, even when she isn't being whipped by the wind.  Ewell, the play's stage star, is good enough as the fantasizing schmo, but Wilder actually wanted the then young and lesser-known Walter Matthau for the part, and Billy was probably right. Anyway, this is still one of the MM essentials, with a slightly surreal edge to Axelrod's humor, as filtered through Wilder, and an amusingly strange cast that includes Evelyn Keyes, Robert Strauss, Victor Moore, Sonny Tufts and Oscar Homolka. (But not,  unfortunately, Walter Matthau.)
River of No Return (Blu-ray) (Three and a Half Stars)
U.S. Otto Preminger, 1954 (Twentieth Century Fox
)
Otto Preminger directs a rare (for him) Cinemascape color Western, with Marilyn as a dance hall girl with  a heart (and hair) of gold, plus Robert Mitchum as a sturdy, courageous  Northwest wilderness area farmer, child star Tommy Rettig (The 5,000 Fingers of Dr. T and TV's "Lassie") as Mitchum's newly reunited and hero-worshipping son, and Rory Calhoun as Marilyn's crooked gambler lover — who runs off with a stolen goldmine claim and leaves the other three to take a perilous river-raft journey to escape a hostile tribe and catch Calhoun.
The movie has become a classic, thanks to both its leads and their steamy scenes. Some hard-core Preminger admirers –the ones who like to vivisect Ottos's "objective" personal style —  think highly of it too.  Mitchum is a perfect screen romantic match for Marilyn, actor-screenwriter Frank Fenton wrote the script, there's a lot of attractive Canadian sceneery  and Marilyn (who plays a tougher, smarter character than usual) does a lot of singing, in her sultriest manner.
There's No Business Like Show Business (Blu-ray) (Two and a Half Stars)
U.S.: Walter Lang, 1954 (Twentieth Century Fox)
And no songwriter quite like Irving Berlin, whose classic American pop ballads. including the title number (as a rousing finale), enliven this all-star schmaltz about a beloved vaudeville family, "The Five Donahues."  The Donahues include mom and pop Ethel Merman and Dan Dailey, and siblings Donald O'Connor, Mitzi Gaynor and that weepy '50s crooner Johnnie Ray (Cry"), and there's backstage melodrama about the affairs of O'Connor and Marilyn Monroe, and Ray's aspirations to the priesthood. An okay show. A lot of it drags, but the stars and the songs (lots of them) make it fun. Also in the cast: Frank McHugh, Rhys Williams and Hugh O'Brian. Henry and Phoebe Ephron, Nora's parents, wrote the script.
How to Marry a Millionaire (Blu-ray) (Three Stars)
U.S.: Jean Negulesco, 1953 (Twentieth Century Fox)
How to Marry a Millionaire?  No problem, if you're Marilyn Monroe, Lauren Bacall and Betty Grable, three superbabes pooling cash and resources to rent a Manhattan penthouse — and your targets include Cameron Mitchell, David Wayne, Rory Calhoun and William Powell (some of whom are millionaires and some of whom aren't).  An interesting matchup of two of the great '50s glamour stars (Bacall and Grable), with the reigning new glamour queen of the '50s and beyond (Monroe, sometimes in glasses).  MM is in her prime, of course, but it's a friendly contest, and they're all winners.
  "Millionaire" Director Jean Negulesco had gone from making neat '40s black-and-white noirs and  melodramas (The Mask of Dimitrios, Humoresque, Johnny Belinda), to romance and comedy and musicals in color and Scope in the '50s; his best movies of that decade were this one and the Fred Astaire–Leslie Caron musical Daddy Long Legs. He looks like he's having a ball here; so are Marilyn, and the two Bettys, and so are we. Nunnally Johnson wrote the script, and it's about as far as he could get, in tone and milieu, from his script for that masterpiece on the American common man (and woman), The Grapes of Wrath.
One Response to "Wilmington on DVDs: Marilyn Monroe"