Wilmington on DVDs: The Dictator; The War Room; Simba: The King of Beasts
THE DICTATOR (Two Disc Blu-ray/DVD Combo) (Two and a Half Stars)
U.S.: Larry Charles, 2012 (Paramount)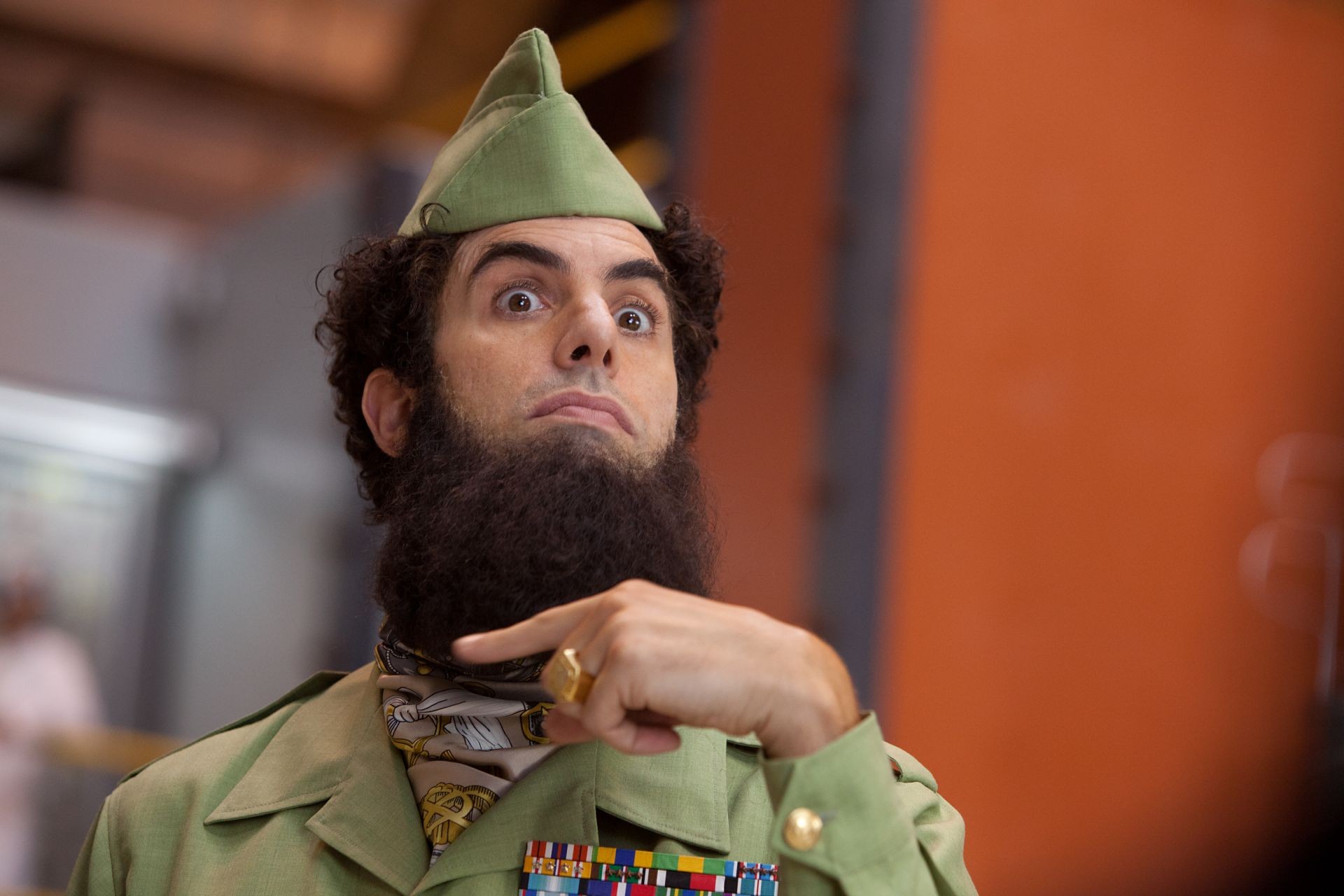 Sacha Baron Cohen is no Charlie Chaplin, and he probably never will be. But at least he's willing to give his comedy a shot of social and political consciousness, like Charlie did. The Dictator, an heir to the agility and impudence and political courage of Chaplin's great 1940 The Great Dictator (in which Adolf Hitler was sent up as "Adenoid Hynkel"), shows us Baron Cohen in that mood of mildly terrorist hilarity and cheerful bad taste that infused Borat — or, to be more complete about it, Borat: Cultural Learnings of America for Make Benefit Glorious Nation of Kazakhstan.
Here, helped once again by his fellow writers Alec Berg, David Mandel and Jeff Schaffer  and by director Larry Charles, Baron Cohen sticks a knife in world amity and savages the stupidiity of power and the media. But instead of a knuckle-headed, mispronouncing, sexist, racist, boorish reporter from Kazakhstan, we get a knuckle-headed, mispronouncing, sexist, racist, boorish, murderous dictator from Wadiya — the Muammar Qaddafi-Sadam Hussein-like dumbbell despot Aladeen, who has ruled the little mythical North African nation with an iron fist and a brain of granite, since the age of seven.
He's an idiot, but he's also a full-blooded fascist tyrant, a proud oppressor. Whenever Admiral General Aladeen wants someone executed, he simply turns, catches the attention of a nearby lurking assassin and a makes a little "snuff" gesture with his fingers. On his bedroom wall is a gallery of photos of celebrity sexual conquests (all apparently bought and paid for), including Oprah Winfrey and Arnold Schwarzenegger, with Megan Fox rushing out the door from his latest tryst, refusing his plea for a cuddle.
Surrounding this horny buffoon are a scurvy band of henchmen and minions and possible traitors, including his right hand killer, relative and the country's rightful heir to tyranny, Tamir (Ben Kingsley). Aladeen has a nuclear project going out in the desert, held up by his propensity for executing scientists — especially when they balk at his request that the missiles have a pointed top rather than a rounded one. He thinks pointed tops look more ferocious.
To put it crudely, Aladeen is an amoral dunce and a bloody nincompoop, qualities he shares, in part, with many other great and not-so-great dictators, from Adolf Hitler to Adenoid Hynkel to Kim Jong-Il (to whom The Dictator is dedicated in "loving memory"). As such, he's sometimes funny, sometimes not — which also is the case with this movie, as it was with both Borat and Baron Cohen's 2009 fashionista follow-up, Bruno, or Brno. The Dictator is a film admirable for its audacity, erratic in its comic attack, defiantly tasteless and, for the first time for Sacha, somewhat sentimental and upbeat and conventional. (I thought that helped rather than hurt the movie). It has one great scene, a number of good ones, and some really lousy ones. Ignore or forgive the bad stuff (which isn't always that easy) and you might have a fairly good time. Remember: Some comedies — especially the so-called rom-coms — don't have any good scenes at all.
The plot comes partly out of  Mark Twain's "The Prince and the Pauper," with a sideswipe through Eddie Murphy's Coming to America. Aladeen, who sports a black beard that suggests both Bin-Laden and ZZ Top (which he already had at seven),and  treats his country like an abusable plaything, has been summoned to the U.N. to expain his atrocities and his nuclear projects. ("Peaceful," he explains, cracking up.) He's accompanied by his retinue and his latest double, a lame-brained goatherd who is even stupider than Aladeen. After they all arrive, Tamir sets in motion a plot to kidnap Aladeen, sub the double at the U.N., proclaim Wadiya a democracy, call in Chinese businessmen and start divvying up the oil profits.
So, before you can say "waterboarding," Aladeen is hauled off to be tortured by grinning U. S. agent John C. Reilly (unnamed and uncredited but not unappreciated). After the two exchange torture tips, Aladeen escapes — and winds up in the hands of a wide-eyed, tender-hearted feminist — head of the local politically correct food store, the Free Earth Collective. Her name: Zoey (played, deblonded, by Anna Faris). He also runs into one of his presumed victims, the nuclear scientist who didn't want to do pointed missile tops, Nadal (Jason Mantzoukas). Nadal is now part of a New York expatriate community called Little Wadiya (their hangout is the Death to Aladeen restaurant) and the two hatch a counterplot to replace the double, give another U. N. speech repudiating democracy, and get back to the dictatorship racket — in a country that. Aladeen believes. loves to be oppressed.
We don't have enough political comedy in our films, and maybe that's why Baron Cohen received such a rapturous reception for Borat. Bur Sacha, a talented and uninhibited writer-comedian, makes movies that are hit or miss propositions. Sometimes his lack of inhibitions can outstrip his talent.  Baron Cohen and his fellow screenwriters (guys from "Seinfeld" and "Curb Your Enthusiasm"), keep setting up scenes meant to be funny and outrageous but are instead somewhat crude and annoying and don't spring enough out of character — and occasionally go way, way over the edge. Examples: the 9/11 gag with the square couple in the helicopter, the shocker where Aladeen's double urinates in his water pitcher and then spills it on the Israeli delegation,  Zoey's masturbation lesson to Aladeen, or the sudden childbirth scene in the Free Earth Collective.
Of course the Marx Brothers were partial to non sequiturs too, and several crtics have compared this film to both Chaplin's The Great Dictator, and the Marxes' Duck Soup. But in their greatest films, Groucho, Chico and Harpo made their comedy succeed through sheer brazenness, through adroit asides and playing to the audience. That kind of wacky genius isn't really a Cohen forte — even in his earlier movies, which are based on improvisation..
The movie's best scene, which I mentioned above. is more of a great comic/political moment, and it succeeds by sheer balls. At another U. N. meeting, the real Aladeen seizes the mike and goes into a long tirade about the relative merits of dictatorship and democracy. In it, he recounts all the misfortunes democracy is supposed to save or free us from — like having just the top one percent of our country's citizens control most of the wealth. Or having a government (or a congressional majority) that continually cuts taxes for the rich, and cuts social services for the poor or middle class. Or having elections that are essentially rigged or bought. And on and on.
That scene almost saved the movie. Of course, between the urine and masturbation jokes, there was a lot to save.  Groucho, who liked to improvise too, could have brought down the house at any hiven moment, with a waggle of his shaggy eyebrows, a baleful stare through his imaginary glasses, a wave of his cigar, and a line like: "Ah, Mrs. Rittenhouse, won't you lie down?" Ah well, what the hell: Heil Hynkel.
The War Room (Also Blu-ray) (Two Discs) (Three and a Half Stars)
U.S.: Chris Hegedus & D. A. Pennebaker, 1993 (Criterion Collection)
If you have a yen to see U.S. democracy and our political process in action, especially after spending a raunchy evening with Sacha Baron Cohen and The Dictator (of Wadiya), then The War Room, from Criterion,  could be your prime ticket. It's a movie that gets about as far inside American politics as two cinema verite cameras can go — an exhilarating acccount of the 1992 Bill Clinton campaign for the presidency, as managed by two political operatives who became media stars as a result of this picture: Clinton's lead campaign strategist James Carville (the Ragin' Cajun) and his Greek-American communications director George Stephanopoulos.
This stardom wasn't calculated. Candidate Clinton declined to give fimnmakers Chris Hegedus and D. A. Pennebaker much access to himself, or Hillary, for their proposed documentary, but he did allow practically unlimited camera spying on Carville, Stehanopolous and their team (which included Paul Begala and other future political and TV luminaries. And the duo, a pair of natural camera personalities (and, in Carville's case, a grand Southern ham) , were happy to oblige. Cinema verite master director-cinemtographer Pennebaker, who'd so memorably captured Bob Dylan in Don't Look Back, was the perfect eye for the job. And his subects were compelling. Stephanopoulous was a slick operator and good-looking workaholic. Carville had a sizzzling personality, a vocabulary to match, and  a campaign slogan that became legendary: "It's the economy, stupid."
As for the election….
SPOILER ALERT
Clinton won.
END OF SPOILER.
And afterwards, Clinton's dynamic duo became respectively, a star political TV pundit (Carville), and a star TV political correspondent and Sunday news show host (on ABC's "This Week"). Carville later formed another on-screen partnership with his Republican campaign opposite number, and future wife, Mary Matalin (whom we also also see and hear in The War Room.)
Even though Bill Clinton remained elulsive in victry, his managers were so approachable that The War Room became a surprise commercial and critical hit. No documentary had ever covered a campaign so intimately, and you can probabaly bet that few will ever get so close again. The current political atmosphere has gotten too contentious, too image-obsessed, too harsh, too downright vicious — and political operatves and strategists now have too much to hide, and too much to lose if they or their candidates are caught with their pants down.
The War Room is an engrossing entertainment. But what does it tell us about American politicis? For one thing, that it's a blood sport managed by sometimes colorful people who sometimes like the spotlight. For another, that it's a lot like American show business. The guy or gal who wins is often the one with the most star quality and the best story — or, these days, with the most loot to spend on TV ads. (At least after the U. S. Supreme Court delivered what may have been a  knockout punch to American elections with its "Money Talks" and "Corporations are People Too" decisions.)
Ah well, As a wise old Cajun tour guide once said. It's the money, stupid.
Extras: Documentary Return to the War Room (U.S.: Hegedus and Pennebaker, 2008) Three Stars. A conversation with Carville, Stephanopoulos and Begala about the impact of The War Room; Panel discussion from the Bill Clinton Foundation, with Carville, Vernon Jordan, Ron Brownstein, and a surprise guest;  Interview with strategist  Stanley Greenberg; Hegedus and Pennebaker discuss the travails of shooting political campaigns.
SIMBA: THE KING OF BEASTS (Three Stars)
U.S.: Martin and Osa Johnson, 1928 (Milestone Film & Video)
Martin and Osa Johnson were the famous filmmaking explorers and husband-and-wife adventurers, whose documentary records of their travels throughout the world,  and especially through its wilderness and jungle areas, were major movie hits in the '20s and '30s. The delightful Simba: The King of Beasts is one of those pictures, and a remarkable one.
Johnson began his filmmaking career after a 1906 voyage with "Call of the Wild" author Jack London; he began showing them in 1910. Johnson met fellow small-town Midwesterner Osa Leighty (he was from Rockford, Il; she was from Chanute, Kansas) in 1912, and they became a legendary cinema-making couple. Their style is simple, unpretentious and absorbing. Their strategy: get as close to the animals as possible, mingle with the people, chronicle your explorations humanly and engagingly. They were natural artists and very brave, as we see here in the filmed lion encounters. In 1937, their joint filmmaking career ended when Martin was killed in an airplane crash, which also severely injured Osa.
This is their best-known, most popular film and it's a beauty: a portrait of the now-vanished Kenyan tribal civilizations that takes us right into the jungles and plains and on the rivers and under the hot sky for priceless looks at that old world — at the people of eight African tribes and at Simba the Lion himself, along with other wild beasts in their natural habitats, including elephants, zebras, rhinos and  crocodiles. This is Hemingway territory, and though the cinematography pales next to a modern Alastair Fothergill nature documentary like African Cats, the movie is still exciting to watch. Seeing it is like stepping into another time, another world, with two very congenial, sympathetic and gutsy guides. (Silent, with English subtitles, and an original music score by African composer James Makubaya.)
Extras: Introduction to the 1928 theatrical release.