Wilmington on Movies: Hit and Run
HIT AND RUN  (Also Two Disc Combo/Blu/DVD/Digital copy) (Two Stars)
U. S.: David Palmer & Dax Shepard, 2012 (Universal)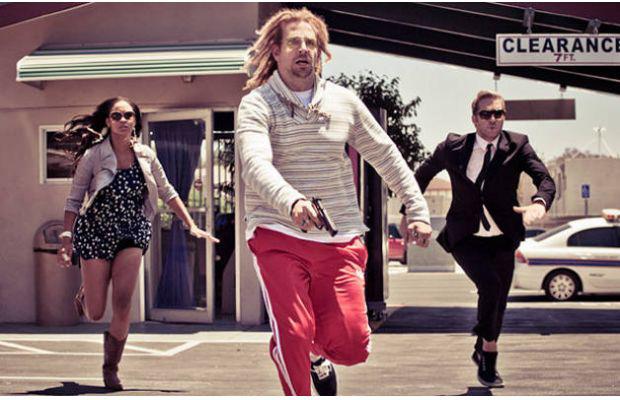 Part of Hit and Run — a hell-on-wheels car-chase comedy-actioner from actor-writer-co-director Dax Shepard — is playful, funny and even sweet-tempered. And part of it is hard and raunchy and a little mean. The two parts don't always jibe or mix well, but at least they provide a little variety and at least some entertainment — more than most shows of this kind do. I liked at least some of those parts, and the movie — which costars Shepard, Kristen Bell, Bradley Cooper, Tom Arnold and a 1967 vintage Lincoln Continental that Shepard drives (and, in real life, owns)  made me laugh a little. So did the two movies that seem to be its prime inspirations: star Burt Reynolds and director Hal Needham's Smokey and the Bandit, and the late Tony Scott's and writer Quentin Tarantino's True Romance.
A few laughs are better than none, even if the movie is irritating at times. But if Hit & Run is clichéd (and it is), it's likably clichéd: a kind of ersatz down-home project that looks as it were slapped together by a bunch of movie buddies out for a good time. Hit & Run has a hot tang, like a good barbecue sandwich, with a cold beer backing it up and catchy song on the jukebox ("East Bound and Down" maybe).
In the movie, Shepard, one of the stars of TV's "Parenthood,"plays "Charlie Bronson"  (a sub for his character's real name Yul Perkins (cq)), an ex-wheelman for a California hold-up aggregation. Charlie turned in the gang, and is now in a witness protection program in tiny Milton, Cal. — living a mellow life with his tough, adorable girlfriend, Annie Bean (played by Shepard's g.f. Bell, a.k.a. "Sarah Marshall"), and monitored by a nervous Federal Marshall, Randy Anderson (Arnold). Charlie/Yul is troubled only by the persistent interferrences  of Annie's old b.f., Gil Rathbinn (Michael Rosenbaum) and by the fact that he's never told Annie, who works in Non-Violent Crisis Management, about his outlaw past and his current witness protection status.
Enter the big problems: Annie is offered a dream job in Crisis Management studies at a Los Angeles university, and Charlie, who can't go to L. A. for a number of reasons, decides to show he's a mensch by driving her there. On the road, ready to mess with him or each other, are nervous Marshall Randy, who's also the worst driver in the movie, buttinsky Gil, his brother, gay cop Terry (Jess Rowland) and, worst of all, Charlie's old gang — led by dreadlocked psychopath (and Charlie's one time best friend) Alex Demetri, played nastily by Bradley Cooper, who has to be doing this movie (and Shepard's previous Brother's Justice) partly out of friendship.
Well, face it. Smokey and the Bandit, Shepard's model, was a lot of fun, though director Hal Needham (who was probably the movies' greatest movie stunt man and stunt directior from the '50s through the '70s) stumbled when kept trying to repeat that lighthearted car-chase-or-race formula, to increasingly diminishing returns in high octane turkeys like Stroker Ace and The Cannonball Run  pictures). Needham could have done a better job with this movie, which is sloppy and sometimes offensive (especially when Alex beats up, with a sadism that grates on you, an African American customer hassling him at a  store).
Shepard, an ingratiating actor, tries to pull a Judd Apatow of sorts: to play his movie both sweet and raunchy — and, in this case, good-hearted and occasionally brutal . But Shepard hasn't mastered the mixed tone that kind of story requires, and neither has his directing partner David Palmer — a music video guy whose filmography includes Stripped: Greg Friedler's Naked Las Vegas.
The movie just keeps genially crashing along: not particularly good, but not too bad either (except in spots). Of course, a show where Tom Arnold gets more laughs than Braadley Cooper in dreadlocks, is an anomaly to begin with — but Hit & Run keeps springing funny little surprises along the way, like Beau Bridges' ass-kicking scene as Charlie's dad Clint. Look at it this way: It could have been worse. It could have been Cannonball Run III.