Wilmington on Movies: Premium Rush
PREMIUM RUSH (Three Stars)
U. S.: David Koepp, 2012
As you get older, you realize, sometimes sadly, that some things are never going to happen to you. For example, in this life, you (or I) are probably never going to ride a bike at 50 miles an hour up and down crowded New York City streets — and espeially not a lightweight bike called a 'fixie" with a single gear and no brakes. So Premium Rush, I'm sure, qualifies as one of those breath-catching vicarious experiences that you'll never have the guts to try yourself. You have to experience it secondhand, at the movies. As such, this show is fun: racy fun, exciting fun, fun with no brakes, though not always fun that's sensible.
Directed and co-written by David Koepp, a Wisconsin boy, this movie turns Manhattan into a huge bicycle track and Road Runner cartoon. At its best, Koepp's movie is a complex mix of thrill ride, computer game and dark urban crime comedy — whizzing us along with, past or even against the flow of traffic. The premise is nifty: Star biker-delivery guy Wilee (Joseph Gordon- Levitt, in prime form) is slotted one busy day for a Premium Rush job. (That handle "Premium Rush" refers to a super-fast guaranteed delivery, at which daredevil Wilee is an expert.) But, in this case it's  more perilous a jaunt than the kid could have imagined: a job that involves  transporting a Chinese money ticket from some Chinatown mobsters and crooked cash guys  and their customer—a sweet and desperate Chinese immigrant named Nima (Jamie Chung) who's spending the money to bring her little boy to America.
There's a catch: The ticket is also coveted by a compulsive-gambler cop named Bobby Monday (fantastically well-played by Michael Shannon), who needs to steal it to square some gambling debts. At the pickup, Bobby tries to be reasonable, to talk Wilee into giving up the ticket. But Wilee, a dedicated delivery guy, refuses and takes off. The chase is on. Bobby is affable but ruthless, and he has the use of an unmarked patrol car. Wilee is a speed demon who loves the thrill of slipping and swerving brakeless though Manhattan traffic. Wilee's girl buddy-workmate  Vanessa (Dania Ramirez), is on another bike, and so is his rival Manny (Wole Parks).
Backing Bobby are any NYPD talent he can muster or who happen to see some of Wilee's reckless stunts and try to arrest him (like the outclassed bike cop played by Christopher Place). Wilee charges. Bobby follows. It's a mostly nonstop chase, a bit like the ones created by the great Looney Tuners Chuck Jones and Michael Maltese for the Road Runner (Speedimus Crazium) and Wile E. Coyote (Endlus Frustratum) who is, of course, the source of Wilee's nickname. Not as fast maybe, and without any assist from Acme, but on a much more crowded track.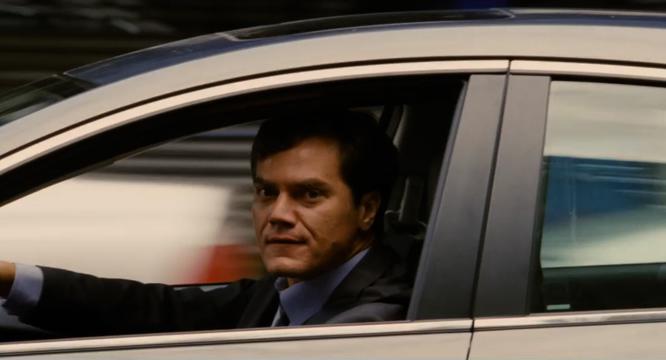 I thought this was a great idea for a snappy, sparky little action movie, and Premium Rush also has a super cast, topped by Gordon-Levitt and the amazing pathological heavy Shannon. The races are clean and sharp, and done with a pleasing mixture of  camera and computer effects and the real stuff. The graphics—which sometimes involve yellow speed-arrows picking out Wilee's street routes on aerial maps—are eye-popping. The structure, including a tricky use of flashbacks and High Noon-style time play, is neat.
As for the cast, they're all good but they can't upstage or out-ride the stars. Gordon-Levitt is an appealingly obsessive and impudent hero, a rebel on a fixie. And Shannon delivers the kind of movie-stealing performance that Tommy Lee Jones gave, as the obsessively pursuing cop in The Fugitive —except that here, the pursuer is on the right side of the street and the wrong side of the law.
As I said, it's a great idea for a movie—and parts of this movie are great. (Parts of it are a little silly.) I enjoyed it mostly. But something—for me at least—goes soft or sloppy in the last quarter or so. The action gets repetitive. The plot twists get too outrageous. That little money-marker, passed from hand-to-hand, and bike-to bike, is a little too implausibly indestructible.  The movie sometimes gets too fast and slick for its own good.
But Premium Rush has one thing (or two things) going for it that too many action movies don't:. It has lots of personality and those two terrific leading characters, Wilee the bike whiz and Bobby Monday the bad cop.
Wilee, an ex-Columbia law student, has become an outsider who's part of a strange, sharp, talented community on wheels, a kind of legal reckless driver. He drives without brakes and speeds wrong way against the rush of traffic, because he's being chased by a maniac but also because he's a thrill-seeker pushing the envelope and pushing that yellow map-arrow.
Bobby, his hellhound, is a psychopath with a badge (like Nicolas Cage as The Bad Lieutenant, but worse), a plunger who can't stop gambling, and who kills people without malice or intent, but without remorse either. Shannon plays Bobby as sometimes almost insanely reasonable-sounding—a crook who plays the game with style, a bit too friendly, too quick to take odd liberties, a phony mensch with lots of odd charm and crazy eyes, and the casual but deadly look of  a big ominous cat circling its prey.
It's a smart movie that sometimes goes off the track. Writer-director Koepp has scripted some of the biggest grossing action or adventure films ever, including Jurassic Park and the first Spider-Man, and he has a definite flair for rapid-fire clichés D.D.F. (done damned fast). His own directorial efforts haven't been as good. But Premium Rush is probably the best of them  — along with the Richard Matheson-derived ghost story A Stir of Echoes. Rush starts swift and keeps on going, throwing logic to the bike-winds often enough, but going so fast, and covering so much territory you often don't care. And, as long as Gordon-Levitt nd Shannon are on screen, Premium Rush has character and human color as well as speed and excitement. It may not always be Premium, but it's certainly a Rush.