Wilmington on DVDs: Snow White and the Huntsman; What to Expect When You're Expecting; The Last of England; More
SNOW WHITE AND THE HUNTSMAN (Two and a Half Stars)
U.S.: Rupert Sanders, 2012 (Universal)
Snow White and the Huntsman  has one of the clunkiest movie titles around, and a lot of the movie is worthy of it. A wildly expensive and lushly produced new look at the Grimm Brothers fairy tale "Snow-White and the Seven Dwarfs," starring Kristen Stewart as Snow, the film manages to waste an interesting idea, a fitfully intelligent script, a very good cast (with a big juicy villainess turn by Charize Theron as the wicked queen) and hotshot production design and cinematography. The unhappy result: a bloated, sexed-up  fairytale show, seething with fancy cliches.
One of the culprits may be director Rupert Sanders: a star TV commercial director making his feature directorial debut. Sanders' work, while full of pretty of seaside castles, and dark forbidding forests, and gossamer fairylands, showed little evidence of the ability to tell stories, or to bring actors alive (besides Theron). I'm not saying he can't learn. But the producers may have done him little service by having him practice on a 100 million dollar plus production, with a lot of complex logistics, a tricky revisionist script and a dopey title.
"Snow White and the Huntsman." Sheeesh. What in hell (or heck), I wondered when I first saw it, is the point of taking a perfectly good title like "Snow White and the Seven Dwarfs," kicking out the dwarfs and adding the huntsman, a guy who originally does a cameo in the Grimm tale by not killing Snow White and letting her run off in the dark forest. It seems a silly switch, even if you're hell-bent on emphasizing the movie's romantic element, which now includes both the huntsman and the prince (Sam Ciaffin), and hell-bent also on emphasizing the fact that a hunk star like Chris Hemsworth (of Thor) is playing the Huntsman. (We'll refer to him henceforth as Huntsman. Or maybe Hunt Guy.)
Actually, the original writer, Evan Daugherty (he was joined or augmented at various times by others, including John Lee Hancock and Hossein Amini), hadn't even intended a romance between Snow White and Huntsman. He did however want a blending of the Snow White story and Peter Jackson's movie version of Tolkien's Lord of the Rings Trilogy, with a little bit of the Natalie Portman–Jean Reno little- girl-tough guy thriller pairing in Luc Besson's The Professional.
In the beginning, it almost works. An all-knowing narrator whisks us from "Once Upon a Time" through the sad story of Snow White — born to a queen who wished for a daughter with skin white as snow, lips red as a rose, hair black as ebony — and, as events whiz by, we learn (from the Gimm story, augmented) that Snow's mother (Liberty Ross) died in childbirth, Snow's imprudent father married bombshell Ravenna (Theron), who poisoned and killed him, and brought in her creepy brother with a Dutchboy haircut, Finn (Sam Spruell), to divvy up and loot the kingdom. She also begins to spend absurd amounts of time, cross-examining her mirror about the fairest in the land.
Of course, the mirror first says "Ravenna," but eventually switches its vote to the imprisoned Snow. Frankly, I thought The Queen always had the edge. And didn't this movie miss a trick by not casting Simon Cowell as the Mirror? So, to wipe out her only real rival, Ravenna sends off Huntsman to kill Snow — and that begins the quest part of the story, along with a lot of stuff inserted to give the new hero, Huntsman, something to do. Eventually, this all leads us to the dwarfs, played by scene-stealing British character stars like Bob Hoskins, Ray Winstone, Eddie Marsan and Toby Jones, all of whom have had their heads plopped on the bodies of dwarfs though the magic of CGI). It all climaxes with Snow suddenly turning into yet another Luc Besson movie heroine, Joan of Arc, and leading a quickly assembled fairytale army of stalwart bashers into the Queen's castle. (By the way, I agree with Roger Ebert that the movie should have, instead of CGI-enhanced Brit all-stars, employed real dwarf actors.)
The production design (by Dominic Watkins) and the cinematography (by Greig Fraser) is impressive, but the story loses a lot of its coherence when the narration stops and it turns into an over-produced ersatz classic. None of the actors but Theron — who becomes ferocious, full of venom and gleeful sadism — are given much that's interesting to do, except take a gander at all the  wonders around them, yell during battle or muse on the travails of the evil kingdom and fairyland.
Will we get more fairytale movie extravaganzas with sexed up titles? "Goldilocks and The Three Bears" become "Goldilocks and the Handsome Woodsman." "Ali Baba and the Forty Thieves" turned into "Ali Baba and the Princess" (maybe "Ali Baba and the Hot Princess"). And "The Elves and the Shoemaker"  reborn as "The Elves and the Shoemaker's Wife"… Well, you get the drift. Mirror, Mirror, on the wall… Anyway, money is money, Huntsmen are huntsmen, Snow is White, but I missed Dopey.
WHAT TO EXPECT WHEN YOU'RE EXPECTING (Also Blu-ray/DVD/Digital Combo Pack) (Two Stars)
U.S.: Kirk Jones, 2012 (Lions Gate)
If you're pregnant, or if your significant other is pregnant, or if you'ret in the mood for another modern rom-com with an all-star cast and a coy, obvious script, you may get a kick or two (sorry) out of What to Expect When You're Expecting. Based — or rather "inspired by" — a best-selling pregnancy guide book by Heidi Murkoff, this is yet another example of mediocre to lousy modern rom-com moviemaking and movie marketing. How do you make a movie out of a best-seller self-help guide about pregnancy? How do you make a movie out of a best-seller self-help guide about anything? (The only good example that comes to mind is Woody Allen's 1972 film of Dr. David Reuben's Everything You Always Wanted to Know About Sex (But Were Afraid to Ask).
But I doubt that "Hire Woody Allen" is an acceptable answer. Instead, director Kirk Jones (Waking Ned Devine and Nanny McPhee) and writers Shauna Cross (Whip It) and Heather Hach (Legally Blonde: The Musical) have decided to craft an ensemble comedy, mostly set in Atlanta, in which four couples go though pregancy problems, one other couple tackles adoption, and three of the twosomes (Cameron Diaz & Matthew Morrison, Elizabeth Banks & Ben Falcone, Brooklyn Decker & Dennis Quaid) amazingly wind up in the obstetrics ward all at the same time.
OH WELL, SPOILER ALERT
Also, astonishingly, the fourth couple (Jennifer Lopez and Rodrigo Santoro) adopt a baby in Ethiopia, and the fifth couple (Anna Kendrick and Chace Crawford) hold hands, stride through the hospital corridor and face the future (and any possible sequels), with end-of-movie equanimity.
END OF ALERT
The writers' imaginations are fertile, if not often funny. This is not one of those anemic rom-coms with few characters and lots of clichés. This one has lots of characters and even more clichés. Banks plays pregnant Wendy, the author of a best-selling book on lactation and propreitor of a store called, I believe,  Breast Choice (or possibly The Breast of Everything or The Breast is Yet to Come). Her squeamish hubby Gary (Falcone) is an overweight nebbish whose dad Ramsey (Quaid) is a rich exNASCAR champ with a young, gorgeous (and also pregnant) wife named Skyler (Decker). Diaz' Jules runs a weight-loss clinic, and was impregnated by her partner on a TV dance contest show, Evan (Morrison, of "Glee"), aftere throwing up on camera. Lopez' Holly is the prospective adoptive mother with husband Alex (Santoro); both of them play more serious than for laughs. The result is the same.The most convincing couple in the movie (which tells you how convincing the movie is), is the twosome of duelling food truck owners Rosie (Kendrick) and Marco (Crawford). They move from rivalry to a one night stand to prospective parenthood to…..Well, we'll leave that to your breast-seller imagination.
Stranger than the fact that the stork (so to speak) ends up making so many deliveries to the same ward — and to people who know each other (sometimes), while apparently keeping tabs on events in Ethiopia, and cueing the music for Rosie and Marco — is the fact that some of the quintet have baby-related occupations (baby photographer, breast-feeding manuals and the like) and can therefore dispense wisdom from Ms. Murkoff's book and crack more baby jokes. Or the anomaly of the four sort of househusbands, calling themselves the Dudes Group –played by Chris Rock (spewing wisecracks like a Vesuvius of wit) , Tom Lennon, Rob Heugel and Amir Talai — who keep strolling through the movie, through a sunny park, looking like a mini-Wild Bunch with baby carriages and dispensing yet more baby wisdom — while seemingly unable to keep one clumsy kid, named Jordan (after Michael Jordan?) from getting continuously bonked on the head.
This is sweet-tempered picture.  But it matters little, since the script, following  the usual modern rom-com norm, is hectic and preachy and clichéd and not very funny. (Rebel Wilson as Wendy's friend Janice, is the only consistent laugh-getter.) The movie succeeds only in dredging up unwelcome memories of Valentine's Day and New Year's Eve, and unpleasant thoughts of a possible "Great Expectations, or  What to Expect When You're Expecting: The Musical." Is that likely? Is that conceivable? I'm afraid to ask.
THE LAST OF ENGLAND  (Three Stars)
U.K.: Derek Jarman, 1987 (Kino Classics)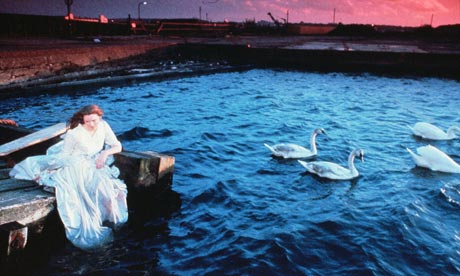 Derek Jarman, the gutsy British art film experimentalist  who died of AIDS in 1994 — and first became famous as Ken Russell's designer in Russell's wild-and-woolly 1971 masterpiece The Devils — eventually became an exemplar of the British "queer film" movement, of which The Last of England is a peak effort. Jarman liked to mix both classicism and the avant-garde  in his works and The Last of England, which is mostly Super-8 guerilla-attack-film in form, has a classical sensibility as well: pre-Raphaelite images and poems by T. S. Eliot and Allen Ginsberg, recited in resonant Old Vic-ish tones by Nigel Terry, the King Arthur of John Boorman's Excalibur.
Much of it though is a shimmering, flickering  Super 8 collage of brutal and lyrical imagery from England's lower depths and sexual underworld  during the Thatcher era (with copious male nudity, Fascist troops  and a hectic, battering Simon Turner score and sound design), interspersed with halcyon painterly looking home movies of the past: Jarman's placid, ordinary-seeming middle class family and his fairly idyllic-looking youth.
Tilda Swinton, whom most cinephiles first saw in either a Jarman movie or Sally Potter's Orlando, is in this one too, at 26. Appearing toward the end of the show in a gown with shears, she looks wildly beautiful, pale and a bit painterly herself. Who could have predicted she'd win an Oscar one day, for a big-budget studio thriller like Tony Gilroy's and George Clooney's Michael Clayton, with the anti-esabishment actress playing an ultimate evil establishment type? Anyway, The Last of England is quintessential Jarman: a compelling scream of  outsider pain and artistic rage.
THE DEVIL'S NEEDLE, and Other Tales of Vice and Redemption (Also Blu-ray) (Two and a Half Stars)
U.S.: Chester Withey/John Collins/Frank Beal, 1913-16 (Kino Classics)
In 1913 to 1916, the years covered by this little anthology of silent movies on social evils,  D. W. Griffith was in his prime, Charlie Chaplin was the most popular actor in the world, Theodore Dreiser and Booth Tarkington were among the revered novelists, Enrico Caruso was a major recording artist, Woodrow Wilson was the U.S. President, political progressivism was still in its heyday, and World War I eventually exploded across Europe. Social consciousness was the order of the day, and each of the films here tackles an immense social problem — prostitution, child labor, sweatshops or drug addiction — with some melodrama, with more than a little exploitation (of on-screen sin), but also with some  knowledge and realism and at least a little art.
These three movies may not be cinematic classics, they may be interesting today primarily to specialists and silent film aficionados (and to some social historians)  — and the print of one of the three, 1916's The Devil's Needle, may be in bad smeary shape for a good part of its length. But they hold a mirror up to the world of yesterday, a more valuable mirror than we may have once thought. (All films are U.S.-produced silent movies, with English intertitles.)
Included: The Devil's Needle (Chester Withey, 1916). Two and a Half Stars. From D. W. Griffith's Triangle Productions, supervised by Griffith, and directed (and co-written) by a Griffith protégé, Chester Withey, this kitschy melodrama stars Tully Marshall as a decadent artist with a weakness for his models, Norma Talmadge as the model who broadens his weaknesses to include morphine addiction, and —— as the society girl who falls for him, and later is kidnapped by low company and urban gangsters, Marguerite Marsh. The movie is corny, and the print has partly deteriorated (see above). But the actors go all out and The Devil's Needle closes smashingly with a patented Griffith slam-bang chase-suspense sequence.  With an original score by Rodney Sauer.  (This is the 1923 re-release version.)
The Inside  of the White Slave Traffic (Frank Beal, 1913) Two Stars. Based on extensive actual research into white slavery and prostitution by federal investigator Samuel London, this tale of fallen women and their seducers and traducers is stiff and primitively made, but  impressively downbeat and savvy. There's a long lexicon of contemporary pimp slang here that is repeated twice; "Gillette blade," for example means "girl" (a sharp one, I bet). The movie also comes with a long list of reformer-supporters that includes Charlotte Perkins Gilman, feminist author of the famed horror story "The Yellow Wallpaper."  With Ninita Bristow and Edwin Carewe., and an original score by Ben Model.
Children of Eve (John Collins, 1915). Two and a Half Stars.  This progressive heart-tugger (a modern tea-partier would revile it as "class warfare") from writer-director John Collins (who died at 26) indicts a cruel rich industrialist, Henry Clay Madison (Robert Conness), who forces his workers (mostly children and women) into hazardous, badly paid lives, and who doesn't realize that the girl (the names say it all), Fifty-Fifty Mamie  (Viola Dana) that he fathered with a tragic good time lady, Flossy  Wilson (Nellie Grant)  is now a poor factory worker  slaving in one of his sweatshops. The movie contains a spectacular factory fire, rough and primitive by today's standards, but effective nonetheless. And workers really were once treated this badly. Worse.  With an original score by Sauer.
Extras: Out-takes from Children of Eve; Raw surviving footage from The Inside  of the White Slave Traffic; Booklet with fine notes by film historian Richard Koszarski.