Wilmington on DVDs: The Babymakers; Bound; The Window
THE BABYMAKERS (Also Blu-ray) (One Star)
 U.S.: Jay Chandrasekhar, 2012 (Millennium Entertainment)
Devotees of jokes about masturbation, sterility, sperm bank burglaries and getting repeatedly kicked in the groin, will have struck the mother lode with the new comedy The Babymakers — a movie so coarse, crude and defiantly raunchy that it makes the Farrelly Brothers look like Walt Disney, The Three Stooges look (and sound) like the Three Tenors, and Tyler Perry look like Robert Bresson.
I have no prejudice against raunchiness, as long as its funny, and I've got to admit that I laughed occasionally at The Babymakers. I chuckled and smiles far more than I did, for instance, at the more politically correct recent comedy about sex and pregnancy, Celeste  and Jesse Forever, which struck me as smart yet almost mystifyingly unfunny. But I didn't laugh with a clear conscience. The Babymakers is pretty bad, and if you remember it much afterwards, it will probably mostly be with regret at the time you wasted watching it, when you could have been doing something more constructive and enjoyable, like making babies.
That's the narrative hook of The Babymakers. Married couple Tommy and Audrey Macklin (the acidulous Paul Schneider and the radiant Olivia Munn), have been burning up the sheets trying to procreate, for many months, when their doctor suggests that the problem may be that Tommy, to put it diplomatically, may be shooting blanks. Tommy objects to this explanation, since years ago, he proudly made multiple donations to a local sperm bank , and got no complaints. Some of his sperm, in fact, is still sitting around at the bank, frozen. Since then though, he's taken repeated kicks to the gonads, and takes some more in the course of this show (and may take even more if any audience members spot him), and the doctor suggests that his equipment may have suffered the consequences.
Off goes Tommy with his wild and crazy pals Wade (Kevin Heffernan) and Zig-Zag (Nat Faxon), to make things right. Their goal: to break into the sperm bank one night and steal his last remaining seed. This sets up the movie's showpiece scene, when clumsy Wade breaks numerous bottle of sperm, spills them all over the floor, then trips and slips and slides around in the jism. I guarantee you've never seen anything like this scene — which is, of course no reason that you should see it now.
The guys that made The Babymakers — director-star Jay Chandrasekhar, costars Paul Schneider and  Kevin Heffernan and writers Peter Gaulke and Gerry Swallow, are mostly TV and standup comics and filmmakers, and they do know where some laughs are. But it's a hit and mostly miss proposition. The best performance is by director Chandrasekhar, who plays a somewhat addled Indian-American crook-for-hire who claims to be a veteran of the Indian Mafia, and plays it with goofball panache.
BOUND (Three  Stars)
U.S.: Larry and Andy Wachowski, 1996 (Olive/Paramount)
A high-style modernistic take on classic Double Indemnity style romance-noir from The Wachowski brothers (Larry and Andy, makers of The Matrix Trilogy). In it, we watch a pair of sexy, adulterous lesbian lovers (Jennifer Tilly and Gina Gershon, both smoking), conspiring to bilk the Outfit, and Tilly's wise guy courier boyfriend Joe Pantoliano (in a role that might be comfortably described as "Pantolianesque") of millions of dollars of mob money.
It's a snazzy movie, with a pair of red-hot gal-pals snazzing it up. The setting is claustrophobic and really eye-catching — with the highly acrobatic camera zipping back and forth and all around a couple of adjoining posh apartments. The storytelling is tremendously stylish, sporting lots of visual verve. The cast, which plays the show with malevolent playfulness, includes the mismatched top triangle, plus John P. Ryan, Christopher Meloni (of "Law and Order"), and director Richard Sarafian. The resolution is a little upbeat for my tastes in this kind of Shallow Grave–Blood Simple movie. (I like 'em darker and downbeat.) But it's well done. The energy never flags, and  anxiety and sex permeate the entire picture.
"The Window" (Three and a Half Stars)
U.S.: Ted Tetzlaff, 1949 (Warner Archive).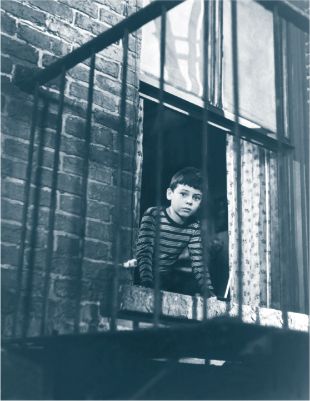 On a hot, hot New York City night, a 9-year-old with an active imagination named Tommy (played by Bobby Driscoll of the Disney Treasure Island) takes his bedding out on the fire escape of the apartment above his parents' rooms — and there, through an open window. witnesses a murder committed by their affable upstairs neighbors (Paul Stewart and Ruth Roman). Unfortunately, Tommy is known around the neighborhood for his elaborate fibs and yarns — for crying "wolf." His mom and dad (Barbara Hale and Arthur Kennedy) don't believe him. And as he keeps trying to tell his story, and keeps meeting disbelief, disapproval, or worse, the killers upstairs — trusted by everybody — become more and more aware of the threat he poses, more and more determined to stop him.
Of all the great '30s-'50s noir writers — Hammett, Chandler, Cain, McCoy, Goodis, Himes, Thompson– no one could generate sheer screaming suspense better than pulp fiction king Cornell Woolrich. This picture, along with Hitchcock's 1954 Rear Window (which 1949's The Window somewhat resembles) are among the most tension-packed, blood-freezing movies made from any of Woolrich's stories. (The tale used here is "The Boy Who Cried Murder," and the film was later remade, ineffectively, twice.)
The Window, shot partly on location, has grittily evocative  city street scenery. The cast is pretty near perfect. (Driscoll, who won a special 1949 Juvenile Oscar for his performance for The Window, is a terrific boy-in-distress; Kennedy and Hale are right on as the well-meaning but unseeing parents; Stewart is a great villain). The tense script, by noir specialist Mel Dinelli (The Spiral Staircase, The Reckless Moment), is a model of construction. The suspense never lets up.
The director of The Window was Ted Tetzlaff, an ace cinematographer of the '30s and '40s, who shot Hitchcock's Notorious, and he and cinematogrphers Robert De Grasse and William Steiner do a wonderful job here,  reminiscvent at times of the best '40s Italian neo-realist movies, likie Bicycle Thieves. (Tetzlaff as director  was never as good again.) This movie crackles with atmosphere and character,  seethes with fear and dread. There are some classic film noirs that are still a bit underrated, and — perhaps because the protagonist of The Window is, atypically for this genre, a child — this is one of them.