Wilmington on DVDs: Peace, Love and Misunderstanding; Red Lights
PEACE, LOVE, & MISUNDERSTANDING (Two and a Half Stars)
U.S. Bruce Beresford, 2011 (MPI Home Video)
In Peace, Love & Misunderstanding — a cinematic salute/love ballad to the survivors of the '60s — Jane Fonda plays Grandma Grace, whom you might describe as a permanent ambassador from Woodstock Nation. A devotee of sex, drugs and rock n'roll — as well as peace, love and understanding — she's still a sexually adventurous old gal who claims she was once in a threesome with Leonard Cohen… and when Fonda says that, you wonder. Grace lives in Woodstock in a combination pot farm and upscale painters studio that looks as if it were designed by somebody famous for somebody like Jane Fonda.
Low-slung, expensive-comfy, colored as exquisitely as a fine art print, and flooded by the sights of greenery and sunlight from outside pouring through the huge windows like a Joni Mitchell sacrament, it's a beautiful place. And Fonda looks beautiful in it, her hair a tawny, gray-tinged Woodstock mass, her face and frame as Fonda-ish as ever, even in her mid-'70s. It's a strange observation to make about somebody from the AARP generation, even if she's a movie actress, but Fonda's bod seems almost as lithe and limber in this movie, and her mood almost as lively and quick, as when she played Bree the call-girl-in-distress in Klute in 1971, or the daughter of Hank Fonda and Kate Hepburn in 1981's On Golden Pond. She's, well, ageless.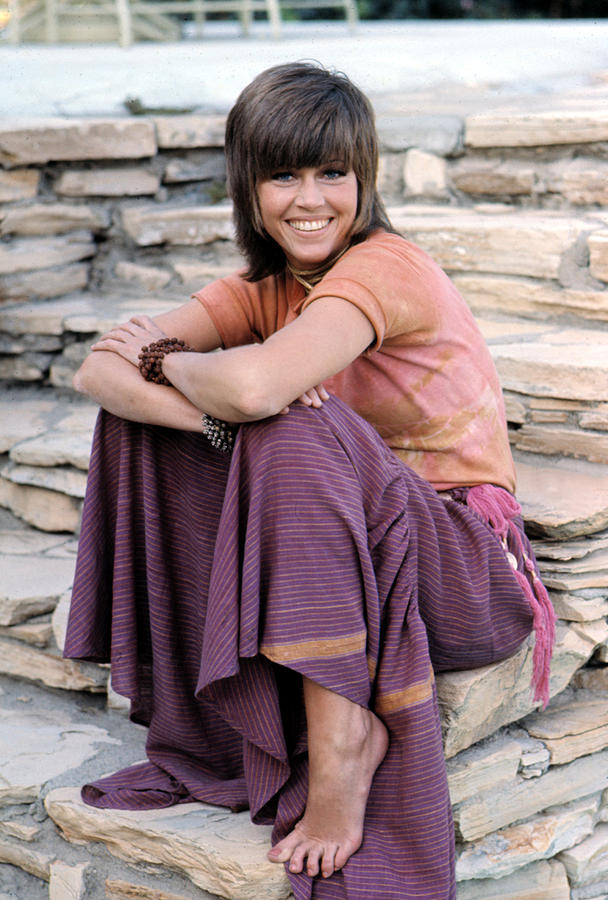 But there's also a new gentleness, mellowness and relaxation in her acting and persona. It's fun to watch her in a part like this — one where she kids herself and lets her hair down, with a good cast (Catherine Keener, Elizabeth Olsen and others), and a good cinematograher (Andre Fleuren) and working for a good director (Bruce Beresford) — even if the over-obvious, cliched script lets her (and everybody else) down. It's the fault of the screenplay, by the way (by executive producers and first-timers Christine Mengert and John Muszynski) and not Beresford, who's been hammered by a few critics, but who does as good a job as almost anyone could have, short of writing new lines.
What happens? Nothing that wouldn't occur to somebody condescending to Woodstock (and its legacy) from the vantage point of another era. Peace, Love and Misunderstanding is a cross-generational family drama-with-laughs, like On Golden Pond and it doesn't waste time harvesting the schmaltz. So to Grandma Grace's house goes her daughter Diane (Keener, very good), who hasn't spoken to her mother for 20 years, even though Diane just lives downstate in New York City, where she's a conservative attorney with two children, married to an uptight asshole (Kyle MacLachlan as Mark). Mark has decided to pursue his career as an asshole elsewhere and divorce Diana and leave his kids and fulfill his role of making nasty, stupid dinner party remarks about Eugene O'Neill's plays in some other movie. The reason for the mother-daughter break: Grace was caught dealing pot at Diana's wedding. That twenty-year embargo seem pretty drastic for a litttle pot. (Maybe it was medicinal pot?)
Upset by the impending divorce, Diana immediately departs for Woodstock and Grandma's, taking along the two children whom their grandmother has never seen: Committed vegan Zoe (Olsen) and geeky camcorder filmmaker and Werner Herzog enthusiast Jake (Nat Wolff). Given how uptight Diana became , the two kids seem more laid-back. And they all have a lot to lay back for at Grace's — including three perfect ready-made romances just waiting to get sprung, as well as an earth mother's night of the crazy moon (with a welcome cameo by the still gorgeous Rosanna Arquette), cannabis galore (thanks to Grace), and even a musical festival (not as big as the other Woodtsock Peace and Love festival, but it's heart is in the right place).
Grace was one of those people whose lives were changed by that first festival: Well along on her first pregnancy, her water broke just when Jimi Hendrix launched into "The Star Spangled Banner." That's the kind of stuff that apparently horrifies Diane, but the reunion seems amazingly trouble-free at first — which is only one of many plot points the script seems to over-stretch, and that the director, Beresford (of Breaker Morant and Driving Miss Daisy, and more recently, Mao's Last Dancer), can sometimes finesse.
The romances? Diane finds a folk-rock singer named Jude (Jeffrey Dean Morgan) who's not shy about skinny-dipping or flashing his Javier Bardem lazy smile. Committed vegan Zoe naturally falls for sexy butcher Cole (Chace Crawford). And over-inhibited Jake, who's shy with girls even though he's always shoving his camcorder in somebody's face, gets a Donovan makeover from Grandma Grace, and tests his new peace and love agenda on friendly coffee-shop lass Tara (Marissa O'Donnell). All this suggests that Woodstock may be the new singles hot spot — or that Grace should start her own singles site: say, WoodstockSurvivors. com.
There's one big flaw in the movie. It tends to ignore many of the contemporary socio-political issues you'd expect Grace and her friends to be involved with today — with G. O. P. and Tea Party Party activists hard at work trying to deregulate the markets, turn Wall Street back into a casino, establish (or re-establish) an oligarchy, and repeal most of the New Deal and Great Society, including maybe Civil Rights and the Voting Act. (There's more politics than in most of today's rom-coms, but not enough to do justice to the subject matter.) Watching Peace, Love, & Misunderstanding, you might get the impression that the only current hot button political issues were vegetarianism, decriminalizing pot and ending the war — and you might even get confused about which war they want to end. Afghanistan or Vietnam? (Some of Grace's friends looked blitzed enough to be protesting both.)
This new movie is well-directed, well-acted, well-shot, but not really well-written — which is par for the course for a lot of movies these days, even the serious ones. It diidn't bring back the old feeling for me, as Ang Lee's 2009 Taking Woodstock did. Yet I feel kindly-disposed toward P, L & M anyway, because I remember the Vietnam War years, and what they meant, and what they did, and who we were, and where, sadly, a lot of it went. And I remember Jimi Hendrix, his face rapt, his eyes closing, his fingers flying, tearing into The Star-Spangled Banner at Woodstock, though, unlike Grandma Grace, I wasn't there.
RED LIGHTS (Two Stars)
U.S.: Rodrigo Cortes, 2012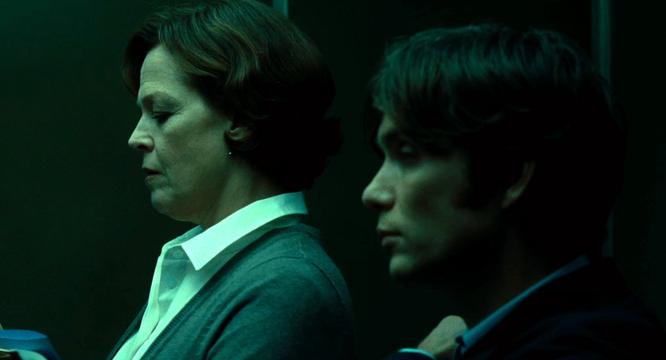 Movies, like many another thing that goes bump in the night, can cloud your judgment — especially it seems, if they're about paranormal activity. In the beginning, I was so happy to settle down to Red Lights to  see Robert De Niro and Sigourney Weaver playing substantial lead parts in a fairly smart-sounding movie by a Spanish auteur, that it took a while before it dawned on me how awful the movie was, how, despite all that talent — which included fellow actors Elizabeth Olsen, Toby Jones and Joely Richardson and writer-director Rodrigo Cortes (who made the Ryan Reynolds-in-a- coffin picture, Buried) — Red Lights was flaming out: an arty  thriller that made little sense,  and was leading us all to a terrible, mind-boggling, but not necessarily scary, resolution.
Still De Niro and Weaver make parts of it sort of  worthwhile. He plays Simon Silver, a blind psychic and one time glowering mega-media star, who retired several decades ago from communicating with the beyond, but has now returned for a gala comeback farewell appearance, while also cooperating in a huge scientific investigation into the veracity of his spook jobs, run by Toby Jones, who plays a sniveling academic opportunist named Shackleton, snivellingly. Weaver plays Margaret Matheson (named in honor of writer Richard?), once Silver's prime nemesis and now a celebrated paranormal activity debunker and phony-ghostbuster who — together with her loyal and mysteriously obsessed assistant Tom Buckley (Cillian Murphy) — exposes phony séances and fake spiritualists and we can only hope, ersatz paranormal movies too.
Buckley is gung ho to take on Silver and show him up. Margaret is wary of crossing him again, thanks to a family tragedy in which Silver was distantly involved. Meanwhile the ridiculous academic investigation into Silver's paranormal powers,  wends its way forward, becoming more ridiculous by the second. Olsen pops up occasionally, to little avail. The film's most memorable scene is a vicious fight in a mostly empty men's room. There's a twist ending that would have worked better if it were twisting something else.
The first half of this movie is pretty good — which may be a case of digging yourself a fine hole and then getting trapped in it. Cortes knows how to tighten knots and turn screws. But he's not that good — at least here — at untying and unscrewing.
Despite all that, De Niro and Weaver do decent jobs. I wouldn't blame them just because the movie isn't Nightmare Alley or Séance on a Wet Afternoon or The Sixth Sense (or even Ghostbusters) , and I wouldn't blame De Niro that this turns out to be another disappointing late De Niro movie. The problem almost certainly is industry and cultural ageism.  And yes, I wish De Niro and Scorsese would get back together too.
The name "Red Lights," by the way, doesn't refer to the famous red light districts where hookers hang out, but to  the gimmicks that phony spiritualists use to distract  their suckers. Want to learn how to rig a phony seance? Red Lights has one, But where is Margaret Rutherford's Madame Arcati when you really need her?