Wilmington on DVDs: ParaNorman; Lawless; The Apparition
PARANORMAN (Also 3 or 2 Disc Blu-ray/DVD and/or 3D Combo) (Three Stars)
U. S.: Chris Butler/Sam Fell, 2012 (Focus)
ParaNorman, a.k.a. Norman Babcock, mini-hero of the entertainingly creepy new 3D stop-motion animated feature that bears his name, not only has three dimensions but a sixth sense to boot.  He sees the dead — and also talks to them, watches sleazy zombie movies with them, plays with them, and tries to understand them and protect them from those occasionally obstreperous and definitely zombie-phobic creatures known as living, uh, human beings. ParaNorman, or ParaNorm for short, is a kind of a macabre kid, but he's also an adorable one — with his teensy vulnerable, 11-year-old stop-motion physique, his toothbrush-bristle coiffure, his glum but winsome voice (charmingly supplied by Kodi Smit McPhee) and his big sad dark cartoon-movie kid eyes.
ParaNorm lives in a Stephen Kingish New England town called Blithe Hollow, which 300, years ago, was the site of witch hunts and a witch trial, and a hung witch whose swaying likeness now is part of the Blithe Hollow's hard-sell witch self-branding (with streets full of witch cafes and witch shoppes and witch memorabilia, and maybe a take-out coven or two) — and which also inspired the annual witch school plays, written and directed by the fruitily theatrical Mrs. Henscher (Alex Borstein), with a pilgrim part for Norm.
Don't be deceived by his temporary Blithe Hollow stardom. ParaNorm is a picked-on little outsider locally famous as the kid who sees spooks (which nobody else can, of course), still watches TV with the greenish ghost of his grandma (Elaine Stritch) and is fussed over by the rest of his family, the Babcocks — fat macho papa Perry (Jeff Garlin), protective mama Sandra (Leslie Mann) and ditzy, dismissive older sis Courtney (Anna Kendrick). And he's otherwise made miserable by a gallery of "normal" Blithe Hollowites which includes toad-faced school bully Alvin (Christopher Mintz-Plasse), the flamboyant Mrs. Henscher, plus the abnormal and over-familiar Mr. Prenderghast (John Goodman).
 Then there are the Dead themselves, which include the persecuted witches and the judges who persecuted them and a tragic little girl. In all this comically grisly stew of the living dead and the obnoxious alive, Norm's one faithful chum is his tubby, congenial schoolmate Neil (Tucker Abruzzi). Neil, however, comes with a hunk-dumbo and definitely Norm-unappreciative older brother, Mitch (Casey Affleck), the not-too-swift heart-throb of not-too-sharp Courtney.
You can see that writer Chris Butler — who also co-directed with Sam Fell (Flushed Away) — likes big casts. (There are even more dead and live ones here we haven't mentioned.) That's all to the good, and it endows ParaNorman with that feel of boisterous life that many of the best recent animated features have — and most of the big live action movies don't. It's also a wonderful-looking movie — with the living-doll-or-toy likeability, depth and fullness that the best stop motion puppetry can endow — from George Pal to Ray Harryhausen  to Nick Park and Wallace & Gromit to the great underseen Jiri Trnka.
The town is funny itself, a kind of All-Americasn gothic New England dark joke, and all of the people and creatures in it have lots of personality — both the voice performances and the character animation. Especially good, I thought, were Goodman as Prenderghast, Borstein as Mme. Henscher, Kendrick as Courtney, and Smit-McPhee as ParaNorm.
The movie's mixture of the genuinely macabre and the adorable (and funny), makes for a pleasant, smartly cute (and cutely smart) entertainment, probably as much of a ghastly treat for adults as it is for kids. Well, maybe even more for some adults than for some children, especially if the kids are very young and susceptible to nightmares of horror and corpses and the walking dead and bloody, rotting, loathsome fear.
The filmmakers didn't mention King as an inspiration for any of this, but they did cite both teen movie czar John Hughes and shockmeister John Carpenter, an odd but stimulating moviemaker couple. And we shouldn't forget Tim Burton, and his stop-motion cohort Henry Selick. This film isn't the equal of Coraline, which mixed whimsy and the macabre and had the feel of a small classic. But ParaNorman, despite its unpromising title, has grisly charm and spooky wit and personality and nifty zombie/undead gags. I liked it a lot more than any of the Paranormal Activity movies — which I suppose isn't saying much. But ParaNorman activity, you know: that can be cool — as long as those undead guys don't litter too many body parts on the sidewalks, when they're running away from the solid citizens.
No Extras.
LAWLESS  (Also  Blu-ray/DVD Combo) (Three  Stars)
U.S.: John Hillcoat, 2012 (Starz/Anchor Bay)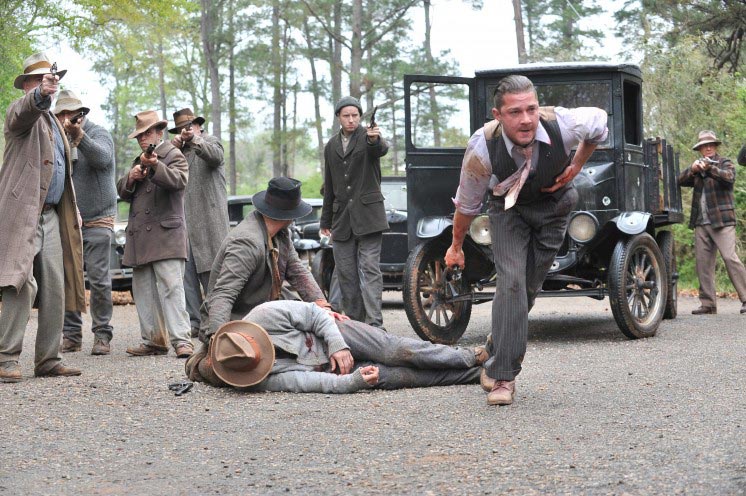 The sometimes exciting, sometimes pretentious crime movie Lawless takes place in Franklin County, Virginia — "The Wettest County in the World," according to the book on which the picture is based. And it deals with a legendary family of moonshine-makers and bootleggers, the Bondurants, as they wage war against both their gangster rivals and the sadistic dude of a Chicago law man, Charlie Rakes (Guy Pearce), who's come down south to shut them down.
Rakes is played as a pure, rotten villain, and the Bondurants are shown as at least semi-heroes, so the movie, somewhat like the crime thrillers and neo-noirs of the '70s, scrambles our responses — and it would probably have been better if it scrambled them even more. Directed and written by the team of John Hillcoat and rocker-scenarist Nick Cave (who also joined forces on the nerve-jangling 2006 Aussie western The Proposition), Lawless is a very arty film about a rustic underworld — and it's arty in both good and grating ways.
The design and cinematography here remind you of James Agee and Walker Evans' classic book on the Depression rural poor, "Let Us Now Praise Famous Men." But the main characters here, the Bondurants, are far from impoverished. They're prosperous criminals who make the best moonshine in Franklin County and also run a restaurant and are handy with guns. Maybe that's what partly wrong with the movie; it tries to pant a realistic picture of 1931 Virginia and to bring us close to the Bondurants, but it also heroizes them in ways that don't quite ring true. The book that Hillcoat and Cave adapted was written by a Bondurant ancestor, Matt (the grandson of Jack Bondurant), and sometimes the two Australian filmmakers tell the story like loving relatives too.
 The Bondurant Brothers are played by Jason Clarke (as Howard, the eldest and their terrifyingly fearless enforcer), Tom Hardy (as the near superhuman head man Forrest) and Shia LaBeouf (as Jack, the youngest and most ambitious of the,. Their ladies are played by Jessica Chastain (as Forrest's ex-stripper friend), and Mia Wasikowska (as Jack's lively preacher's daughter of a girlfriend). Gary Oldman takes stage as the boss gangster Floyd Banner. There's also a sympathetic sheriff who likes good moonshine whiskey (and good moonshiners), played by Bill Camp, and Jack's fragile sidekick Cricket, played by Dane DeHaan. They're all good, though the most memorable character here is Pearce's Charlie Rakes — a fancy dan with plucked eyebrows and expensive suits, reeking of cologne. Rakes makes a snazzy villain.
The story begins with the Bondurants as kids, and the revelation of Jack's sensitivity: he won't shoot a pig though the pig's time has come. The movie then glides past World War I, which messes up Howard's mind, the Spanish Influenza epidemic (with Forrest miraculously survives, the first of his many miracle) and into 1931, the Prohibition era and the thriving Bondurant hooch business. Forrest and Howard (now played by Hardy and Clarke) run it without Jack — you never know when another pig has to be killed — and we see Jack (now played by LaBeouf) chamfing at the liquor bit, enlisting Cricket to help him set up a rival operation, and then selling his booze to Banner.
But Lawless doesn't really plunge toward fraternal strife. Rakes is the antagonist and a mean one. His sadism keeps escalating. So do the Bondurants' survival skills, none more formidable than Forrest's. At one point, Forrest has his throat slit and walks 12 miles through the snow — holding his throat together with his fingers. 
Lawless is reminiscent in mood and style, and angle of vision of the period outlaw epics of the late '60s and '70s, especially Bonnie and Clyde, Thieves Like Us, Boxcar Bertha, and The Godfather 1 & 2. If it doesn't really match its classic predecessors, or fulfill all its sometimes considerable ambitions, or justify its plentiful, harsh violence, it's a movie that definitely achieves more than the average crime show these days.
For one thing, the movie, photographed by the French camera virtuoso Benoit Delhomme and designed by Chris Kennedy, is a triumph of period visualization. With its smoky vistas and tangled hillside forests, its antique '30s guns and cars, its frayed houses and rustic towns, the film feels right even when the characters don't quite connect.
Cave's script is stark and unsentimental, and it doesn't sell out in the usual ways. But it also lacks the great scenes or the great character moments, of its best predecessors (or even of Hillcoat's and Cave's The Proposition).  The movie doesn't make the leap into darkness that The Godfather movies did — which is part of the reason why The Godfather is a case of the finest, and Lawless is merely a good stiff shot.
No Extras.
THE APPARITION (Also Blu-ray) (One Star)
U.S.: Todd Lincoln, 2012 (Warner Bros.)
Dull, dreary, pointless and bad, sporting shock scenes that don't shock, a grisly premise that doesn't make sense, and a meager cast of mostly uninterested-looking Hollywood lookers (headed by Ashley Greene of Twilight) struggling with a meager, dialogue-challenged script, here is another horror movie for masochists. It's a Paranormal Activity sort of story, done with a brooding visual style the story doesn't deserve, and it's all about ghosts, lookers, moving furniture, dead pets, creepy hands, and malignant visitors from the afterlife. The shadowy or arty cinematography (Daniel Pearl) and frenetic editing belie the usual P.A. found footage strategy.The script deserves to be exorcized.
Ashley Greene (the movie's prime looker) and movie boyfriend Sebastian Stan, a guy who often seems on the verge of a snooze, are the haunted couple who discover ghostly presences and doings in a family home in the desert. Eventually, they're informed by parapsychologist Patrick (Tim Felton) that — sorry, kids — he's accidentally set loose a plague of destructive ghosts on the country and the world, something he apparently hasn't bothered to tell anyone else. That's not the only stupid thing the "good guys" do in this movie. People are forever running into the arms of monsters, getting attacked by their own bed sheets or exposing themselves unnecessarily to hideous dangers in the basement.
The best thing about The Apparition is the end-titles, from Prologue, which have a sort of Jordan Belson–Hollis Frampton  abstract underground look to them.  Advice to Apparition writer-director Todd Lincoln: Get a writer or co-writer, or maybe some good found footage, next time out.
No Extras.
One Response to "Wilmington on DVDs: ParaNorman; Lawless; The Apparition"