Wilmington on DVDs: Arbitrage; Ten Years
ARBITRAGE (Three Stars)
U.S.: Nicholas Jarecki, 2012 (Lions Gate)
Arbitrage is a movie about big money and big crime in America, so naturally it's set on Wall Street, a district and subculture awash in both. It's also a picture that demonstrates how we tend to accept  people who do bad things s long as they look good. The case in point here is the movie's main character,  financier-in-hot-water Robert Miller—as played by the very good-looking Richard Gere.
Gere is expert at these kinds of mixed roles, and he's often excellent here. Ever since he was a young handsome meanie harassing Diane Keaton in 1977's Looking For Mr. Goodbar, the actor has been adept at  playing that good/bad attractive/selfish type Paul Newman used to nail (in movies like Hud): a golden boy or handsome dude who can also be  selfish or a scoundrel. In Arbitrage, the movie has some problems, but Gere has the type down pat. He's a silver-haired fox in Armani suits and he  makes the show work, helps us watch with interest, if not exactly sympathy, a leading character who commits so many misdeeds , lies so shamelessly, exploits so many people close to him, potentially damages so many lives, and. in general, behaves like such a complete crud, that it's a wonder the audience doesn't hiss and boo every time he shows up. If this were  a silent movie from the 1910s or '20s, they probably would.
Gere's Miller is a star Wall Street hedge fund operator (I can feel a "boo" welling up already) , whom we watch tip-toeing on the ledge of financial collapse, after losing 400 million dollars in a bad Russian deal and then cooking the books to hide it, while at the same time  trying to avoid criminal charges and a relentless cop named Brier (Tim Roth) who's investigating the death of Miller's French  mistress Julie (Laetitia Casta). In addition. he's trying to finalize the sale of his company to Mayfield  (played by Vanity Fair editor Graydon Carter), a canny old investor who's balking at the deal; avoid disgrace at the hands of his company's Chief Financial Officer, who also happens to be his own daughter Brooke (Brit Marling); help save his old chauffeur/friend's son Jimmy (Nate Parker) whom he called for help when Julie died and who now is being charged with the crime; and to keep his ultra-active  and cynical wife Ellen (Susan Sarandon) happy, though he probably hasn't been faithful to her since Looking For Mr. Goodbar was in release.
And oh yeah…Miller has to help everyone celebrate his 60th birthday. Gere is actually 63, a very sharp-looking 63 at that. It's those looks, the movie implies, that help keep Miller successful and solvent and out of the clink. They also help keep Gere in movies — which is where he belongs.
Gere gives the best performance in a pretty sterling cast. (It also includes other ace actors like Stuart Margolin as a pithy observer, and Larry Pine and Chris Eigeman as troubled or nervous onlookers.) Arbitrage  is a show well cast and acted, and, within certain limits, a well-written one — a sleek, mostly clever thriller with sharp, fairly smart dialogue: a show that keeps you on the hooks — even as Miller keeps slithering way from them. I like the way the movie looks, sounds, moves. Arbitrage writer-director Nichols Jarecki — whose father is moneyman Henry Jarecki and whose brothers are moviemakers Andrew (Capturing the Friedmans) and Eugene (Freakonomics) — convinces us that he's hip to this world, that  he knows these kinds of  people and how they act and react, and that he gets it fairly right, even when he's obviously exaggerating for comic or dramatic effect.
Rabid Republicans are always prattling about class warfare in politics and the culture, something they seem to think involves unreasonable prejudice (and rampaging jealousy) against the very rich — as if the very rich haven't inspired lots of envy and sometimes anger in our popular fictions from time immemorial. Robert Miller manages to embody a lot of those "prejudices" in a couple of days worth of story, and even though Miller was obviously both fictitious and a wild exaggeration, I hated the guy. (I suspect Gere and Jarecki do too.)  But I was also amused by the way he kept dodging bullets.
"Arbitrage," by the way, is a financial term that refers to reaping a profit by simultaneously buying and selling something, something that might apply to this movie too. Movies have so accustomed audiences (especially these days) to the idea that the good guys will be attractive, that the bad guys somehow flawed-looking, as Roth's persistence detective Bryer is  (he's also a little morally shady), that it's easy to stay with Miller for a while, especially since what attracts us about him are probably not just his looks but his shrewdness and resilience in the face of a string of catastrophes.
Class warfare? Or self-defense? Miller, of course, is someone you can slot with all the Wall Street financial guys in 2008 and 2009 who accepted billions in a bailout to rescue us from their incompetence, and then rewarded themselves with undeserved bonusses and screwed everybody else:  those sleek, clever, well-dressed, nimble, shrewd and resilient One Per-Centers who, like Robert Miller, are adept at buying and selling. Simultaneously. May they rot in whatever hell accepts their credit cards.
10 Years (One and a Half Stars)
U.S.: Jamie Linden, 2011 (Anchor Bay)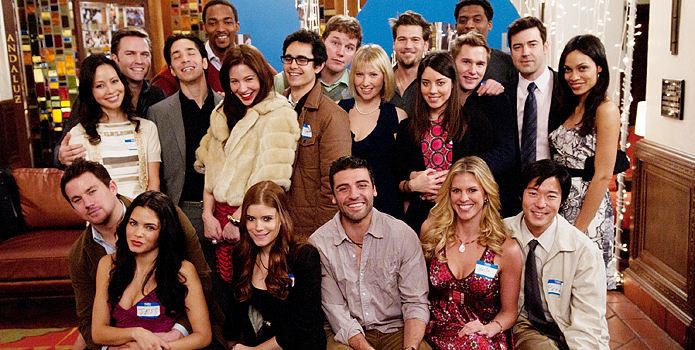 Where were you in 2002? It's the tenth year anniversary high school reunion at Dopey Rom-Com High, and all the guys and girls who've been fantasizing for the past decade about the girl or guy they left behind, or about their sweet revenge on somebody or other, or the great unconsummated love they want another shot at, or the things they left undone, or maybe just the great time they're going to have getting hammered, smashed and plastered at the reunion party, are lining up to make idiots of themselves, for our amusement (not very much) and edification (practically none).
Here's another glossy, frenetic but wildly unfunny example of the contemporary all-star romantic/sex ensemble comedy  a la Valentine's Day or New Years' Eve, or maybe it's an example of the wish-fulfilling back-to-high-school-reunion comedy a la American Reunion — and these sub-genres aren't getting any better with age. As we watch, a hard-working troupe of hunks, knockouts, and an occasional ex-wallflowers or nerd. reminisce and cavort endlessly. Happily hitched Jake (Channing Tatum, still trapped in hunkdom) is tempted by sultry looker Mary (Rosario Dawson). Justin Long, Max Minghella, Ari Graynor, Brian Geraghty and Oscar Isaac are among the others running around, doing silly or  obnoxious things. Somebody became a rock star. (Did anyone else become a Hollywood rom-com director?)
Writer-director Jamie Linden, who scripted We Are Marshall, tries to indulge as  many high school reunion fantasies as possible, to no avail; most of the jokes are so forgettable it's hard to remember them even while you're actually watching them. Did somebody just fall though the decorations? Was that a  gag about wrapping suburban trees in toilet paper we just saw, or justa nightmare ignited by Justin Long's half-leer, and the spectacle of  Tatum trying to resist Rosario Dawson?
There's a moral to all this: Don't fool around at high school reunions, unless you're an actor getting paid for the movie. The one co-star who does manage to squeeze some laughs out of this sorry affair is Chris Pratt as Cully, a one-time high school bully who keeps obsessively tracking down his old victims and trying to apologize to them. But they're cheap laughs, and this is a reunion  you'd be better off missing.
No extras.