Wilmington on DVDs: The Bourne Legacy; Ice Age: Continental Drift
THE BOURNE LEGACY (Also Two Disc Blu-ray/DVD/Digital Combo) (Two and a Half  Stars)
U. S.: Tony Gilroy, 2012 (Universal)
I miss Jason Bourne already — missed him, in fact, even before I saw The Bourne Legacy, fourth in the multi-million dollar grossing Bourne spy movies, based on Robert Ludlum's books. That series, you'll recall, initially starred Matt Damon as Jason Bourne, super-spy on the run, and now, with Damon gone (after three outings), stars Jeremy Renner as Aaron Cross, another super spy on the run. Cross, however, is not in any way related or connected to Jason Bourne, or to any other Bourne, beyond the fact that they were both involved in top secret "skill enhancement" programs that the government has now discontinued, and wants forgotten, along with Jason Bourne and anyone like him.
That's the problem. There is no Bourne in The Bourne Legacy, and, crucially, no Matt Damon to be Bourne. Damon, whose on-screen boyish intensity, awareness, fighting skills and brains are a good fit for complex spy stories like Ludlum's, opted out of doing a fourth Bourne. So did director Paul Greengrass, the hell-on-wheels docu-style helmer of Bourne II (2004's The Bourne Supremacy) and of Bourne III (The Bourne Ultimatum), and the guy who had even sarcastically referred to a possible Fourth Bourne (the movie that ultimately became The Bourne Legacy) as "The Bourne Redundancy."
Did anyone, I wonder, then suggest that Doug Liman, the director of the first Bourne (and the best), The Bourne Identity (2002). Perhaps not, but the director they did pick is the choice I probably would have made myself: writer-director Tony Gilroy, who wrote those first three Bournes, and this one as well. Gilroy, a very good screenwriter who's especially good at tricky, off-chronological construction (the press notes call him a "narrative architect") also wrote and directed the excellent George Clooney thriller, Michael Clayton, and the okay Juliet Roberts -Clive Owen romantic comedy thriller Duplicity. (The Clooney Excitement? The Roberts Duplicity?)
The Bourne Legacy, despite missing the Bourne Essential, and any other Bournes, is full of Gilroys: Tony as writer-director, his brother Dan as co-writer, and Tony's twin brother John as editor. (Their father was Frank Gilroy, the author of "The Subject Was Roses).The result is a perfectly good action film, as fast and explosive and action-packed as you could probably want, well-cast and rather cleverly written to boot, but lacking (as most of them do) enough drama and humor and character to counterbalance the action and make it memorable — and missing also the one Bourne factor that made the other films (especially the first) so special: Bourne himself.
The Movie begins with a bang: Jeremy Renner as Cross, running around Alaska, climbing mountains, popping some kind of colored drug or medicine or skill-enhancer, and hooking up with Oscar Isaac, who plays a role listed in the  credits as "Outcome 3." (Obviously, all that has something to do with skill-enhancement and the hush-hush project Operation Outcome.) As you might have guessed, the two of them, in Outcome's isolated mountain lair, are attacked by heavily-armed government spy craft, at the behest of Edward Norton as (Retired) Colonel Eric Byer. Byer later claims that his villainous actions, which send Cross off on another mad race up and down mountains, across the snow and through ravenous wolf packs , are "morally indefensible and absolutely necessary."
That's what they all say.
THE BOURNE SPOILER ALERT
What next? Cross, like Jason Bourne, when he was around, runs all around several cities on several continents. Included on his travels, or the movie's, are jaunts/battles/links in New York, Chicago, Seoul, Karachi and Manila, but all he finds anywhere are a lot of maniacs trying to shoot and kill him, take away his skill enhancements and keep complaining (maybe) that he isn't Matt Damon. They also try to kill the lady on his one good rest stop, Rachel Weisz, as the brilliant but beleaguered Dr. Marta Shearing — a scientist who helped with Cross' skill enhancements, and might be able to get him the drugs he desperately needs. But the assassins keep killing and slaughtering and otherwise behaving abominably at the behest of Edward Norton, right up to the movie's piece de resistance, a Bullitt/French Connection chase special, on motorcycles, in Manila.
END OF SPOILER
The result is entertaining, but disappointing, better than most action or spy thrillers, but not as good as the previous Bournes, or as Michael Clayton. And the major reason is not the script, the production, the direction, or the acting — all of which are pretty much standard for the series — but the absence of the original star. The Damon Disappearance. Resulting The Bourne Irrelevancy.
Do I exaggerate? Is Damon really The Bourne Indispensable? Well he is, if you're looking for the special qualities he brought to the Bourne Trilogy: believable confusion, anguish, resilience, idealism, paranoia, casual heroism, and the ability, like Lola, to never stop running. There are three main kinds of spy movies: The James Bond super-spy type, and the Eric Ambler or Three Days of the Condor type where the hero is more ordinary, plunged into something he doesn't quite understand, or the darkly realistic John Le Carre Model. The Bourne films, in a way, combine bits of all three.
I'm not sure Damon was right in abandoning the Bourne Ship. It sometimes helps a serious actor to have a franchise series under him — and I've often felt the younger Alec Baldwin made a mistake in dropping out of the Tom Clancy-derived Jack Ryan novels when he did — even though I dislike Clancy-derived Jack Ryan novels myself. Anyway, I wish Damon had made this one. It's not that Renner isn't up to snuff; he's a natural, magnetic actor with a lot boiling under his mug, and he's perfect for the kind of cursed hero or villain roles he played in The Hurt Locker and The Town, and perfectly acceptable for, say, some new Cross Trilogy, with The Cross Narration or The Cross Befuddlement. But to have a whole film called The Bourne Legacy, and have Matt Damon pop up (as I remember) only in one head shot on TV, with references to or characters from The Bourne Ultimatum included off and on, strikes me as chintzy. What's next? Bourne in the U.S.A.? Bourne on the Fourth of July? Bourne Yesterday? (I realize that's an old joke, but, in way, so is The Bourne Legacy.).
Maybe they should have forgotten Bourne entirely and called this one The Cross Prescription. Or maybe they should have kept waiting for Damon to come around, and maybe lured him back by hiring his old buddy Ben Affleck to direct, and filled up the movie with Afflecks as much as this one does Gilroys. Bourne Free? What the hell: It's only a movie. Bourne Again.
Extras: Commentary with Tony Gilroy, co-writer Dan Gilroy, editor John Gilroy, cinematographer Robert Elswit, production designer Kevin Thompson and second unit director Dan Bradley; Featurettes; Deleted Scenes. 
ICE AGE: CONTINENTAL DRIFT (Also Blu-ray) (Two and a Half Stars)
U.S.: Steve Martino/Mike Thurmaier, 2012 (20th Century Fox)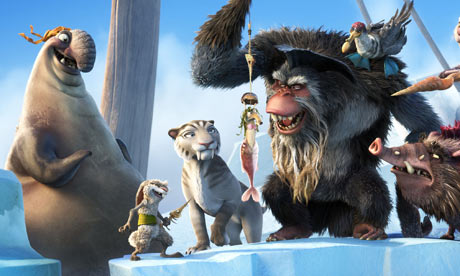 Animated features have gotten so good these days, so surprisingly witty and adult , that it's almost reassuring to run into one that's just as poorly written, confusing and juvenile as a lot of the live action movies for adults. Take Ice Age: Continental Drift, the fourth and least of the "Ice Age" series. (The first is still the best.)
The movie has its moments, including has some knockout visual effects and action scenes and some good sprightly visual comedy — usually the scenes involving Scrat the obsessed squirrel and the elusive acorn he keeps chasing everywhere. And it has an amusing cast that includes the old series regulars (Ray Romano as Manny the amiable wooly mammoth, Denis Leary as Diego the suave sabre-tooth tiger, and John Leguizamo as Sid the wacky sloth), as well as some engaging newcomers (Wanda Sykes as cantankerous Granny Sloth, Peter Dinklage as the sadistic baboon pirate Captain Gutt, and Jennifer Lopez as a sexy tigress named Shira). And, of course it's done, in 3D or flat, with the drop-dead technical ingenuity we tend to expect these days from feature cartoons.
But it also has a lazy, unfunny script, full of obvious gags and silly dialogue: an uninspired cliche-puddle of a screenplay that makes for a lazy, unfunny show — at least, I'm guessing, for most of the adults who get dragged to this. The kids are more the target audience for these movies anyway, and if they liked it, well, fine.
The story takes place once more in that bizarre prehistoric cartoon age invented for the movies by original directors Chris Wedge and Carlos Saldanha, and writers Michael J. Wilson, Michael Berg and Peter Ackerman, a jam-packed span of time that seems to spread over millions if not zillions of years, and that mashes together everything from the Pleistocene to the Paleolithic to the early ages of TV sitcom. As with the last two Ice Ages (2006's Ice Age: The Meltdown and 2009's Ice Age: Dawn of the Dinosaurs), the story tends to resolve around the multi-species friendship of Manny, Diego and Sid and also the family life of Manny, his buxom and outspoken woolly mammoth wife Ellie (Queen Latifah) and now their perky and slightly rebellious daughter Peaches (Keke Palmer), who has dad worried. (You'd worry too if you had a woolly mammoth wearing mascara for a teenage daughter.)
Continental Drift though, has gotten around to trying to supply Manny's buddies with more of a family, or some possibilities of families, to wit, the gorgeous and growly Shira, voiced by Lopez (just the kind of gal to give stripes to a sabre tooth tiger), and in Sid's case, not a girlfriend — that'll have to wait until Episode Five, Ice Age: Sloths in Paradise — but the smart-alecky indomitable old Granny voiced by Sykes.
Don't imagine that the boys won't break out and embark on another icy adventure though. Only minutes of Drift pass before the continent the guys inhabit suddenly cracks in two — dividing the guys from Manny's family and herd — and a chunk of it starts drifting away, carrying Manny, Diego, Sid and Granny out to the ocean. Fairly soon, they run into a sight to shiver the timbers of any audience, or even raise up Robert Newton as Long John Silver (Aaaarrrrr!): Dinklage as the monstrous baboon Captain Gutt (so named because he likes to gut his victims) and Gutt's piratical crew, including Shira and a nervous sea lion named Flynn (Nick Frost).
I won't describe what happens next, and I doubt if you want me to, except to note that most of it is spectacular, lazy and unfunny — and executed with the drop-dead technical ingenuity we tend to expect. The direction this time is by Steve Martino (who's done some of the Scrat shorts) and Mike Thurmeier. Acorn choreography is by Scrat Q. Squirrel.
Of course, the culprit behind all this continental drifting is Little Scrat with his inevitable acorn — a determined little rodent who never seems to learn (How many years, how many ages has it been?) that it's never safe anywhere in one of these movies to try to stick an acorn into an earth surface, whether icy or whatever. One tap of the acorn by the hungry little fella and our entire planet, or a lot of it, is plunged into cracks and chaos, while Scrat is plummeted to the earth's core, or cast adrift on the boundless ocean, or shot into space, or is seen descending into a Scrattian paradise called Scratlantis.
Scrat, of course is the true star of the Ice Age series, and a critics' darling as well. Probably only the great Wile E. Coyote has ever matched this insanely plucky squirrel for sheer Sisyphean balls. And I should mention, as many have, that Ice Age: Continental Drift has, as a curtain-raiser, a short Simpsons cartoon, which is indeed somewhat better than the feature it accompanies, and executed with the drop-dead technical ingenuity we tend to… Ah, at least it has a better script. Wasn't hard.
Extras: Scrat acorn, autographed by Scrat. (Just kidding. No extras.) 
One Response to "Wilmington on DVDs: The Bourne Legacy; Ice Age: Continental Drift"