Wilmington on Movies: The Guilt Trip; Monsters Inc. 3D
THE GUILT TRIP (Two and a Half Stars)
U.S.: Anne Fletcher, 2012
In The Guilt Trip, Barbra Streisand plays a nice Jewish mother named Joyce Brewster, and Seth Rogen plays her not-so-nice Jewish, or at least half-Jewish, son Andy — and for this movie I have just one word: Meshuggener! No, that's not nice. The movie tried. It really did. It's heart was in the right place. It's about a mother and son — a nice thing to make a movie about in this holiday season, when a mother is lucky if she hears from her son, once  — and the two of them are driving across-country together while he peddles his invention, this super-duper cleaning product that he invented, called  Sci-o-clean or something. I'm not kidding. It sounds like Hollywood mishigoss, I know. But Andy is taking his cleaner to these big corporations all over the country, a cleaner they make out of coconuts and soy sauce, and Joyce, the mother is there for, you now, moral support. Moral support! We should all have such moral support when we drive across-country to peddle our coconuts.
Would you like a little chicken soup? It's no trouble; it's just in the rerigerator. No, it's no trouble; don't worry about it. Such a worrier, like my cousin Si….So, anyway the two of them, Joyce the mother and Andy the son,  they drive from Virginia to Texas to Santa Fe to San Francisco (so economically too, in what do you call them, a compact car and with process shots out the window). And, on the way they quibble and they kvetch. He quibbles and she kvetches. And he screams. Ai! A little too much, maybe.
One thing I have to ask. Barbra Streisand, she's a lovely lady still, still– with a lovely voice. (She's 70, really? My God, she looks 50?) So why didn't they give her a song to sing? They're embarrassed maybe that she once played Fanny Brice in that movie Funny Girl and she sang "People who need people?" They're embarrassed maybe that she could make people cry with her singing? This movie should have a song and a scene half as good as "People, people  who need people, are the luckiest people…". I'm serious. Listen, this movie should have a song even a quarter as good as that, or half as good as "Second Hand Rose." "Even Jake the plumbuh, he's the man I adoah. He had the noive ta tell me…"
Okay, Okay  I'll stop singing, Mr, Caruso, Mr, Pavarotti, Mr. Golden Throat Cantor Sirota Placido Domingo, whom nobody can sing to when he's around. But this Guilty Trip or whatever, it should even have a song as good as, you should pardon the expression, "You Ain't Nothing but a Hound Dog" by Mr. Elvis the Pelvis Presley. And you know, I bet Miss Streisand could probably make us cry with that one too. "Hound dogs, hound dogs who need hound dogs…are the luckiest hound dogs… " Okay, okay. Such a sense of humor you don't have. The movie too.
I mean it. Miss Barbra, she's s a funny lady too, still, so why didn't they give her a joke to tell? Ot a joke that was, God forgive me,  funny, at least. I'm serious. Or rather The Guilty Trip is serious, too serious. The jokes in this movie, they give you the idea the writer and the director think it would be disrespectiful to laugh too hard.  Can you imagine? There they have a perfectly good funny actress playing the mother, Miss Barbra Streisand, and a perfectly good funny actor playing the son, Mr, Seth Rogen, and still the best joke they can come up with is Mrs. Brewster trying to win a contest  and she should, forgive me, make a pig out of herself eating a 4 1/2 pound steak at some fancy Texas steakhouse called Cattleman's Ranch or The Cattle Kettle or something, full of, what do you call them, cowpokes. Cowpokers. Cowboys. Like Mr. Ben Graw, this cowboy played by Mr. Brett Cullen, who liikes Joyce and who reminded me a little of Cousin Randy the laminectomy specialist. A little. Whatever. Eat your soup; it's getting cold.
Anyway, Miss Barbra. She eats. She's almost done. She stops. No explanation, except maybe you know, she feels queasy. This is as good as they've got?  This is a big fancy-schmancy expensive Hollywood joke? A joke about almost vomiting? And , as for that contest, that mishigoss, that so-called prize: that's all she gets for eating, God help us, a 4, 5 pound steak with a salad and potatoes and biscuits and some kind of dessert? That's all those cheapskate cowpokers give her as a prize, is that when she eats itall, she gets one, you should excuse the expression, one lousy  free dinner? And maybe some Pepto Bismol? They should give her free steaks till the cows come home, and they should give it to everybody in their so-called phony contests, except of corse your cousin Diana, the Greenwich Village Vegan, God bless her. (Eat your soup; it looks lonely sitting there. Be polite.) Chiselers, that's what they are. In the script I mean. I know none of it really happened, thank you very much.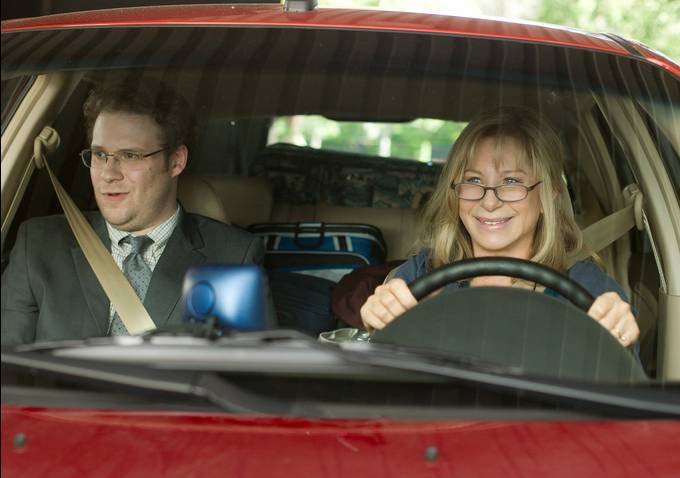 Then, Mr. Seth Rogen. About him, I was completely bewildered, I must tell you.  Rogen: The actor who plays Joyce's son Andy, who looks like my cousin Si's nebbish son Ricky. Andy, the so-called son! You should excuse that expression too: Mr. Rogen, the star of that distinguished world-renowned moving picture, Knocked Up. What does he do now that he's not running around, you should excuse the expression, knocking people up? Knocking ladies up?
He yells at his mother. He insults his mother. He's embarrassed  by his mother. His mother who gave him life and cooked his meals and cleaned up his messy room and made sure he didn't walk to school with his pants on backwards and his hat upside down — which I'm surprised they didn't try something like that in this movie, The Guilty Trip. For this– Mr, Fancy Schmancy Seth Rogen — you scream and carry on like your mother  committed some kind of crime? Such a son as that, he should be ashamed. He should be eating her steak for her. For shame, Mr. Fancy Schmancy Seth Rogen. I hope some day when you knock some more people up, you should have such a son as that.
You know what would have saved this Guilty Trip for me? If at the end, when they have those credits that go on forever — like Cousin Si's second wife Mabel or Uncle Bert talking about his gout — they'd had Miss Streisand sing "I Left My Heart in San Francisco." Wouldn't that have been nice? They could have brought in Mr. Tony Bennett, I'm sure they're friends, to sing it with her.  Such a song: perfect for her. It would have given people a nice feeling when they left the theater.
What? You think it's corny? Corny, he says? Thank you Mr. New York sophisticate Top Ten David Letterman. Like nobody wants to hear Barbra Streisand and Tony Bennett sing a wonderful song about the city San Francisco where the mother Joyce and son Andy end up? Well, maybe. The world has changed is all I can say.
Wait a minute. You say I'm all confused? Discombobulated? This movie isn't The Guilty Trip; It's The Guilt Trip? Like that's some big difference? Oh I see. The Guilt Trip is actually a tribute to the screenwriter's mother — written, by the cartoon writer, Mr. Dan Fogleberg, excuse me, Dan Fogleman — who wrote those nice cartoons, Cars and Bolt and Tangled. And he wrote this movie about his own mother, Joyce, and named Miss Streisand's character Joyce  after her. You're sure? Andy the character is actually taking his mother across country while he peddles his coconuts, because he wants to have a reunion between Joyce and her old boyfriend, the man she gave up for Andy's father, also named Andy? And there's a surprise ending? Oh sure there is, like these people in Hollywood can keep a secret.
Well, if I'm wrong, I'm wrong. If Mr. Fogle writes about his mother, about what he did with his mother, he must be a nice boy at heart. These movies today are so confusing, I think maybe they even confuse the people who make them. So I'm sorry, sorry. Sorry to you, Miss Streisand, Sorry to you Mr. Fancy Schmancy Seth Rogen. (Yes, I wont call him fancy-schmancy any more. I agree; he must be a nice boy too.)  Sorry to you, Mr Unfancy Rogen. Sorry to Miss Director Anne Fletcher. (Did she really make a movie about 27 dresses? How industrious!)
As for Mr, Dan Fogleman. Well, God bless him I say. There's a son. Not like some sons I could name who can never pick up the cell phone and dial a number or answer a phone call when somebody makes it across country, at all that expense? No, he wouldn't treat his mother like that. Instead, he makes a movie about her, even if it's sometimes hard to understand. Or sometimes even corny. What can I say? Nothing. No, one thing I do say. Meshuggener!  Not the movie. Somebody fancy-schmancy right here in this room, right here within my earshot. I say no more. My lips are sealed. Eat your soup. By now, Mr. I Know What's Corny. it's so cold by now you could make chicken-flavored  ice cubes out of it.
Monsters, Inc. 3D  (Three Stars)
U.S.; Pete Docter,  2001
More good witty, heartfelt stuff from Pixar, set in the scream-powered factory of Monstropolis among all the most horrible monsters — notably big, scary Sulley (John Goodman) and witty Winowski (Billy Crystal), who must now cope with their small child invader, Boo (Mary Gibbs). A typical Pixar blend of  super toys, super-tech, sentiment and sharp humor, with an Oscar-winning song by Randy Newman ("If I Didn't Have You").
5 Responses to "Wilmington on Movies: The Guilt Trip; Monsters Inc. 3D"