Wilmington on DVDs: People on Sunday
PICK OF THE WEEK: CLASSIC
PEOPLE ON SUNDAY (Menschen am Sonntag) (Four Stars)
Germany: Robert Siodmak & Edgar Ulmer, 1930 (Criterion Collection)
I. FROM CALIGARI TO HITLER
When you're young and smart and talented, you can also be a little  cocky — brash beyond your years. You'll make it some day, for sure.  There's lots of time. And if you also have good, smart, talented friends and you live in one of the world's great cities, an international center of art and culture and whoopie, you can be cockier still.
Let me tell you about a little film made by one such group: an arrogant, smart, gifted, not-wet-behind-their-ears, cocky-beyond-their-years little band of Jewish Berliners. It's a now-famous movie, a silent picture, called People on Sunday. If I tell you who made it, you'll recognize some or most of the names and you'll also recognize the movies they made or wrote or shot later. But I won't reveal them just yet. First we'll talk about the filmmaker's home country, Germany in the '30s, because that's a crucial part of their story.
In Germany, in the decades after World War I,  life was bad, but the movies were sometimes great. Even as the economy continued to collapse, and the Nazi Party and Adolf Hitler continued to rise, a steady stream of brilliantly crafted, dazzling, daring and artistically ingenious films continued to pour out of the German movie studios — especially the country's world-renowned cinematic factory, UFA (or Universum Film Atkien Gesellschaft).
In 1930, it was the tail end of the Golden Age of German cinema, an era that had been inspired by the innovations of post-WWI German literature (Thomas Mann, Gerhardt Hauptman) art (George Grosz) and theater (Max Reinhardt) and had fostered the careers of major movie artists like actors Emil Jannings, Conrad Veidt, Werner Krauss and the bewitching Swedish import Greta Garbo — as well as writer Carl Mayer, cameramen Karl Freund and Fritz Arno Wagner and directors Fritz Lang, F. W. Murnau, Ernst Lubitsch, and G. W. Pabst. From the artists above, and thers, came such film masterpieces as Metropolis, Nosferatu, The Last Laugh, Passion, Faust, Die Nibelungen, Berlin; Symphony of a Great City and The Crimes of Dr. Mabuse.
1
This was a volatile period, crackling with political extremism, depravity and premonitions of danger ahead. But for all that instability, in 1930, if you had run a poll of most film scholars on the greatest film ever made, a number might have chosen Sergei Eisenstein's 1925 Russian revolutionary epic The Battleship Potemkin , and a few might have picked one of Charlie Chaplin's comedies, but more of them, throught the '20s had been naming Robert Weine's 1919 German nightmare horror picture The Cabinet of Dr. Caligari. Caligari was an exemplar of the style called German Expressionism — shot on tilted, shadow-drenched sets that resembled the stylistic mannerisms of 20th century modern art: the cubism of Picasso, the distortions of Grosz.
Soon enough, Hitler would rise to power and carve out a bloody dictatorship, notable for its banal, saccharine, propagandistic and often stupid movies (like the later, infamous Jud Suss). And, in the process, his thugs would burn many of Germany's (and the world's) best books and drive out many of its best writers, painters, musicians — and, of course, filmmakers — to Europe or America, besides incinerating many of the people who stayed behind in the Nazis' crematoriums and concentration camps.
Unfortunately for the German film industry, many of its finest artists were either Jews (like Lubitsch, who had already left) or political progressives (like Veidt), and they became unwelcome in the New Order. Others couldn't stomach the insanity and brutality into which their country had fallen.
Most of the people above, save Jannings and Pabst, would leave their country, as would younger movie artists like Marlene Dietrich and Otto Preminger. But, for now, and even with the steady drain of German film talent (like Lubitsch, Murnau and Garbo) to America, Germany's film industry seemed to rule the world, artistically. if not financially. German films, like Metropolis and Faust, were monumental, vast in ambition, sometimes tremendous in scope, trying to do what Reinhardt attempted in his theatre, to integrate all the arts together — into what might be called a super-art.
How silly it must have seemed when a group of irreverent and sarcastic young cineastes, almost all in their 20s, many of them Jewish, smart guys who liked to hang out together at Berlin's Café Romanisches, began to talk about making an independent movie together, and then began to contact and agitate some local film producers and executives and relatives (like Heinrich Nebenzahl, who became People on Sunday's producer), lobbying to give themselves a shot at making a film they would create and execute themselves.
Why not give them a chance? They had everything they needed: writers, directors, a cinematographer, a producer, even a canny young camera assistant — and they would hire amateurs and unknowns for their cast. It would cost hardly anything. It would be modern, up to date, just what young Berlin audiences wanted to see. And it would be great, because they were great! Take their word for it!
II. THE BOYS OF THE CAFE ROMANISCHES
Robert Siodmak
Who were these arrogant young men, pumping themselves up so absurdly, biting off so much more, it seemed, than they could possibly chew? Weren't  they just another bunch of wannabes, gifted but delusional, who would later flame out and drop into obscurity?
Well, there were two budding directors, who eventually took co-directing credits for the film they were planning: Robert Siodmak and Edgar G. Ulmer. There was a cinematographer, the group's elder statesman at 36 and already known for his technical inventions: Eugen Schufftan. There was Schufftan's savvy young camera assistant, then only 22, a kid named Fred Zinnemann. There were two snappy young writers: Curt Siodmak (Robert's brother) and a 23 year old wisecracking journalist named Samuel Wilder, nicknamed "Billie." At least he called himself "Billie" then. He later changed the name and spelling to Billy Wilder.
The Siodmaks, Ulmer, Schufftan, Zinnemann and Wilder. Within a year or so, they would have all fled to France, America, and eventually Hollywood California, where their careers as directors, cinematographer and writers would eventually be well-established and appreciated — even though some of them, like Wilder, started with almost nothing, not even the ability to speak English.
Edgar G. Ulmer
They would all enjoy long careers. True, one of them (Ulmer) stayed mostly on on Poverty Row — but he would later be known as The King of Poverty Row. The others all made it to the upper echelons (or close to them) of Hollywood filmmaking. Siodmak directed the noir classics The Killers, Phantom Lady and Criss Cross. Zinnemann directed the great Western High Noon. Wilder wrote and directed what a lot of people feel is the greatest Hollywood noir, Double Indemnity and the greatest Hollywood sound comedy, Some Like it Hot.
Fred Zinnemann
Among themselves, they would win many Oscars, including one best cinematographer statuette for Eugen Schufftan (for 1961's The Hustler), and two best director Oscars for Zinnemann (for 1953's From Here to Eternity and 1966's A Man for All Seasons), plus a short film Zinnemann Oscar (for 1938's That Mothers Might Live). And there were six Oscars for Wilder,for writing and directing 1945's The Lost Weekend, for writing 1950's Sunset Boulevard, and for writing, directing and producing 1960's The Apartment. Ulmer never got near an Oscar, unless maybe one of the others  invited him over for dinner sometime. But after he died, his 1945 noir Detour was selected for the prestigious library of great American films, the National Film Registry.
Eugen Schufftan
Just as important, all six of them would become among the American cinema's most revered and critically praised filmmakers. Robert Siodmak and Ulmer would both become gods of film noir. Zinnemann would become a god of the highbrow socially conscious realistic drama (Eternity, High Noon, A Member of the Wedding, Julia). Curt Siodmak would become a god of low-budget horror (writing the 1941 The Wolf Man, and producer Val Lewton's 1943 I Walked with a Zombie). Schufftan would become a god of noir cinematography for The Dark Mirror and The Hustler.
Curt Siodmak
And, as for Samuel aka "Billie" aka Billy Wilder — well, he would become a god of film noir (Double Indemnity, Ace in the Hole), a god of the /noirbackstage Hollywood movie (Sunset Boulevard),  a god of comedy (The Seven Year Itch, Some Like It Hot, The Fortune Cookie), a god of dramatic realism (The Lost Weekend), a god of romantic comedy (Ninotchka (script  only), Sabrina, Love in the Afternoon), a god of classical murder mystery (Witness for the Prosecution), a god of WW2 comedy (Stalag 17), a god of comedy-romance-drama (The Apartment) and, with a little help from his friend "Izzy" Diamond,  a god of the movie wisecrack ("Well, nobody's perfect").
So many gods, so little time. Years later, Siodmak would claim that he did all the direction on Sunday,  that Ulmer vamoosed to Hollywood and that Wilder had only one joke in the entire film. Wilder countered that he and Curt wrote it, but that it was full of improvisation, that they all five directed it and Schufftan shot it. Sounds reasonable. Why would you make a film comedy written by Billy Wilder and use only one Billy Wilder joke?
Billy Wilder
For now, though, all they wanted was a little money: the equivalent of about 7,000 dollars ultimately, and five young actors whom they could use for their scenario, a script that Wilder says was "reportage" of actual Berlin younger people and how they passed the time. On their Sundays. The five actors, all non-professionals, included Brigitte Borchert as a peppy blonde record seller, Erwin Splettstosser as a glib taxi driver, Wolfgang von Waltershaussen as a brash wine seller, Christi Ehlers as a film extra and Annie Schreyer as a model.
All of them meet and get together for a Sunday excursion to the parks and the forest and the beach — except Annie, who oversleeps and misses everything. It's a sunny day. They talk, walk, flirt, make a little love, and go home, saying they'll meet again. Maybe they will; maybe they won't. They're young. There's lots of time.
III. PEOPLE ON SUNDAY
The six future Hollywood greats who made People on Sunday worked with some kind of script by Wilder and Siodmak, but they also made much of the film on the fly, making things up as they went along. Like Walter Ruttmann's ground-breaking documentary Berlin: Symphony of a Great City, they roam around the city, showing as much of  1929 Berlin as they can, catching people and spotting landmarks. The film is a young man's, and young woman's, film: brisk, impudent, full of brio and zest. We all had Sundays like this probably: lazy, idyllic, full of joy and sensuality and maybe some sausages and beer. The six friends put it all on film.
The movie opened in February, 1930 to huge crowds and wonderful reviews. All of` the cocky young sextet got professional careers at least partly out of that success. And if those were eventually American and Hollywood careers rather than German and UFA ones, well, unfortunately, that was Germany's loss. Germany of course lost much, much more.
There were precursors to People On Sunday: Ruttmann's film of course and also Rien que les Heures, an ode to Paris by Alberto Cavalcanti, and Dziga Vertov's  jazzy Moscow chronicle The Man with a Movie Camera. But, in many ways, People on Sunday did point the way to a new cinema, to the opposite of the magnificent but sometimes over-heavy and pretentious studio masterpieces of the German Weimar film era.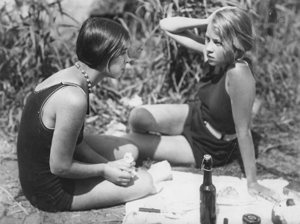 Conversely, Sunday's images were bathed in sunlight and smiles. Its people were the kind you see every day ("Just People Like Us" was one of the film's earlier titles.) It was a lighter, breezier, easier-looking, franker, wittier and sexier cinema: a youth cinema which ultimately led to Italian neo-realism and the French Nouvelle Vague and the Czech and American New Waves, and ultimately back again to a German New Wave, in the 70s, made by young German cineastes who all knew People on Sunday well, despite the many decades and the horrible war that killed millions, in between.
By then Schufftan and Zinnemann and Ulmer and the Siodmak Brothers and Billy Wilder, were all dead or in Hollywood. They were elder statesmen, and other smart, wisecracking young guys, like Bob Rafelson, Jack Nicholson, Dennis Hopper, and Peter Bogdanovich, the whole BBS gang, were sitting in cafes and dreaming their dreams and eventually making their movies.
I wonder if the six friends who made People on Sunday ever got together, ever talked about the old days, about what it was like in Berlin before Hitler took it over — when it was a city still full of sweet. brash, funny young people looking for love and fun on a Sunday.  And back in 1930, those six young filmmakers and buddies: would they have envisioned in their wildest dreams, what would happen to all of them? And what would happen to their countries, to Germany and Austria?
Probably not. More than likely, they were too busy lugging their camera, setting the lights, dreaming up new things for Brigitte and Wolfgang and the others to do. And having lots of fun, of course, together. They were young, there was lots and lots of time. And after all, the world wasn't going to fall apart tomorrow.
Special Features: People on Sunday, a silent film with English intertitles, is one of those movies that almost all scholars know about, but which is often hard to see, at least in good shape. Criterion's is a restored version with almost all the footage assembled and reconstructed from various sources around the world. There are two music tracks: a period-style score by the Mont Alto Orchestra, and a modern one by Elena Kats-Chernin conducting the Czech Film Orchestra.
Other Criterion Extras: Weekend in Wansee (Germany: Gerald Kohl: 2000) Three Stars. A documentary look at the film's making and effect, including interviews with Borchert and Curt Siodmak; A similar short 1931 German film directed by Schufftan, Ins Blaue Heinen (Three Stars); A booklet with a very good essay by film historian Noah Isenberg and articles by Billy Wilder and Robert Siodmak.