Wilmington on Movies: Jack Reacher
JACK REACHER (Two and a Half Stars)
U.S.: Christopher McQuarrie, 2012
Jack Reacher, the new guns-blazing crime movie thriller, starring Tom Cruise as the seemingly invincible title hero, comes out at the worst possible time for a movie with a lot of firearms: in the aftermath of the Newton gun massacre. But it would be an obnoxious and often unlikable show in any case, in any time — just not such an obvious one.
In any case, violence begets box-office, or so Hollywood often seems to believe — and Jack Reacher is an almost ridiculously violent movie,  so ridiculous that if  writer-director Christopher McQuarrie had dreamed up better jokes, and more of them, he might have had one hell of a comedy. Based on "One Shot," one of a series of  crime novels by Lee Child about Reacher,  a 6'5'' behemoth of an ex-military dude who lives under the radar, and emerges to solve crimes maybe just for the hell of it (or, in this case, to prove he was right in a previous case), the movie stars Tom in a role more appropriate for Liam Neeson  or Dwayne Johnson, The Artist Previously Known as The Rock. Except why should Neeson have to play  every 6'5" behemoth kicking the ass off dozens of bad guys and tearing apart another city? (Pittsburgh in this case.)
The movie starts with a bang — five or six bangs actually, as a sniper blasts five strangers from a parking lot across from Pittsburgh's baseball stadium. When the wrong sniper (Joseph Sikora as Bart) is arrested for this crime, he calls out for Reacher (who arrested him for another shooting during the Iraq War), and goes into a coma, Reacher shows up anyway, convinced that Bart is guilty,  and offers his investigative services to Bart's attractive lawyer Helen Rodin, great great grand-daughter of the famous French sculptor Auguste Rodin. The talented Helen put herself through Stanford law school by sculpting and mass-marketing statues of  Arnold Schwarzenegger, thinking.
No, sorry. I meant to say that Helen is the daughter of the famous Pittsburgh D.A. "Rody" Rodin (Richard Jenkins).  Rodin is prosecuting Bart, and other mysterious characters are involved in some kind of conspiracy which will be revealed later. At that time, we will meet, to our astonishment,  a cold, glassy-eyed maniac of a crime and business czar named the Zec, played by the great German filmmaker Werner Herzog —  director, in better times, of Even Dwarfs Started Small, Aguirre: The Wrath of God, and The Mystery of Kaspar Hauser, or Every Man for Himself and God Against All. In this movie, the Zec earned his rep by chewing off the tops of his fingers to prevent death by frostbite and gangrene in Siberia (or somewhere like it) — which sounds like a scene in a Herzog movie, and probably tasted worse than the shoe Herzog had to eat after losing a bet to Errol Morris about Errol making his first movie. (Is that any less preposterous than the Rodin story?)
There's also a car-chase — the old-fashioned, non-digital kind — and several fights, one in a parking lot, often with guns. And, at the end, Robert Duvall shows up as Cash, a salty old Marine and jocular gun salesman, who gets in on the fight just for the hell of it — or so it appeared.
I didn't like the movie very much, and not necessarily because of the heinous massacre in Newtown that preceded it. It's just not a very good movie, even though, to their credit, the filmmakers try almost everything. Cruise takes his shirt off (and Pike complains). McQuarrie, who  wrote very good, sharp, stylized  dialogue for The Usual Suspects, seems to have decided to crank out stylized mediocre dialogue for a while, and who can blame him?  Cruise plays Jack with a lot of charisma but no patented Cruise smiles — and who can blame him? He also tries hard to play 6'5″, but only manages 5'10," perhaps because Herzog forgot to bring along his dwarfs.
There's no denying that Jack Reacher is filmed fairly well, which means fast and slick. (Caleb Deschanel, who shot The Black Stallion, was the cinematographer.) There's a lot of shooting and a lot of so-called funny macho lines, few of them very convincing or very funny. At the end, just for the hell of it, Zec's sadistic henchman, Charlie (Jai Courtney) throw away their guns and go at it hand to hand, after which everybody picks up their guns again.
Anyway, Child has written  seventeen of these Reacher books, of which I have now resolved, as a result of watching this picture,  not to read any. If I break this vow, I will eat one of his books, or at least a corner of one of the pages, if Werner Herzog will agree to eat his other shoe. I wish I could resolve not to see any more movies made from Lee Child novels, but that's part of my gig. You think I just do this for the hell of it?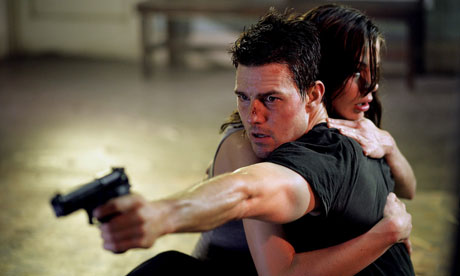 \
5 Responses to "Wilmington on Movies: Jack Reacher"