Wilmington on Movies: Side Effects
SIDE EFFECTS (Three Stars)
U.S.: Steven Soderbergh. 2013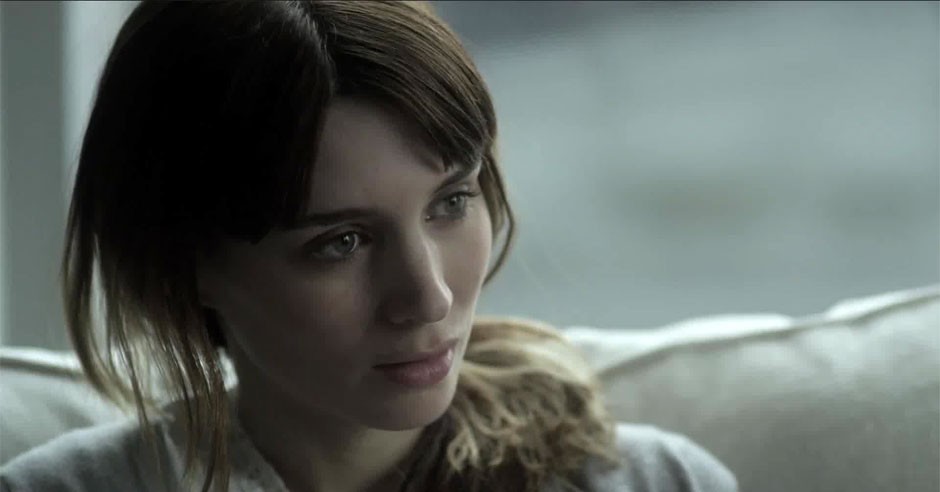 Drugs can alter our world, sometimes in ways we want (good, perhaps ), sometimes in ways we don't want (often bad), sometimes in ways that rob us of  our right minds and our very souls (very bad). Sometimes, the movies can do something similar — though I'm not necessarily thinking of Side Effects.
The fictitious drug Ablixa in Side Effects — an intelligent but unpleasant thriller by director-cinematographer-editor Steven Soderbergh — is  supposed to handle depression. But what it actually creates (or reveals) is a kind of  hell on earth, wrapped up in slick movie thriller trimmings. Our guy at the center, psychiatrist Jonathan Banks (Jude Law) triggers that hell by giving Ablixa to very troubled patient Emily Taylor (Rooney Mara), who was married to hedge fund criminal Martin Taylor (Channing Tatum) and once was a psychiatric patient of icy Doctor Victoria Siebert (Catherine Zeta-Jones). The other actors in the drama, all affected by Emily's drug-induced change  include Emily's seemingly compassionate office boss (Polly Draper), NYPD cop Beahan (Victor Cruz) and Banks' unhappy wife Deirdre (Vinessa Shaw)..
The consequences of all this are dire. But we'll keep them to ourselves for the moment, because, as critics, we've been requested to conceal this movie's beginning and first main twist (a doozy) by the film's representatives. Fair enough. I remember my anger as a young moviegoer when Hedda Hopper (I believe it was) gave away the kicker revelation of Psycho in her column — her way of giving Hitchcock a big tssk-tssk for his taboo-defying masterpiece. Soderbergh's movie is no masterpiece, even though it defies a taboo or two. But, if the people who made Side Effects, many of whom are Steven Soderbergh, want me to shove their cards back up my sleeve — well, it's their movie.
SPOILER ALERT (There's no avoiding it.) ROLLOVER TO REVEAL
What happens in the film, the stuff we're not supposed to know ahead of time, is that Ablixa, which  Dr. Banks gives Emily (and to which he has business/research ties), apparently effects her in such a drastic way that she stabs her ex-con hedge-fund hubby, in the midst of his campaign to get back in the money game, and that Banks then becomes more deeply involved with Emily as her doctor, and eventually we discover—Well, we'll keep that one under wraps, because it's a further surprise nd a juicy one.
END OF ALERT
What Side Effects is trying to do — courtesy of that intelligent and unpleasant script by Scott Z Burns (the writer of other Soderberghs, like Contagion and The Informant!) —  is tell an old-fashioned cynical James M. Cain-style erotic crime thriller yarn, about sex and murder and the dark side of the American dream, but update it with lots of good-looking cotemporary people and backgrounds and a nerve-jangling electronic score (by Thomas Newman of the celebrated musical Newmans) and a steady stream of twists and surprises. It's a modern neo-noir with old-fashioned noir roots.
But though the movie is certainly done every well (the norm for Soderbergh), and though it's exactly the kind of movie (brainy, unsentimental, ready to go all the way) that we're often starved for, I can't say I liked it very much — or disliked it very much either, for that matter. It's not a very likable film, unless you're keen on watching pretty people do ugly things — a performance that usually needs either a sharp sense of humor or a talent for terror to come off strong.
The acting is good, but, in some cases, not inspiring. While Law teases out the contradictions in Banks, Mara needs more acid for Emily. Both of  them start out seeming to be one thing and then (maybe)  become surprisingly another, but Law's metamorphosis is the more engrossing.
As an actor, Law can play callous and selfish and obnoxiously handsome (like the playboy murder victim Dickie Greenleaf in Minghella's The Talented Mr. Ripley), or earnest and upright and likable (like his version of D. Watson opposite Robert Downey's Sherlock Holmes), or sometimes as a mixture of both (like his best role, the android gigolo in A. I.). Here he evolves from a sympathetic character to one less so, partly by letting his initially guileless seeming smile mutate into something thinner and meaner.
As for the others, Rooney Mara has another role that, like her Girl with the Dragon Tattoo (which paled next to the original by Noomi Rapace), may be a little too dark for her — though her Emily is enough of a cipher to let the story work. Catherine Zeta-Jones was born to play neo-noir types and I wish the studios would cast her more often, in films worthy of her most poisonous moments.
SPOILER ALERT  ROLLOVER TO REVEAL
Channing Tatum, stripped well for Soderbergh in Magic Mike and he dies well for him here.
END OF ALERT
Soderbergh — who photographs his films under the alias "Peter Andrews," edits as "Mary Ann Bernard" and directs as himself — he has caused a rumpus of sorts by declaring this as his last film, or at least his last theatrical release. I find that hard to believe. He's only 59, which often signals the rime decade for movie directors with long careers, like Ford, Hawks and Hitchcock. Soderbergh already has a Liberace TV biopic in the can called Behind the Candelabra. Ingmar Bergman, a great gloomy  Swede (perhaps like Soderbergh's antecedents), once declared that the 1983 Fanny and Alexander would be his last film, and he went on to write or direct quite a few more, including his real last film, the 2003 Saraband. Bergman shouldn't have kept that pledge. Neither should Soderbergh, who has been one of the most prolific and versatile and admirable American filmmakers of the past several decades.
He's only 50 and he's worked a lot and he may be tired or frustrated. Frankly, Side Effects looks a bit like the work of a guy who's a little tired and frustrated  — which is what sometimes happens when you work hard and often, in many capacities, and keep trying to make something new and different each time out. It's one of the penalties of productivity and keeping off the beaten path — or at least one of their side effects.
_____________________________________________________________________________