Wilmington on Movies: Olympus Has Fallen
OLYMPUS HAS FALLEN (Two Stars)
U.S.A.: Antoine Fuqua, 2013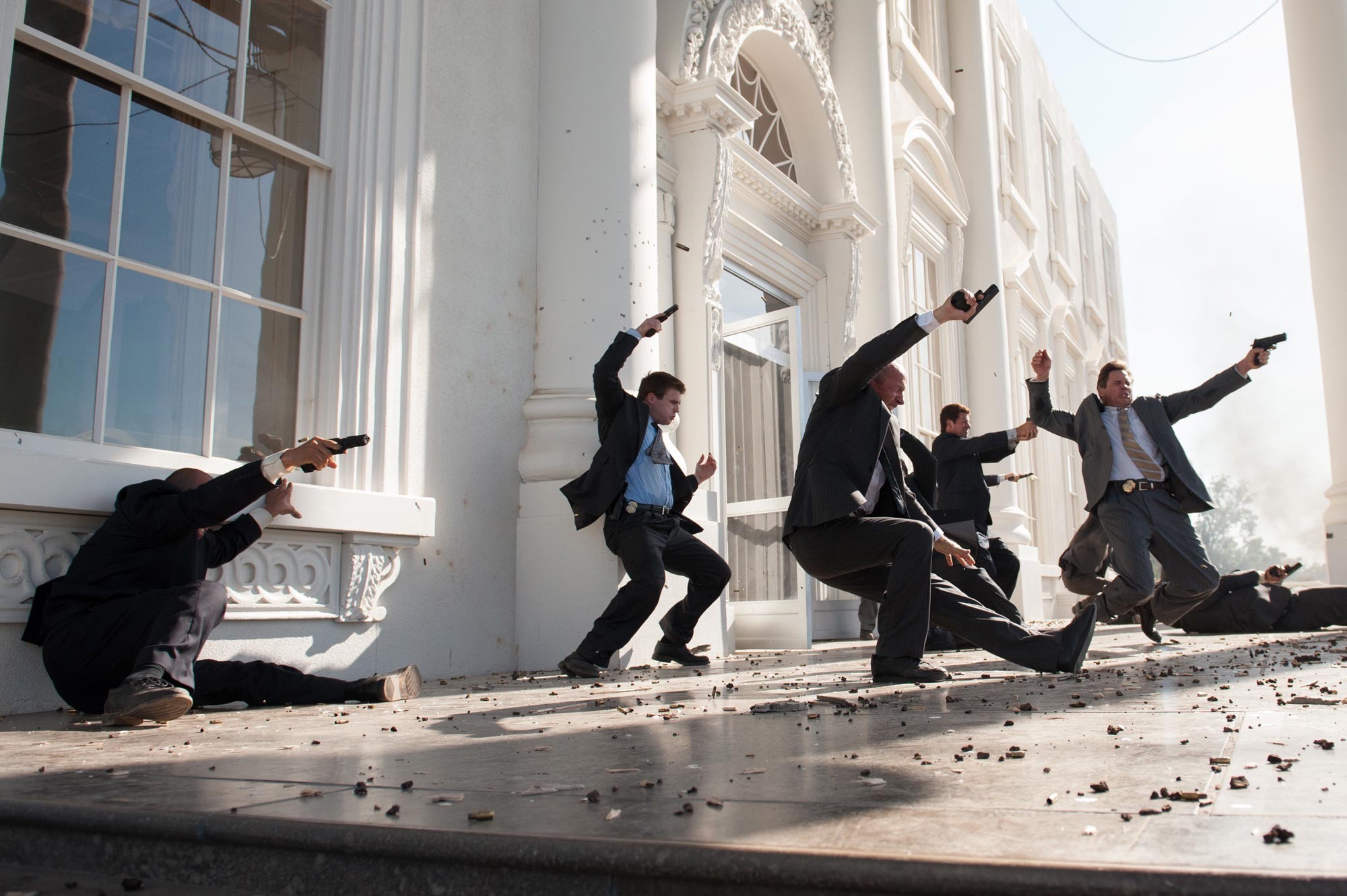 Olympus Has Fallen is a barmy political thriller  — about North Korean terrorists taking over the White House and holding the president hostage — that's so wildly implausible and humorlesly absurd it almost leaves you feeling mugged. Some bad movies just blessedly roll off your mind; they're too dopey to take seriously. But this one hammers itself into your brain, relentlessly. The actors — not star Gerard Butler as a heroic secret service agent trying to rescue everybody,  but the supporting players like Aaron Eckhart (as the President), Morgan Freeman (as the Speaker of the House and acting president), Melissa Leo (as the Secretary of Defense), Angela Bassett (as the Secret Service director) and Dylan McDermott (as another agent) — are strong enough to compel your attention , even when they're saying or doing dumb things, which they usually are. Director Antoine Fuqua compels your attention too, with his heavy-duty action and chaotic editing, though it's embarrassing watching him try to pump life and energy into this turkey.
In his breakthrough movie thriller, Training Day, Fuqua had characters (played by Denzel Washington and Ethan Hawke) and dialogue (written by David Ayer) to work with. But this script is so bad, it hurts to watch it. First we're shown the episode of Banning's disgrace: a hokey-looking accident where First Lady Ashley Judd's car plunges off a bridge and she drowns, to everyone's horror (except Mitch McConnell). We're then asked to believe that, 18 months later, a relative handful of North Korean terrorists — not the government or the Army or even the threat of nukes, but a dozen or so guys and gals  in business suits and dresses — can penetrate all security (with the help of one turncoat and a diversionary air attack on Washington D.C. and its most recognizable landmarks), take over the White House and hustle the President , and his cabinet members down to the bunker, where the bad guys are led by fashion-conscious Kang (Rick Yune, my favorite in the cast)  and where they threaten to kill everybody unless the U.S. abandons South Korea and pulls out the 7th Fleet, thereby allowing North Korea to invade and conquer its neighbor —  and, incidentally, to  get all the good Korean filmmakers.
Then we're asked to believe that, after this brazen kidnapping, America and its acting president Morgan Freeman and the entire free world would sit on its hands, even when Kang threatens to set off America's missiles, and that Freeman would put most of the gig into the hands of one disgraced guy who got inside. There's only man in the entire dumbstruck, paralyzed world who can cope with this mess. But since Bruce Willis has probably been in hiding ever since A Good Day to Die Hard, and since Clint Eastwood probably insists on bringing along his chair whenever a president is involved, the job has fallen  to disgraced, redemption-hungry former presidential secret service bodyguard Banning (played with a pensive look and a couple of third-rate singers by Butler). Banning, who just happened to be on Pennsylvania Avenue when all hell broke loose, raced into the White  House past heavy gunfire. And now he prowls around alone in the dark, smoking wreck of what was once the "White" House, alone, employable, indomitable, seeking redemption.
The movie was written by a pair of newcomers, Creighton Rothenberger and Katrin Benedikt, and the good news is they can probably only get better. (the bad news is that they probably earned more money with this one script, than Preston Sturges in his entire career) It's the sort of story that was manufactured instead of written, cobbled together out of other successful movies — in this case, the early Die Hard shows and  Eastwood and Wolfgang Petersen's disgraced-secret-service-agent thriller, In the Line of Fire. And it's constructed out of one over-the-top action scene, and one four letter yelling match or insult duel, after another. (My unfavorite: Banning's crack to Yune as terrorist Kang: "Let's play a game of 'Fuck off.' You go first." A suggestion for a posssibly already-used zinger in the same mode: "You're a piece of shit, "King" Kang. And shit gets flushed.")
If neither of those remarks sounds worthy of White House decorum, you should know that, in Olympus, almost everybody seems to talk that way, including Melissa Leo as the Secretary of Defense — who also gets the shit kicked out of her. Perhaps this four letter barrage is considered to be  a case of "humanizing" the characters — though it seems more like fertilizing them.
The sheer mind-frazzling dumbness of all this, coupled with the movies almost nonstop blast-your-eyes violence, its humorless absurdity  and its Decibels from Hell soundtrack, combine to almost hammer you into submission. On and on, Banning stalks his fashion plate terrorist prey, presidential portraits frowning down on him, with Banning  taking time every once in a while, to save the president's little boy Conner (Finley Jacobsen), trade quips with Kang, kill some unimportant bad guys, keep Speaker Trumbull apprised of all new developments, share tender if-I-don't-make-it phone calls with his wife Leah (Radha Mitchell), and, incidentally, try to rescue The President and save America from nuclear destruction. What a guy!
Part of this is brought to us in disturbing live newscasts by wordy  newsman Lawrence O'Donnell, who has apparently left his  left-wing news channel MSNBC, at least for this film, and is now the alarmingly straight-faced anchorperson for the oddly titled (I thought) KGND, which sounds like a replay of the old Soviet secret police. We might wonder why the liberal one time "West Wing" guy O'Donnell is so prominently displayed in what seems to be a right-wing movie, unless it's really a left-wing movie disguised as a right-wing movie. Or unless it's all a plot to link O'Donnell up symbolically with the KGB and the NKVD. Actually, my theory is that Fuqua liked o'Donnell and wanted to throw him some cash and exposure — and the newscaster he  can probably use the dough.(At least they didn't hire Sean Hannity.) As for  Banning, he obviously has his hands full, though he has director Fuqua and screenwriters Rothenberger and Benedikt on his side — all of whom quickly prove that they'll stop at nothing to get him redeemed, or to see that Kang and his Gang get their come-uppance.
The sheer howling absurdity of  most of what happens in Olympus Has Fallen ("Olympus" is a code name for The White House), and the filmmakers' ,seeming belief that the audience will swallow anything, if you spend enough money on it, and surround it  with enough big movie names, demonstrates the ways in which politics has become show business — and, in fact, the way it's become a string of show business clichés. . We're not surprised to see President Asher tied up on the floor of the bunker because that's the kind of thing that happens to authority figures in action movies. And we're not surprised that The Secretary of Defense swears like a Mafioso  because that's the way people talk in action movies, and we're not surprised when Speaker Trumbull hands the reins over to Banning instead of, say, sending in The Navy Seal team, or the Seventh Fleet, because he's probably seen Die Hard too. Anyway, I was just kidding when I said Bruce Willis was hiding out because of A Good Day to Die Hard. That's ridiculous. Most of the people who make movies like this probably have no shame.
3 Responses to "Wilmington on Movies: Olympus Has Fallen"