Wilmington on DVDs: My Son John; The Woman on Pier 13 (I Married a Communist); Promised Land.
MY SON JOHN (Three Stars)
U.S.: Leo McCarey, 1952 (Olive)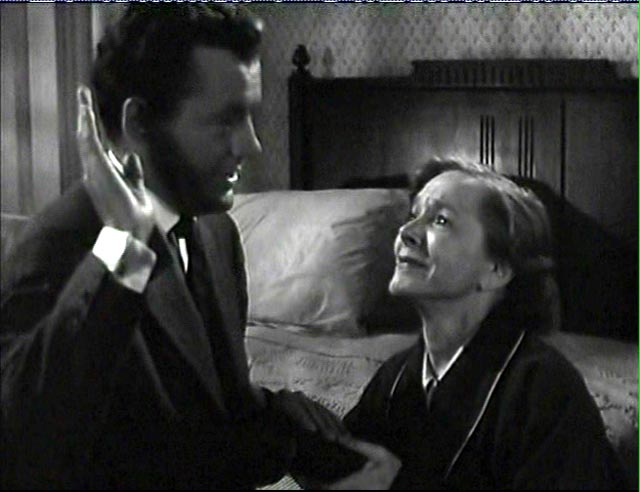 Robert Walker swears to his mother (Helen Hayes) that he is not now and never has been a Commie (and he's lying), in the most interesting and memorable of all the post-war Anti-Communist melodramas: Leo McCarey's  fascinating  My Son John.  Walker, who had just finished making Strangers on a Train for Hitchcock,  has another plum sociopath movie role here: he's John Jefferson, a seemingly brilliant young fellow-traveling academic and important Washington D. C. employee, who's fallen in with Reds and become a spy.
Just like the irrepressible Bruno, John talks too much: unwisely spouting the Party line while on a visit home with mother Lucille (Hayes), who becomes increasingly distraught, and father Dan (Dean Jagger), who becomes increasingly enraged. (Dan the dad seems ready to kill somebody, maybe son John, if he hears any more about social justice and class warfare.) On John's trail, and intensely sympathetic to John's troubled parents, is Van Heflin as the smart and sympathetic FBI agent Spelman. — the kind of G-Man J. Edgar Hoover would have given extra duty.
Robert Walker came to My Son John  after he had just finished playing the greatest role of his career, as psychopathic rich boy killer Bruno Anthony, in Hitchcock's Strangers on a Train — and there's some small pieces of Walker-as-Bruno in My Son John. Walker died (at 32) before finishing McCarey's film, and McCarey (with Hitchcock's assent) had to use part of Bruno's last  scene in Strangers for his climactic moments in My Son John. (The actor dubbing Walker at the end is McCarey himself.)_
In fact, good as Walker is in My Son John, if he had played John more like Bruno, more madly and comically, and with more crazy zest, it would probably have been a better movie.  Ironically, McCarey was one of the greatest of the Hollywood Golden Age comedy directors (Duck Soup, Ruggles of Red Gap, The Awful Truth) — and he was also wonderful at poignant family drama (the devastating Make Way for Tomorrow). But he seems to have lost his sense of humor almost entirely in My Son John.
It's probably the soberest movie this brilliant Hollywood laugh-getter and big-drinking piano-player ever made. McCarey took his subject very seriously — to him, this is obviously a family tragedy — and Hayes is sometimes quite moving as the fear-stricken mama. But Jagger, as John's wild-eyed dad, who can't stand Commies and would truly rather be Dead than Red (or wish that very fate on his Commie-loving son),  is too often corny and even maniacal. Jagger is playing a true-blue American, but he portrays Dan Jefferson as such a potentially murderous fellow, I almost wouldn't have been surprised if Dan had turned out to be the real Communist spy.
McCarey was a genius at on-set improvising, and since he's the only credited screenwriter on My Son John, it's reasonable to suspect that the actors are improvising at least some of their lines. But they're not trying to make us laugh (though Walker certainly seems capable of it again), and My Son John's very seriousness, tends to undermine its effectiveness as either drama or as propaganda. It's an oddball mixed-dish  of a movie by a great moviemaker out of his métier,  a guy who was better off making us guffaw in Fredonia than trying to make us weep in Washington, D. C.
Extras: None.
THE WOMAN ON PIER 13 (I MARRIED A COMMUNIST) (One and a Half Stars)
U. S.: Robert Stevenson, 1949 (Warner Bros. Archive Collection)
This is probably the most famous of all the post-war anti-Communist melodramas — not for its quality or popularity (minuscule, on both counts), but because of its bizarre Offscreen history. (See below.) As for the plot: Robert Ryan is a business guy, labor liaison and blackmailable ex-Commie, married to a good woman (Laraine Day), but pulled back into the Party and its schemes by an old flame/femme fatale (Janis Carter) and the poker-faced deadly head Red (Thomas Gomez, in a rare piece of overplayed underplaying). The Commies act like white-collar mobsters; Ryan — a staunch liberal off-screen — plays his part like a good man succumbing to drugs or lycanthropy.
This notorious bomb is based on a very bad McCarthy-era anti-Commie script, full of clichés and propaganda, that Howard Hughes used to hand around at RKO, to try to roust out politically radical directors. If they turned it down (as Joseph Losey and Nicholas Ray both did), he usually fired them. Ray got away with rejecting it, Losey didn't — and the director who accepted the project, and who helms it with a straight-faced lack of involvement that makes the whole movie seem even more ludicrous, is Robert Stevenson. In later, happier times, Stevenson went on to make the Disney movie classics Old Yeller and  Mary Poppins.
Extras: None.
 PROMISED LAND (Two Disc Combo: Blu-ray/DVD/Digital/UV) (Two and a Half Stars)
U.S.: Gus Van Sant, 2012 (Universal)
Matt Damon, who's become a kind of classic American leftist movie star– a Hank Fonda of the new millennium — has gotten trashed  by some right-wingers (and some moderates and left-wingers as well) for his new film Promised Land. But I think it's pretty good — a Capraesque tale about a big natural gas corporation trying to get drilling rights to the gas deposits in a Pennsylvania farming town that's fallen on hard times. Damon, who's one of our best actors and doesn't always get the credit he deserves (because, these days, he gets slammed for his politics), plays Steve Bennett, a small town Iowa guy who thinks he understands and relates to these small town Heartland people, and has  a Messianic sense about his job.
Steve, a genuinely nice guy, believes he's saving the populace from the current economic downturn, rescuing them from the shocks and disappointments  he endured himself.  And, like most small town guys who made it big and later go back to the heartland, he's just a little full of himself. When he arrives in (the fictitious) McKinley, with his more cynical working partner Sue Thomson (Frances McDormand), he's not quite prepared for what he meets (though we are): a general store manager who sees right through him; an active, vocal populace; a retired teacher named Frank Yates (Hal Holbrook) who knows all the facts and figures and the bad side of gas drilling or "fracking"; a wised-up sexy schoolmarm, Alice (Rosemarie DeWitt);  and a slick, one-step-ahead environmentalist named Dustin Noble, who beats his time everywhere, including with Alice. Dustin, who may have been named after Dustin Hoffman, is played by John Krasinski, who also co-wrote the script with Damon, from a story by novelist Dave Eggers (the author of the ironically, nudgingly titled "A Heartbreaking Work of Staggering Genius").
In other words, Promised Land is a realistic left-wing social drama about something that might actually happen in the real, everyday world —  instead of, say, about a maniac running from house to house, slashing people to bits, or monsters from hell rising up from the ground and chasing everybody to city hall, or an invasion of extraterrestrials or gangsters on the run staging sensational orgies and bloodbaths. Not that I have anything against movies like that, if they're done well (and they occasionally are), but I don't think Damon (or Krasinski) should get points off (or on) simply because they try to make movies that send us messages about issues they care about, or try to create real people, or face real problems, or real horrors. There are things that don't work in Promised Land, but we'd be better off if there were more movies like it. And I wish there were.
The director Damon chose after deciding not to do it himself, was Gus Van Sant, and that was a wise choice. Van Sant has directed Damon twice before in Damon scripted movis — in Good Will Hunting, the  Oscar-winning realist message drama about social class and intelligence, with Ben Affleck,  and in the wild, weird, arty, long-take  lost-in-the-desert fable Gerry, with Ben's brother Casey. It's obvious that Van Sant and Damon click artistically (just as Damon and the Afflecks do).
Visually, Van Sant gets the small town atmosphere, the look and feel and the rhythms of these people, with both naturalism and poetry — and I say that as someone who hails from the Heartland myself, a small town Wisconsin guy. Van Sant, from that hip city Portland, Oregon, gives Promised Land a humanistic style and feel, and though the characters are in some sense, obviously and even preachily conceived, the story works right up to the end, which unfortunately depends on a surprise twist that isn't adequately set up and, in some ways, doesn't make sense.
Damon's acting though, and his sheer personality, carries a lot of the movie. Like the left-wing Fonda, and like Fonda's life-long right-wing friend Jimmy Stewart, Damon is an all-American guy with personality and a brain, and a kind of unspoiled boyish quality that beguiles many audiences. That quality shines through Promised Land, a pop-political ballad of a movie about what's best (and sometimes worst) is us. Enjoy the movie, and Damon, for their best. It may not be a heart-breaking work of staggering genius, but it's good, solid, admirable. It's heartland stuff.