Wilmington on DVDs: Things to Come
PICK OF THE WEEK; CLASSIC
THINGS TO COME (Blu-ray) (Three Stars)
U.K.: William Cameron Menzies, 1936 (Criterion Collection)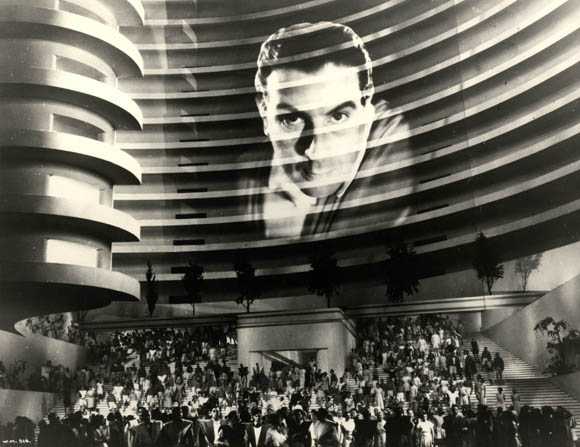 The two great early Godfathers of literary science fiction were the fanciful Frenchman Jules Verne and the immensely-learned and opionated Britisger H. G. Wells. But though both of these writers have been adapted endlessly for the movies, only one of them wrote a science-fiction screenplay, adapted from one of his own books. That was Wells, the author of  The Time Machine, The War of the Worlds, and The First Men in the Moon — And of The Shape of Things to Come, a future history of the world, written as from the 22nd century, that Wells — along with director William Cameron Menzies, producer Alexander Korda, set designer Vincent Korda, cinematographer Georges Perinal, montage expert Laszlo Moholy-Nagy , composer Arthur Bliss and actors Raymond Massey, Ralph Richardson, Cedric Hardwicke and the others — made into what was, after Fritz Lang's Metropolis, the most spectacular of all '20s and '30 sci-fi movies, a visual marvel that is still is capable today of eliciting gasps and instilling wonderment.
The 2001 of its day, Things to Come purports to predict the future — thanks to its author Wells, who, as  advertised by  his more than one hundred books of fiction, fact and extrapolation, was widely heralded throughout the world as  a modern Nostradamus and a master of scientific speculation. Wells' involvement insured that the movie would be taken seriously — and not pegged as another Flash Gordon, or even as another Metropolis.
The movie begins on a  Christmas Eve of the present, on the brink of an impending world war, which, in a remarkable precursor of the actual World War II Blitz, soon makes a bombed-out wreck of "Everytown," the Londonish metropolis where, presumably, Everymen and women live, and where almost all the film takes place. Wells' chronicle skips from one generation to the next, spamming about over a hundred years, and, though missing the cell-phone and the Internet, predicting a host of other scientific advances, the most prominent of which include a rocket to the moon, sleeping gas and a new world order, a society founded on airplanes, from which heroic scientists will direct the world's work and make sure that war and crime, at least in the future, are things of the past.
Wells' movie has good scientists — Raymond Massey as John Cabal and his aeronaut grandson Oswald — and a bad dictator: Ralph Richardson as the brutal and  Rabelaisian Boss, who runs things and pleasures himself,  and is against any scientific and  political progress unless he can run hat too. And there's a loudmouth, dead-wrong TV commentator: Cedric Hardwicke as Theotocopulos, a kind of Luddite who uses television to foment and lead a revolt against science, progress and space travel. .
There are things that don't quite work in Things to Come, the most prominent of which is the 70-year-old Wells' stiff and preachy dialogue, which, as spoken by Massey (pompously), Richardson (lustily, with Shakespearean gusto), and Hardwicke (dourly), rarely sounds either real or properly dramatic. What does work though is the film's extraordinary, often mind-blowing visual design. Director Menzies was one of the cinema's great art director/designers (his masterpieces of design include Gone With the Wind and the Doug Fairbanks Thief of Baghdad — and he and Korda create here an overpowering new world  of futuristic sights and sounds, — of imaginary visions of industry, war, aeronautics and lifestyles that,, almost 80 years after the film's release, still exerts a hypnotic spell.
Not always. As speculation or drama, Things to Come, despite some bull's-eyes, now sometimes looks and sounds a bit antique, as almost all old science fiction does, sooner or later, including 2001. But Wells'; historical sweep and range of thought are still impressive and provocative, and Menzies and Korda's designs and visions are impressive too. If the movies are, in great part, a visual art, Menzies was certainly one of the great artists. His and Wells' Things to Come may have its flaws, its pomposities. But it's also full of dreams and  wonders and flights of fancy and (would be) fact. One watches these dreams of things to come, from the man who wrote The Time Machine and the man who painted Gone with the Wind, still amazed.
Extras: Fine, informative, lively commentary by David Kalat; Interview with Christopher Frayling on the show's design; Visual essay by Bruce Eder; on Bliss's score; Unused special effects footage by Moholy-Nagy; 1936 recording of a reading from Wells; Booklet with an excellent new essay by Geoffrey O'Brien, editor of the Library of America.
_________________________________________________________________________________