Wilmington on DVDs: Star Trek Into Darkness; The Hangover, Part III; The Hangover
STAR TREK INTO DARKNESS  (Three Stars)
U.S.: J. J. Abrams, 2013 (Paramount))
Perhaps Star Trek Into Darkness should have been called Star Trek 12: The Wrath of Spock. Even numbers, you know.
But no, that's no good: producer-writer-director J. J. Abrams hates colons. Anyway, Star Trek Into Darkness turns out to be just what you might have expected from a 100 million- dollar-plus-budgeted blockbuster, released in 3D, 2D  and IMAX, directed by Abrams (Lost, Alias,Super 8), and acted and written by Abrams' high-grade team on the 2009 re-boot re-hit Star Trek. That movie, coming after an 11-year Star Trek space-hiatus,  was a shrewdly calculated, well-executed show, with its share of  surprises, heavy-duty action scenes, big emotional moments  and nostalgic nods to the long 47 year history of Star Trek. And so is this one. I'm not in love with it, but I certainly enjoyed it.
What do you expect? Back on the Enterprise are the whole immortal crew, headed by Chris Pine as the impulsive, courageous, reckless (and horny) Captain James T. Kirk (who was originally William Shatner), and Zachary Quinto, as the pointy-eared, magisterially logical and seemingly unemotional  First Officer Spock  — once played by Leonard Nimoy, who's back in this movie with a cameo as "Spock Prime").
Backing them up — as Kirk and Spock quarrel once again about the superiority of logic or instinct, science or soldierly action, brain or brawn  — are that crackerjack  space-crew of Dr. Leonard "Bones" McCoy (Karl Urban), Chief Engineer Montgomery "Beam Me Up, Scotty" Scott (Simon Pegg), Communications Officer Niota "Knockout" Uhura (Zoe Saldana),  Helmsman Hikaru "Smiley" Sulu (John Cho), and Ensign Pavel "How-Did-a-Russian-Get-On-Bboard?" Chekov (sic) (Anton Yelchin) — all the parts originated in the 1966-1969 series, and the first six Star Trek movies (1979-1989) by DeForest Kelley, James Doohan, Nichelle Nichols, George Takei and Walter Koenig.
One of the great appeals of the first six Star Trek movies, was always the appearance of that sort-of-magnificent seven. — not necessarily because they were great actors, but because we knew them for so long and we liked them — and because Shatner, no matter what you think of his florid line readings, fit his part of  the gutsy but sometimes anguished leader and okay guy, bemused by his intellectual buddy Spock.
Another familiar face this time, along for at least part of the ride, is the tormented-looking Bruce Greenwood as Kirk's mentor from the 2009 Trek, Admiral Christopher Pike. (Pike was the Enterprise's original captain, the character played in the Star Trek pilot show by Jeffrey Hunter).  And the new blood in this new movie includes a real scene-and-planet-stealing villain, Benedict Cumberbatch (Sherlock himself) as the cold-blooded ex-Starfleet renegade  John Harrison (an alias), plus another admiral, Peter Weller (of Robocop) as the demanding and hawkish Alexander Marcus, head man on the U.S.S. Vengeance.. There's even an Enterprise stowaway, Alice Eve as hubba-hubba Science Officer Carol Wallace (another alias).
Into Darkness begins with a bang in the twenty-third century, with a standard James Bond-Indiana Jones blast-you-out-of-your-seats opener, on the Planet Nibiru, where the always reckless Kirk and the often-exasperated Bones McCoy are being pursued by hostile pale-faced Nibirites, while Spock, in a heroic, self-sacrificing but unemotional mood, has lowered himself into  an active volcano, to try and save the planet. Spock does save the planet (as you might expect) and Kirk saves Spock (as you might also expect), and Kirk, for violating the Starfleet Prime Directive about opening action scenes, is demoted from Enterprise Captain to First Officer, and separated from Spock — a mistake that's  rectified after the super-terrorist Harrison attacks and plunges into carnage a  Starfleet admiralty meeting in London. This results in the death of  Admiral Pike and Kirk's  and Spock's reinstatement as your favorite captain and first officer on the Enterprise with orders to hunt down Harrison to the ends of the universe — or actually the Klingon planet Kronos, where he's hiding out.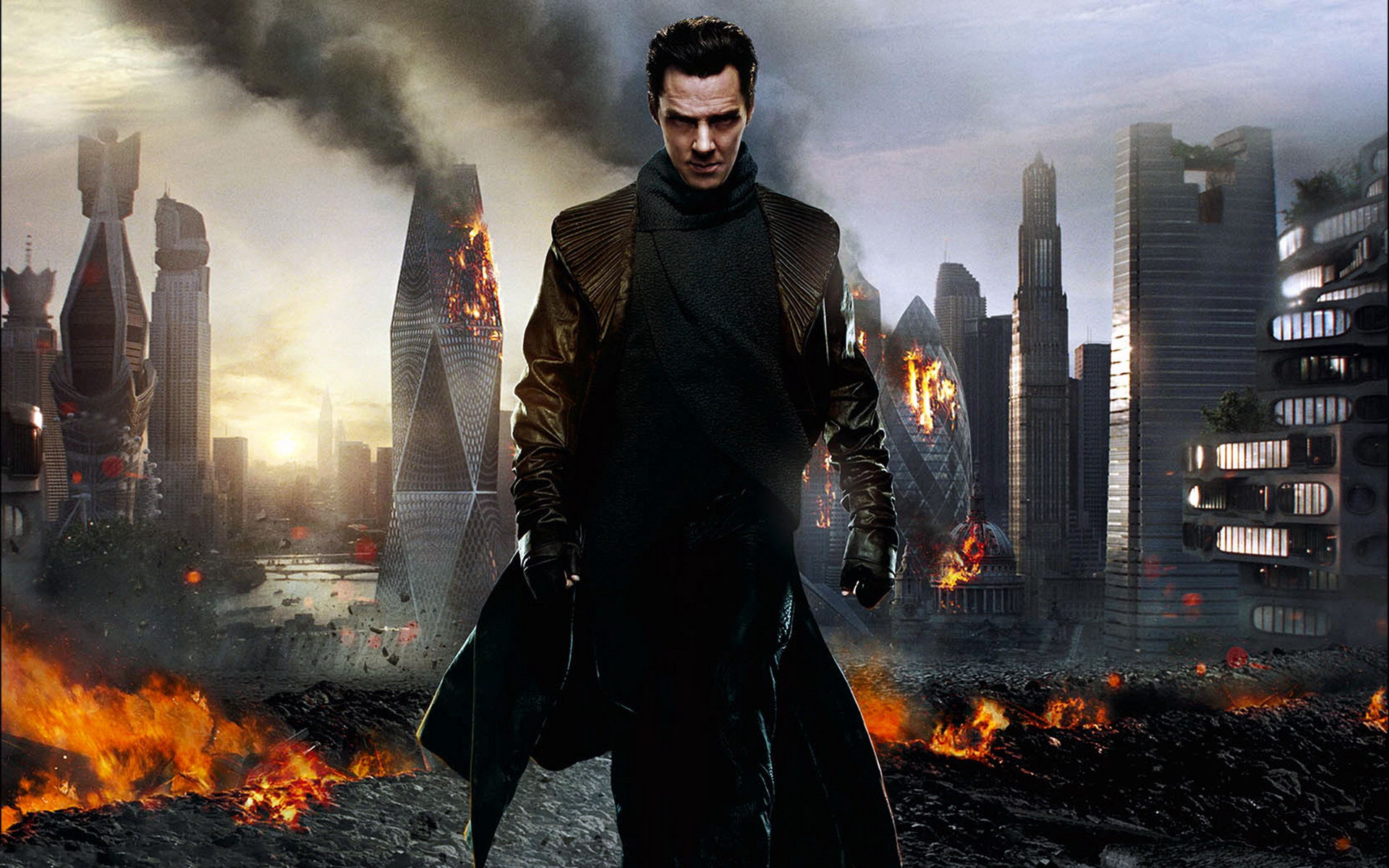 The action starts right at the beginning and then keeps on coming.  In Darkness is a typical sci-fi war movie in the post-Star Wars style, whereas the Star Trek TV Show, which would have a fight every now and then, mostly was a series of  science fiction fables, with Ray Bradbury-style good-liberal messages. What most people remember, and even treasure, about the TV show, is not the space battles (what there was of them), but the characters and their tense interactions –most especially the ongoing moral-philosophical debate between Kirk and Spock.
Kirk was the constant hothead; Spock the professorial type who cooled things out. The two Abrams movies continue that conflict between two guys of widely differing temperaments, who basically love each other (as we're told again and again). When Kirk, seemingly dying behind a glass door, reaches out his hand toward Spock's on the other side, you may think you've seen the gesture before (and you have), but the point is that most of us never get tired of it. Along with Ralph Kramden and Norton in "The Honeymooners" and Andy and Barney in "The Andy Griffith Show," and  Cosby and Culp on "I Spy,"  Kirk and Spock were one of the great key '50s-'60s TV bromances, and the new Star Trek series exploits and expands on that feeling.
It also shows them as young and heartily sexual, and full of juice and shenanigans. Chris Pine's Kirk isn't yet as full of himself as Shatner's Kirk sometimes became, but the writers have turned him into a real ladies' man. (In an early scene, we see him waking up from a threesome with two blondes, which is probably a Star Trek first.) And Spock has an often physical flirtation going with Uhura. Alice Eve is also aboard of course — but that seems a down-the line Kirk  adventure. As for the rest of the crew, I guess that they have to stay celibate or explore new dimensions for the post-war five year quest, or hope that the Enterprise finds intelligent, and lively, life in the universe.
As you can see, In Darkness is a typical sci-fi war movie in the post-Star Wars style, whereas the Star Trek TV Show, which would have a fight every now and then, mostly was a series of  science fiction fables, with messages. Darkness, as advertised, does have surprises in store — and you should strenuously avoid the IMDB cast list, if you want to stay surprised. If the movie has a major problem, and many won't consider it  a problem at all, it's the need to keep the action scenes and space battles popping up at fairly frequent intervals. It does.
SPOILER ALERT
But though Benedict Cumberbatch is one grand hellfire villain, I still prefer Montalban's Khan and his wrath. And for nuisance value, a Tribble or two.
END OF SPOILER
Extras (dispersed among the various "In Darkness" releases): Featurettes; Abrams commentaries.
THE HANGOVER PART III (One and a Half  Stars) U.S.: Todd Phillips, 2013
Movies, like people, can sometimes display disastrous judgment.
(A sort of SPOILERALERT over the next two graphs.)
I was watching The Hangover Part III with acrowd of civilians — regular people at a regular evening theatre showing — when suddenly the audience stopped laughing. Stopped cold. You can probably guess which scene shut them down. It's the one that so many critics and reviewers have been complaining about, where Zach Galifianakis as super-doofus Alan is driving a  car on the freeway with an open trailer transporting (or so it seems) a large, very photogenic  giraffe, and Alan, stupidly, drives right under a bridge, decapitating the giraffe and sending the animal's head (or so it seems) smashing bloodily into another car's windshield, which causes that auto to swerve and trigger a massive pile-up and what seem to be several dozen more accidents.
The audience hadn't started laughing at the movie yet  — though a few tittered a little when they first saw Galafianakis, and his dead-serious, bearded, seld-absorbed  Alan mug, no doubt in anticipation of the jolly times they expected ahead. But after the giraffe's head (a phony one, of course) crashed into the other car's windshield, total silence descended on the theater. Total. Silence. Not only did nobody laugh (audibly) at the giraffe "joke." They didn't laugh for most of the rest of the picture, and they maintained that hear-a-pin-drop quietude until Melissa McCarthy showed up a good ways through the movie, as Cassie, the bad-mouth pawnshop proprietress. She got people at least tittering a little.
Todd Phillips, who directed all three Hangovers, and got co-script credits (with Craig Mazin) on the last two, is obviously a talented filmmaker. And in fact, it takes some talent (and chutzpah) to come up with (or let pass), a joke so bad that it shuts an audience up for most of a movie — especially a movie that's part of the most successful comedy franchise in film history, and one that this audience  was probably really looking forward to.
You wonder if anybody  — in all the focus groups and studio screenings and editing sessions — complained about that scene, or suggested that it be cut. (Not that I think moviemakers should let their shows be cut or emasculated by studios and focus groups.) Or if they objected to the other scenes involving slaughtered animals: the guard dogs who get their necks snapped, or the fighting cocks who got killed.  Or to the script's consistent mean-spirited verbal and physical cruelty and nastiness. ("It's a giraffe. Who gives a shit?" Phil says abut the road accident.) Or to the indulgence to and often triumphant amorality of the movie's worst (and at times, funniest) character, gay gangster Mr. Chow  (Ken Jeong, flaming).
Or to the heightened brutality and immorality — and willingness to engage in all kinds of  destructive or sadistic behavior (supposedly in self-defense), up to and including abetting a murder — of the "heroes" themselves: the superstar Hangover ."Wolfpack." What happened to the ethics of that  buddy buddy cabal? That fierce foursome of arrested-development rich kid Alan, studly schoolteacher Phil (Bradley Cooper), hysterical dentist Stu (Ed Helms) and the once-again mercifully absent Doug (Justin Bartha)?
The first Hangover — a mystery story/bromantic comedy set in Las Vegas, done with high-wire-walking intensity — is a genuinely funny movie. It also had genuinely likable (and funny) protagonists, and genuinely scary (and funny) villains.   The Hangover II, set in Bangkok, brought back the original quartet and also Mr. Chow — as well as "comedy" that was increasingly  off-putting — was a huge mistake, a would-be edgy show that ultimately had more edge than comedy, and that may have alienated audiences more than anyone realized at the time.
Now comes Hangover III, in which the quartet returns again — with Phil, Stu and Doug at first trying an intervention with their aberrant pal Alan (after he goes off meds and screws up a few more times) and  getting mixed up again with the epicene and perfidious Chow. This proudly freaky mobster, on about the same time of their long ago lost weekend, stole some gold from he nefarious Marshall (newcomer John Goodman), and now he pulls them all back into the dark side. There are no hangovers, for most of the movie at least, but otherwise it's the monkey business as usual — except almost everything is cruder and darker and  unpleasantly vicious.
The Hangover Part III has been pretty well-abused by critics, and it deserves to be., considering that it's a well-financed sequel to the most popular movie comedy of all time.  The Hangover was funny partly because the Wolfpack (Alan excepted) were relatively normal guys who lost their inhibitions and got in trouble because Alan secretly slipped them a drug. In their brainsick state, they fell in with bad company, including a  tiger (not decapitated, as I remember). In The Hangover II , they also got wrecked without realizing it, though that movie, with its heavy quota of Bangkok depravity, wasn't very funny either. In The Hangover III, they don't even need booze or drugs. The threat of a good whacking from Goodman's murderous Marshall is inducement enough.
There's an attempt to go sentimental on us, with the guys benevolently trying to save Alan, and Alan trying to straighten out — but his reformation at the hands of  McCarthy's pawnshop harridan Cassie (who bullies her wheel-chair-ridden mother) seems dubious. The movie's last ultimate "morning after" gag (involving a hair-raising demonstration on Stu of either prosthetic or computer generated wizardry) is dubious too. In fact, I thought it belonged in the trashbin, along with the giraffe joke  and a lot of others — as well as  the whole strategy of downplaying Phil and Doug and constructing the movie mostly around Alan and Mr. Chow,
The Godfather Trilogy. The Apu Trilogy. The Lord of the Rings Trilogy, The Dark Knight Trilogy… And now The Hangover Trilogy? Well, as they say in Hollywood, Money talks and bullshit walks. And if there was ever a trilogy that started out being Money and ended up as piece of walking bullshit, it's The Hangover. You u get the idea, while  watching Hang III, that Phillips (and co-writer Craig  Mazin, who replaced, not too felicitously, the original writers Jon Lucas and Scott Moore) were actually tying to avoid formula and take the story in a new, audacious  direction. — before they wound up, like Phil and Alan, chasing Mr. Chow and dangling off a balcony edge of Ceasar's Palace.
But there's one consolation watching this third "Hangover." You know there probably won't ever be another one. Not if we're lucky. You may think I'm being mean and unfair. But hey, it's a movie. Who gives a shit?
____________________________________________________________________________________
THE HANGOVER (DVD or Blu-ray) (Three Stars)
U. S.; Todd Phillips, 2009 (Warner Bros.)
Recipe for a "Hangover": Four male buddies — or actually, three buddies and a hanger-on who desperately wants to be one of the bunch — take off for Las Vegas and one last bachelor bash, driving a 1969 Mercedes borrowed from the bride's dad (Jeffrey Tambor). Reading right to left, they're Phil, the studly but married English teacher (Brad Cooper), Stu the nerdy dentist (Ed Helms of "The Office"), Alan the slobby and somewhat wacked out brother-in-law-to-be (Zach Galifianakis), and Doug, the very tolerant, likable  groom (Justin Bartha).  Shake and mix well. Once in Vegas, our fun-loving quartet check into a deluxe hotel villa suite and begin their night of revelry with a toast up on the roof, with knockout libations that have been, unfortunately, secretly spiked with what one of them thinks is Ecstasy, but is actually the date-rape drug.
The next morning , three of them wake up in the suite, hung over and unable to remember a single thing that happened after they imbibed the drink and drug. Here's what they see: the apartment wrecked,  booze on the furniture, a baby in a bassinet, one of dentist Stu's front teeth missing, the Mercedes gone, pizza on the sofa, a mattress speared on the pole outside, a live tiger in their bathroom. And, oh yeah, the groom mysteriously missing, with barely hours for the guys to find and deliver him to the wedding and his beaming bride.
Pretty soon they'll see Doug's mattress speared on a roof pole and  they'll run into the cops whose squad car they stole, the gay Chinese gangster Mr. Chow whose blackjack loot they accidentally glommed, the friendly stripper/hooker named Jade (Heather Graham) whom Stu married last night at The Best Little Chapel, Someone called Black Doug, and Mike Tyson, who happens to own the tiger.
What happened? Where is their Doug? What about the impending nuptials with Tracy (Sasha Barrese)? And who the hell is Black Doug? (Since he's played by Mike Epps, we at least know he'll get some laughs.) Despite myself, I've got to admit this is a terrific killer premise, at least for exactly the kind of raunchy, male-bonding comedy that usually plays to knuckleheads, but occasionally delivers the goods. The last one I remember that worked this well was Wedding Crashers, with Owen Wilson, Vince Vaughn, and Rachel McAdams, and a funny, dirty-minded cameo by Will Ferrell. (The memory of that last will help you forgive Ferrellhim for Land of the Lost, ) And, oh yeah, Brad Cooper.
The Hangover is an example of a movie genre I often dislike: the Daffy, Goofy Sex-Crazed Guys comedy (an 80s mainstay) — a picture in which we're privy to the horny, boozy, pants-dropping antics of a gang of guys out for a smashed-but-keep-going, party-till-you-drop high time: a lewd-minded crew that often includes the stud, the nerd, the slob/weirdo and the nice guy/author surrogate (or variations thereof).
There have been hundreds of movies like this, and most of them stink. But this one works.
Why?  Director Todd Phillips, who has made at least one funny male-bonding comedy, Road Trip — as well as some others (Old School, "Starsky and Hutch) that I'd rather forget — has a  real flair for this wild and crazy guys kind of  situation. There's a knowing edge to his handling of this very familiar stuff, the progressive revelations of their crazy misbehavior — that humanizes the story. Writers Jon Lucas and Scott Moore, who were guilty of Ghosts of Girlfriends Past and Four Christmases (Take them back, guys) have dreamed up lots of funny bits, most of which work. But they've also given the whole thing a neat structure that makes the story far more interesting.
Instead of showing us the wild night as it happens, one blitzed catastrophe after another, they turn the whole show into a film-noir-in-reverse detective story, where the three guys left behind have to piece everything together, and suffer while they recall what irresponsible clowns they were.      This device makes the story more entertaining, funnier and also less offensive (than usual), since the guys are paying  for their misdeeds after indulging in them, and since we don't see the orgies that got them in Dutch until a rapid-fire lewd end-credits sequence of the photos that recorded their blacked-out blowout. The movie suggests that there is such a thing as a morning after, and that they are consequences to every orgy.
Besides, it is always funnier to recall this kind of stuff afterwards, sober. Did I ever tell you about the night one of my friends walked out in the middle of W. Gilman street, stark naked and chugging a bottle of Aqua Velva, and two police cars pulled up around him? Or the time somebody's girlfriend started a water fight inside our apartment house that lasted for an hour and ended up waterlogging the kitchen? Then there was that drunken night time trip to the zoo and the rhinoceros house….  (The joke is: You think I'm kidding, but I'm not.)
Finally, the element that really makes The Hangover is the cast. The three leads are perfect clown adventurers. Bradley Cooper's Phil recalls every ultra-glib ladies man and take charge guy you've ever met. Ed Helms, as the defanged dentist Stu, is a dream of an angst-ridden straight man and guilty hen-pecked nerd, with a classic worried shockeroo look that suggests Harold Lloyd crossed with Charles Grodin. Zach Galifianakis (Dave the Bear in the lousy What Happens in Vegas) makes such a funny oddball out, like early fat-demonic Jim Belushi crossed with a delusional touch of Don Knotts,  that he even manages to survive one too many peeks at his butt. And Justin Bartha is a terrific likable guy — and a good sport too, since he has to miss most of the action.    The rest of the cast is good too, especially Rachael Harris as the girlfriend from hell, Heather Graham as the hooker from heaven, Epps as B. D., and Ken Jeong as the kind of gay Chinese gangster you don't want to run into in a Turkish bath. Even Mike Tyson makes you laugh.
I've knocked  off half a star here for the cop car and blackjack scenes, and the sometimes mushy ending, none of which makes the wicked comic sense of  the rest of the movie. But, audiences for this type of show will get everything they want, while audiences who normally wouldn't go near a picture like this will get more than they bargained for. I'm usually not fond of movies that seem partly inspired by TV commercials. But this is one case where it's good that what happened in Vegas didn't stay there.
DVD Blu-ray extras: Theatrical and unrated versions; Picture-in-picture commentaries by Cooper, Galifianakis, Helms and Phillips; Gag reel; Pictures from missing camera.