Wimington on DVDs: The Haunting, Eyes Without a Face, The Conjuring
THE HAUNTING (Also Blu-ray) (Three and a Half  Stars) U.S.: 1963, Robert Wise (Warner Home Video).
From Shirley Jackson's shivery, eerie, intellectual ghost story  "The Haunting of Hill House" — about   poltergeist investigator John Markway (Richard Johnson) and his mixed group of mostly amateur spook watchers (Claire Bloom, Russ Tamblyn and Julie Harris) ensconced in a notorious "old dark house"  together — sometime noir master Robert Wise and screenwriter Nelson Gidding weave a  classic supernatural thriller, a shocker witthut gore, a ghost movie seemingly without tangible ghosts. (Or is it?)
As repressed spinster Nell Lance, who finds herself succumbing to Hill House's eerie spell and its terror-laced eroticism — and perhaps to Johnson's enthusiastic charm and to Bloom's ambiguous half-threat, half-seduction as (seemingly) a sort of fancily severe Greenwich Village lesbian — Julie Harris gives a movie-stealing performance. The cast are all well nigh perfect (including Lois Maxwell, Miss Moneypenny of the James Bond series, as Mrs. Markway). But Ms. Harris, a wonderful actress as always, makes you really feel the story's terror, the menace and the entrapment of Hill House — as (like Jack Nicholson in The Shining), Nell is  pulled into the evil of the haunted domicile's dark, dark past.
Wise's movie is quite faithful to Jackson's  novel, which was much admired by the literary critics of the '60s and later. The dialogue is literate and tense, and the story and décor are smartly ominous. The movie's chillingly tasteful production designs and the crystal-sharp black and white cinematography (by Davis Boulton) gives this picture, shot in England, a classic look. It's the kind of  brainy, spooky cinematic treat Wise might have whipped up for producer Val Lewton in the '40s, in their RKO prime time of The Body Snatcher and The Curse of the Cat People —  if they'd only had this kind of budget.
Roman Polanski once named Wise's The Haunting as one of his favorite movies, and you can see why he likes it so much. In fact, it's shame that Polanski didn't direct the 1999 remake of The Haunting, which was messed up by the producers and director Jan De Bont, and not helped at all by its even bigger budget and gaudier effects. Subtlety, intelligence and superb acting are what cast the spell for Wise and company, and Polanski probably would have brought all that back, and made the movie sexy and funny to boot — something the 1963 Haunting, with its swoony undercurrents. doesn't really need.
EYES WITHOUT A FACE ("Les Yeux sans Visage") (Blu-ray) (Three and a Half Stars) France/Italy: Georges Franju,  1960 (Criterion Collection)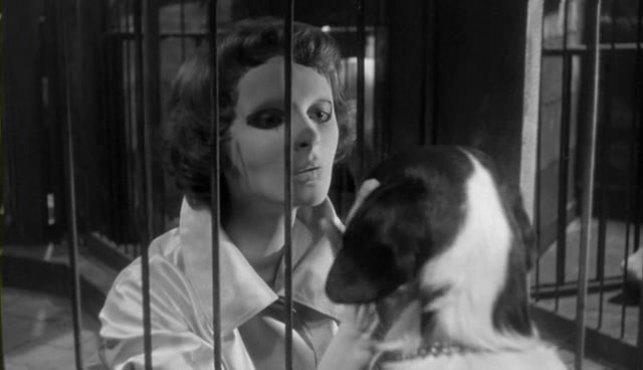 The eyes belong to Edith Scob — wounded and beautiful, as Christiane, the young car accident victim. But  the face, or faces, are the creation of her mad physician father, Dr. Genessier (Pierre Brasseur, the Shakespearean actor of Children of Paradise), who keeps trying to repair her disfigured features by kidnapping lovely young Frenchwomen, surgically removing their pretty visages and trying to implant them on his daughter's ruined head. While the dogs howl outside his laboratory, Alida Valli as  Genessier's chic assistant Louise, prowls around elegantly, in Genessier's dark, isolated mansion in the French woods.
The story may sound penny-dreadful and Hammer Horror-ish, but the production is of unusually high quality and  pedigree. Franju's brilliant cinematographer was Eugen Schuftan, thr year before Schuftan won the Oscar for The Hustler. The playfully macabre score is by composer Maurice Jarre, two years before he won the Oscar for Lawrence of Arabia. The screenplay, based on Jean Redon's novel, is by Redon, Franju and the writing team of Pierre Boileau and Thomas Narcejac, who wrote the novels on which both Diabolique and Vertigo were based.
This is one of the classic European horror movies, a shocker for aficionados, and it's done with an impeccable style and flawless taste and imagination that belie the somewhat trashy story. (The original American release title was The Horror Chamber of Dr. Faustus.) It's also perhaps Franju's most popular and well-remembered feature, a post-Holocaust masterpiece of lyrical dread and gothic suspense. (Franju's even scarier and more poetic short documentary classic Blood of the Beasts, is set in a real-life Parisian slaughterhouse.) If you think you may have watched Eyes Without a Face, but aren't quite sure, you probably haven't seen it. This is one tale of terror you just don't forget. (In French, with subtitles.)
Extras: Audio interviewer with film director Rene Clair; Trailer; Booklet with essay by Guy Maddin. 
THE CONJURING (Three Stars) U. S.: James Wan, 2013  (New Line Home Video)
Horror movies are usually often judged oby how much they get under our skins: how much sheer emotional discomfort they generate. By that measure, and several others, the James Wan-directed scary show The Conjuring, failed to get to me. Mind you, I don't think I'm the ideal audience for this kind of picture — even though this is a movie that seems to have scared almost everybody.
The Conjuring — scripted  very predictably (I thought) by the brothers Chad and Carey Hayes —  is supposedly based on the true story of a haunted house, possessed by demons and otherworldly spirits, as investigated by honest-to God "paranormal researchers": the "real-life" combo of Lorraine and Ed Warren, played in the movie by the brilliantly sensitive Vera Farmiga and the convincingly obsessed Patrick Wilson. This, we are told, was the Warrens' most challenging case. Of course it was. For one thing, it involved interior decoration as much as ghost-busting.
The Conjuring whisks audiences and critics back to 1971, where this supposedly true story supposedly took place in a clamorous, dark, shadowy old house in Harrisville, Rhode Island, and where a nice working class family named the Perrons—Mama Carolyn (Lili Taylor), and Papa Roger (Ron Livingston) and their five daughters—discover that their house is possessed by the spirits of The Exorcist (1973), The Amityville Horror (1979), and various other movies about poltergeists and evil spirits. The Perrons haven't just gotten a bad real estate deal here; they are under assault by devilish beasties who kill pets, mysteriously bruise Carolyn, and keep subjecting the kids—who, at one point, are compared to the Brady Bunch—to ghostly reflections, invisible assaults, slammed doors, and other reminders of the house's previous existence as the site of witchcraft, death and potential sequels.
Soon the house and the family are investigated by no less a pair of spook busters than the famousreal-life Ed and Lorraine, who are just recovering from another case involving a demonic doll with a Chucky expression. Ed and Lorraine were also the real-life spiritual investigators who put the real-life Amityville on the map. Now, they turn their psychic prowess on the demonically infested Perron residence, on the Perron family and their old creaky house with its weird attic and spooky basement full of weird, spooky, dimly perceptible stuff, and its mysterious population of terrifying thingies running around, behaving devilishly and terrifyingly —as recorded, in the fictional real-life story, by Ed and local Harrisville people and some cameras, and in actual real life, by director Wan and his gifted and unfazed cinematographer, John Leonetti—who start off the movie with some virtuoso moving camera ensemble shots, and keep piling on the snazzy visuals from then on.
The movie has its good points. It's well acted (especially by Taylor and Farmiga), and well filmed (especially by Wan and Leonetti.) Wan is best known as the director of the first of the Saw movies, but, after another haunted house movie, Insidious, he has decided in this case to definitively give us a horror movie without the old Saw mainstays of insane torture, revolting carnage and stomach-turning bloodshed. And indeed he does. He also  helps  prove that horror can be more effective if it starts off with character, and doesn't rely too heavily on gore.
Vera Farmiga, who plays most of the film like a figure in a Bronte Sisters novel, is one of the best American movie actresses around right now. So is Lili Taylor, and both of them give the movie soul and mind and a heart that doesn't threaten to be cut out and stomped on. Wilson and Livingston (of Office Space) are good foils for the ladies. Farmiga and Taylor are the main reason that The Conjuring probably seems so effective.
I wasn't able to immerse myself in the high-grade terrors I was assured were on the way—seemingly guaranteed by everything: the jangly, bang-bang music by Joseph Bishara, the first class prowl-around-the-house-and-the-cold-windy-outdoors camerawork by Leonetti, the rotting-old-real-estate production design by Julie Berghoff, the ads, the reviews, the trailer, and especially the genuinely frightened or frightening expressions on the faces of Ms. Farmiga and Ms. Taylor—contrasted with the furrowed brows and frowns of Wilson and Livingston. What can I say? I wanted to have a horrible time, but all I got was another bloody knock-off.  Maybe that's horror enough.