Wilmington on Movies: Labor Day
LABOR DAY (Two and a Half Stars) U.S.: Jason Reitman, 2013
1. The Man with the Peaches
There's a great peach-pie-making scene in Labor Day — and how many movies give you even that much? Utterly  sensuous, gorgeously composed and lit (by cinematographer Eric Steelberg) , accompanied by an elegant, simple solo guitar,  this almost absurdly lush sequence of three people (a man, a woman, a boy) baking a pie together is beyond question the Odessa Steps of all movie pie-making scenes. So rapturously done, you can almost smell the peaches and feel the crust, as the pie (if not the movie) comes together — with the three sensuous pie people piling  a whole bowl full of glistening sumptuously peachy peaches (sorry, there's no other word for it),  mixing in butter and sugar and salt, and then patting and sculpting the doughy, rich-looking  pie-crust-to-be against the edges of  a very large pie pan and putting the whole delicious-looking creation in an oven to be warmed and browned and rendered into lusciousness…It actually made me hungry watching it. (If it makes you hungry reading about it, the Labor Day peach pie fixings/instructions, from a Joyce Maynard family recipe, courtesy of the Labor Day publicists, are reprinted below.)
That's not all the scene is supposed to do, though. As derived from  Joyce Maynard's 2009 romantic novel of the same title, and scripted and directed here by Jason Reitman (the director of Juno, Thank You for Smoking and Up in the Air), it's supposed to be a metaphorical love and family scene in which the three people making the pie — a single New England mother, her 13-year-old son, and the man on the run who's wangled his way into their lives — join and meld as a new family unit by making and eventually eating that wonderful pie.
Yet there's more (and less) to the movie's meals and metaphors than that. The Mother, Adele Wheeler (played beautifully by Kate Winslet) has been emotionally shattered and lives mostly as a listless, near agoraphobic recluse in a shaggy-looking house in a small New England town (the fictitious Holton Mills, New Hampshire), since her husband Gerald (Clark Gregg) left her for a younger woman and a new family. Adele's young teen son, Henry (sensitively played by Gattlin Griffith) loves his mother and wants desperately to bring her back as the buoyant happy woman she used to be — and the only way he knows how to do it is to try to be something like the reliable loving companion whom she lost or maybe never really had. (The adult Henry, read by Tobey Maguire, the Nick Caraway of the recent movie of The Great Gatsby, narrates the story, lovingly.)
Now we come to the head chef:, the guy with the recipe (for everything). He is Frank Chambers: the man on the run, bleeding from the gut and with a smashed leg, hurt when he jumped from a second-story hospital window. Frank is an almost ridiculously virile and unfailingly fatherly stud (roughly and sensitively played by Josh Brolin), who escaped from that  hospital,  where he was being operated on for appendicitis, while on temporary leave from prison — where he was serving time for murder. Tall, dark and murderously competent (in everything), Frank spots Adele and Henry at the local department store, where he promptly steers Henry along an aisle, strips off some of his own old clothes, pilfers and puts on some new ones off the rack, and hitches a ride with — or to be more precise, kidnaps — mother and son and takes them home and ties Adele up. (She submits, with the look of an amazed child.)  He does all this firmly but with  consideration, explaining that she has to be bound when or if the police come, to avoid a charge of aiding and abetting a fugitive, or harboring a hunk.
Seldom if ever has there been a  gentler or more gentlemanly home invader than Frank. In fact, his arrival seems less an invasion than a benediction, the arrival of God's own angelic handyman/surrogate hubby. Soon, over the course of a long Labor Day weekend at Adele's, he will seem to be a dream come true: a  cook and housekeeper and lawn-cleaner and floor-waxer and roof-fixer and yarn-spinner and mechanic and baseball coach  (teaching the game to the unathletic Henry and to a wheelchair-bound  neighbor boy),  and, above all,  the maker of perfect, epochal, flaky-crusted, lip-smackingly scrumptious  peach pies. (Something actor Josh Brolin does in real life.) Ladies, form the line at the left.
But a persistent shivery little query buzzes like a fly in the otherwise peachy-keen kitchen. What is Frank? Really? Is he what he seems? Or is he a monster on the loose –a  very plausible, well-spoken monster who can talk his way into the mother and son's confidence and into their home, for that Labor Day weekend, and convince them that he means no harm, just wants to patch his wounds, rest his bad leg, and be on his way.– while underneath, simmering, still lies darkness and potential murder? Or is he, defying all plausibility (and I mean really defying it) the ideal temporary (or maybe more permanent) husband and father for an emotionally shattered mother and a brainy outsider son  —  a paragon with a prison record, who can cook (terrific chili too), and change tires and run from the police and pretty damned near everything else, including make love like Casanova or Warren Beatty.
SPOILER ALERT
Which is he? Labor Day would be a much better movie, I think, if it kept us guessing longer, if Reitman and his actors kept twisting us uncertainly between those two possibilities, if we remained uneasy about Frank for a longer time, perhaps right up to the story's climax. The movie, instead, settles the question fairly early on, when Frank gently explains that he'll have to tie them up if the police arrive — and we believe him. At least I did.
With his (almost preposterous) universal competence, and his expressions of gentlemanly concern, quiet pain and wistful melancholy, a jock with feelings, Josh Brolin's Frank  (one of his best performances, even if the movie lets him down) does seem like a dream come true. And the idea that the dream might be a nightmare (which, much of the time, in real life, it probably would be), is discarded way too soon. Of course, that means the movie would have to be played a bit more as a thriller and even a potentially dark part-comedy, and a bit less as a warm and tender family drama. But I think the story would be more gripping, and the scene at the end, where the police come for Frank, spoiling his plans to take them all to Canada, and he finally ties up  the family he wanted so ardently and submits himself to his fate — would be much more moving if we'd wondered about him more, if the rest of the movie were more eerie nd uneasy and many-layered. (There's another variation on the movie's  potentially spooky theme  of middle-class divorce traumas in Henry's sly girl pal with two sets of parents, Eleanor, played by saucy Brighid Fleming, who has the smarty-pants grin of the young Jodie Foster.)
2. Imitation of Life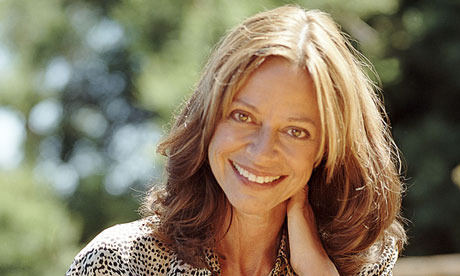 Joyce Maynard  was inspired to write the novel "Labor Day" by an incident in her own life — when she started receiving scads of intense, highly empathetic-seeming  letters from a prison inmate who, it developed,  had been convicted of two murders. Apparently, they never met.  But, by creating Frank, whom the movie's flashbacks tend to exonerate of murder (it looks more like manslaughter), is she perhaps improving on life, creating the dreamy pen pal she would have preferred? The novel and the movie, both "women's stories," are also both obviously wish-fulfillment fantasies — which is true, by the way, for most movies, men's pictures as well.
Maynard is a writer best known for her ironic fact-based sex-and-murder novel "To Die For" (filmed by Gus Van Sant, with Nicole Kidman as the homicidal hot pants teacher), and for the personal memoir "At Home in the World," in which Maynard candidly discussed her love affair, at 18, with another reclusive figure, author J. D. Salinger. It's easy to look at the story of Labor Day, which makes some people cry (including, he says  Jason Reitman when he read the book), and see it as a potentially pathological romance like To Die For, twisted inside out and turned into something sentimental and sappy and somewhat ludicrous. But intense romances, or love stories with a pathological edge and with an unlikely perfect heroine or hero (like this one) are often a bit absurd, just as passions you don't share can seem silly — and, many times, are.
There's a problem, for me, with the character of Adele  — even though Kate Winslet plays the part  with lots of  humanity and no vanity.. As the son of a single mother, I thought Winslet and Griffith, and Maynard and Reitman  got the dynamics and emotional pitch of that kind of  intence familial relationship down very well. But I found it hard to completely sympathize — feel sorry for yes, sympathize less — with Adele, a woman who seems to do little, go almost nowhere (of course, she's emotionally shattered) and is financed (from afar) by her ex-husband, rat that he might have been. The character of Adele (not the fault of Winslet, who does everything she can to bring her to life) seems so enervated and hopeless that, when she falls in love with Frank, it's almost as if she's been bewitched by his sheer stalwart energy — or perhaps found the perfect all-purpose sex–and-gardening manservant of any Lady Chatterley's dreams. And a great pie man. too (There's another twist to the pie story, but I'll hold my tongue.)
The story here often suggests a love fantasy novel by that champ of easy-listening  romance Nicholas Sparks, and, in reviews, Labor Day has been endlessly compared to Sparks  and (unfavorably) to that master director of '50s movie soap opera Douglas Sirk. (The inside dope: Too much Sparks, not enough Sirk.) But, in fact, Sirk's movies — and I think he's a master too — are occasionally  fairly absurd as well. Written on the Wind may be a masterpiece — I certainly have always enjoyed it — but how can you keep a straight face during that amazing moment at the end when the sublime nymphomaniac played by Dorothy Malone, bursts into tears after forever losing Rock Hudson to Lauren Bacall, and clutches to her bosom, that grand phallic symbol of familial greed, the model oil derrick tower?
And what about Sirk's 1954  Magnificent Obsession, from a probably flabbergasting Lloyd C. Douglas novel, with Rock Hudson as the irresponsible playboy who becomes a world-renowned expert eye surgeon to save the sight of the beautiful shattered woman (Jane Wyman)  whom he's wronged and widowed and blinded. This is one of the classic funny "serious " Hollywood movies of all time, with an emphasis on "classic" and it just gies to show that some of Sirk's movies  are great as well as absurd. I don't think that Magnificent Obsession's  humor, or at least the irony, were "unintentional," though I'm sure Sirk wasn't playing for big laughs (nor, from his audience for this hit movie, did he get them), any more than Reitman, a gifted comedy director, is playing for them here.
But perhaps Reitman should have realized that there's often an inherent comedy in stories like this, and it's better to play to it, to crack an intentional joke or two, than to try to make the audience weep their way through it. What are life and love all about, after all? You laugh, you cry, you bake a pie. If you're lucky, it doesn't get burned.
Meanwhile, here's that Joyce Maynard/Josh Brolin Magnificent Peach Pie recipe we promised. (I haven't tried one yet myself, but it sure looked good on screen.)
Publicist's Notes: Learn to make the pie that Josh Brolin made every day on the set of Labor Day for Kate Winslet and the cast, using author Joyce Maynard's family recipe.
Ingredients: •3 pounds peaches •3/4 cup sugar •2 tablespoons fresh lemon juice •3/4 teaspoon ground cinnamon •3 cups all-purpose flour •3/4 teaspoon salt •1/2 cup Crisco vegetable shortening •1 stick plus 1 tablespoon chilled butter, cut into pieces •1/3 to 1/2 cup ice water •2 tablespoons Minute tapioca (plus 2 additional tbsp to stir into peaches) •1 beaten egg •1 tablespoon sugar
Directions:
1.       In a large bowl, combine the peaches, sugar, lemon juice, and cinnamon. Stir in 2 tbsp Minute Tapioca to help absorb juices.  Let stand, stirring occasionally.
2.       Preheat the oven to 400°. In a large bowl, mix the flour and salt. Using a pastry blender, work in the shortening and 1 stick of butter until the mixture resembles coarse crumbs. Sprinkle 1 tablespoon of the ice water over the flour mixture, stirring gently with a fork. Continue adding the water just until the dough holds together. Shape the dough into a ball and divide it into two discs, one slightly larger than the other.
3.       Place the smaller disc on a sheet of waxed paper, and use a lightly floured rolling pin to roll the dough into a 12-inch circle. If the dough sticks to the rolling pin, dust it lightly with more flour. Lay a 9- to 10-inch pie pan face down on top of the circle; flip the pan over and remove the paper. For the crust, on a sheet of waxed paper, roll out the other disc to form a 14-inch circle.  Do not roll the dough more than necessary.
4.       Sprinkle the tapioca on the bottom crust. Add the filling, mounding it in the center, and dot with 1 tablespoon butter. Lift the waxed paper with the remaining crust and flip it over the filling. Peel back waxed paper. Trim the edges of the crusts and pinch together the top and bottom crusts. Optional: Roll out the trimmings and cut into decorative shapes. Brush the pie with the egg, and arrange the shapes on the crust. Sprinkle with sugar. Poke fork holes or cut vents in the top crust. Bake 40 to 45 minutes, or until golden brown. Serve warm. Put pie plate on cookie sheet to catch drips.  Bake in 350 degree oven for about one hour.  Cool before serving.
One Response to "Wilmington on Movies: Labor Day"