Wilmington on Movies: Fifty Shades of Grey
FIFTY SHADES OF GREY (Two Stars)
U.S.: Sam Taylor-Johnson, 2015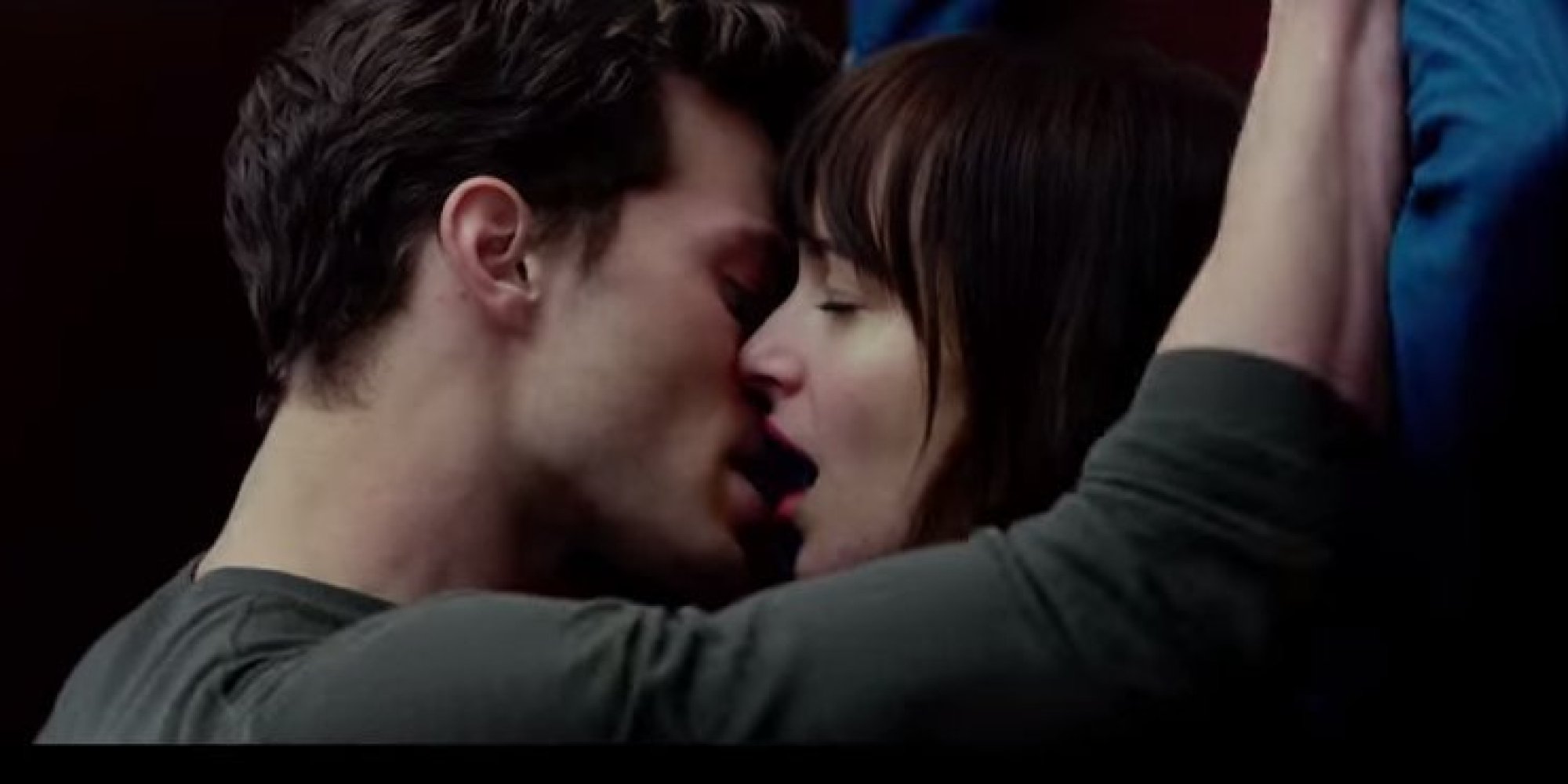 Based on the wildly popular bestseller by E. L. James, Fifty Shades of Grey takes what sometimes seems a teenager's view of S&M, and turns it into erotic kitsch for so-called grownups. The movie, co-written and co-produced by James, asks us to play voyeur to a couple of good-looking bores — a virginal college literature major named Anastasia Steele (played by Dakota Johnson) and a billionaire businessman and S&M enthusiast named Christian Grey (Jamie Dornan).  They meet, they stare at each other, they get hot, they go back to his place, they meet again (and again) and Mr. Grey (after a while) starts talking up his expertise with dominants and submissives and whips and clamps and other tools of the trade. Eventually, he  shows Anastasia his secret little chamber of sin and spanking. She's impressed. Or is she?
Are we having fun yet? Will we ever? The movie strikes me as ridiculous, yet huge audiences, predominantly (and maybe submissively) female, seem to be fascinated with it. Why? Other than lots of money  (Grey's main asset), and faces and bods that suggest an underwear ad (her main asset and, to some extent,  his), it's hard to see what either of them (the characters, that is) have to offer anybody, including each other. Their conversations are a snore, their erotic games are a joke, their lovemaking is sleekly and slickly photographed but passionless and bloodless. Both of them (together or separately) seemed to me about as exciting as a roomful of sedated Chihuahuas.
Mine seems a minority view, though  — among the first week's general movie audiences, if not  among critics and reviewers, who seem generally unseduced. Despite that critical resistance,  this mega-box-office movie has been raking in the cash (at least until the word got around) — which means that the material rang somebody's bell. Why and how, to me, remains a mystery. The love scenes are forgettable, and so are the dialogue scenes, and so are the whips and bondage items. The movie is sometimes funny, but it's hard to tell whether the humor is partly intentional, partly unintentional, or maybe some sort of nervous reaction to the potentially spicy subject matter. James tries to make a few of the Marquis de Sade's favorite pastimes look cool, but as far as I'm concerned the real Marquis had funnier gags.
Most of the show is a long tease about an erotic  persuasion, interspersed with glossy displays of lifestyles of the rich and famous.  It all begins to unfold like some crazy bastardization of a classic woman's gothic novel — Daphne du Maurier's "Rebecca," say,  with no housekeeper and a few kinks.
Anastasia, or Ana as we'll call her, has agreed to sub on a college paper gig ceded by her constantly smirking but unfortunately flu-ridden gal-pal Kate (Eloise Mumford). So Ana takes on the plum job of interviewing the hot young billionaire, or maybe gazillionaire, Christian Grey, played pensively by the earnestly fancy-pants young British actor Jamie Dornan — whose character  proves to have fancier pants than her wildest fantasies.
Understandably, as she enters his sky-high office, Anastasia is nervous. She even trips  She's rattled, but Mr. Grey is cool as a cucumber. She asks revealing questions, professes her fealty to the novels of Thomas Hardy — a writer who rarely met a happy ending he liked, unless it was Under the Greenwood Tree. As they talk, the bookless Grey eyes her meaningfully.
Soon, he is popping up in stores and restaurants to follow (stalk?) her, and pick fights with seeming rivals. His ultra-confident moves (which don't quite jibe with the actor Jamie Dornan's more fragile appearance) suggest that he is not only kin to the Marquis de Sade but to Donald Trump, and perhaps to Donald Duck as well — or at least to Donald's rich uncle, Scrooge McDuck, suddenly become generous. Grey starts showering Ana with riches, almost like Scrooge diving into the sea of coins in his money bin. He takes her to expensive parties, gives her an expensive car, takes her up, up and away in his private helicopter, wines and dines her (expensively), and behaves as if no expense were too expensive.  All the while, he drops little hints about how he got turned on to the wonderful world of S & M. (A friend of his mother's, he says,  "instructed" him — not too expensively, we hope.).
If you're a cynic, or at least a half-cynic, you might suspect James of indulging in wealthy-lover fantasies along with the movie's well-advertised dominant-submissive sex dreams. Would Ana be willing to play Grey's abusive games, if he were only a humble millionaire? James' own literary idol, we should note, is Stephenie Meyer, queen of lucrative vampire fantasies — and a writer I can't read either.
Anyway, we see Grey trying with the persistence of a mosquito to persuade her to come into his red-walled torture chamber (or as he whimsically describes it, "my  playroom") for  lovemaking sessions that, he explains, won't involve emotion, tenderness, relationships, love in the conventional sense, or even a full night together in bed.  Instead, Grey seems to be trying to bribe, or even buy her. Eventually, Ms. James and her somewhat more reticent director, Sam-Taylor Johnson (who made the engaging John Lennon Liverpool bio-pic, "Nowhere Boy")  give us the piece de iresistance: choreographed lecherous romps, whippings and lusty spankings spiced with the kind of dull sappy or smarty pants conversation you'd expect from  a lousy book you bought, against your better judgment, in an airport kiosk — thereby eating up the valuable time you might have more enjoyably spent with Tolstoy, Proust, Dickens, Shakespeare, Jane Austen, Mark Twain, or even Elmore Leonard and P. G. Wodehouse, As for me, I haven't read the book, and frankly, wild dominatrixes couldn't drag me to giving it a try.
If the book is (probably) lousy, the movie is (indubitably) lousy, despite its drop-dead movie good looks — and I watched it with increasing amazement. At first, it seemed vaguely promising. In images that might have been fashioned for a Special Edition of Vogue, we get the Boy-Meets-Girl Boy-Whips-Girl scenario with the luscious Anastasia bidding virginity (of several sorts) goodbye. It's played with good comic timing and amazing sincerity by the pretty Ms. Johnson, the granddaughter of blonde and beautiful Hitchcockian lead Tippi Hedren, and the daughter of that pulchritudinous couple Don Johnson ("Miami Vice") and Melanie Griffith ("Body Double"). Ah, we think (maybe), this is what contemporary romantic bestseller literary movies are all about! Showing beautiful people in beautiful surroundings doing stupid things and making love for world-class cinematographers! All the while being brilliant and beautiful and awesomely rich!  And finding time to read Thomas Hardy and Jane Austen, or to say they did.
If we think the show will be enjoyably silly fun, we're kidding ourselves. But it is pretty silly. Mr. Dornan, who looked to me like Tony Goldwyn on a slow day, reportedly insisted while negotiating his "Shades of Grey" contract, that his penis never be shown during the course of the picture — for which display of artistic integrity and penile discretion, we are all, I guess,  in his debt.
As the plot thickens, that elusive organ of Mr. Grey's is indeed nowhere to be seen, not even in instances when its appearance might seem, at least in some measure, dramatically justified. The slim and limber Ms. Johnson, on the other hand, apparently put fewer exclusive strictures on walk-ons by what Terry Southern used to call  the furpie or the honeypot (or, as some have suggested, those of her possible body double) — which may explain why Ms. Johnson has received excellent notices from nearly everybody and Mr. Dornan got mixed ones.
To continue the culinary metaphor, no other honey pots or cucumbers — or, as D. H. Lawrence used to call them, John Thomases and Lady Janes — are visible anywhere, anytime. That may also be why the estimable supporting cast, which includes the usually excellent Marcia Gay Harden as Christian's sophisticated mother and the equally fine Jennifer Ehle as Anastasia's, has been largely ignored, beyond an occasional critical reminder that Ms. Ehle once played that most literate of literary heroines Elizabeth Bennett in the most highly regarded film adaptation of "Pride and Prejudice:" the BBC miniseries, with Colin Firth. As Darcy. Who kept his salami in the wrapper as well.
I mention these literary tidbits because the movie uses them too, dropping the names of Jane Austen, and Thomas Hardy, and suggesting both Ana and Grey are familiar with them  (as a lit major, Ana would naturally know them, and Dickens as well). Although, not only is there not a book (or very few) anywhere to be seen in Grey's posh domain (which also seems to lack CD's and DVDs, as well as personalizing touches of any kind), but, unless I was getting woozy, there were also none, or few, in the domicile of Ana, a lit major. Has S. & M. robbed them of the desire to read? Or even to watch movies?
As you watch this and ponder, you can almost feel the movie rotting and pulping your mind into the kind of brainless pallid Twilight gumbo that too many airport bestseller novels these days, and too many of  the movies made from them,  try to sell us. So maybe you read the damned thing (Ana's persistent motto, after all, is said to be "Holy Crap!") and watch Ms. Taylor-Johnson's movie, and feel like an idiot, while the people who wrote and published the book and filmed or financed the movie, chortle all the way to the bank. And maybe later in red-walled playrooms or their rough equivalents while they whip the (holy) crap out of each other.
Anyway, a confession. I have not read E. L. James'  first novel — nor the second and the third. Nor probably  will I ever dive into these comic guidebooks, unless the airport is inundated by a tidal wave and the only choice of reading matter remaining is between the Fifty Shades of Grey, a ghosted autobiography of the Koch Brothers, or a how-to book, complete with illustrations by disgraced "painter" Walter Keane, about masochistic cookery as practiced by the inmates of the Asylum at Charleston under the direction of the Marquis De Sade, assisted by  SpongeBob SquarePants.
Why? Well, far too many critics I've read have faint-praised the Shades of Grey screenplay of Kelly Marcel (and Ms. James and others) by pronouncing it better than the book. And, if the book is indeed worse than this, I would rather play an endless game of strip pinochle with a troupe of circus fleas and their trainers, while lolling in a pile of lint and consuming pot after pot of stale mustard. I'm sorry, but Ms. James, who has sold literally zillions of books (far more than, in her lifetime, poor plain Jane Austen ever did), and inspired a movie that drew hordes of customers, like lemmings plunging over the cliff (at least the first week), certainly doesn't need my puny purchase of  her sterling literary endeavor to balance her already swollen bank account. Nor does this movie or its unreticent heroine and modest hero need my validation. As a great (or any way, expensive) writer once said, "Holy crap!"
2 Responses to "Wilmington on Movies: Fifty Shades of Grey"