NYFF To Open With Zemeckis 3D Philippe Petit Picture
THE FILM SOCIETY OF LINCOLN CENTER ANNOUNCED TODAY THE WORLD PREMIERE OF ROBERT ZEMECKIS'S THE WALK AS THE OPENING NIGHT SELECTION OF THE 53rd NEW YORK FILM FESTIVAL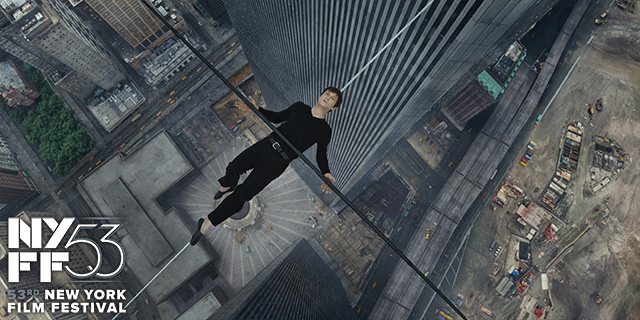 New York, NY (June 4, 2015) – The Film Society of Lincoln Center announced today that Robert Zemeckis's The Walk will make its World Premiere as the Opening Night selection of the upcoming 53rd New York Film Festival (September 25 – October 11), which will kick off at Alice Tully Hall. A true story, the film is based on Philippe Petit's memoir To Reach the Clouds and stars Golden Globe nominee Joseph Gordon-Levitt as Petit, the French high-wire artist who achieved the feat of walking between the Twin Towers in 1974. The Walk will be the second 3D feature selected for the Opening Night Gala since Ang Lee's Life of Pi in 2012 and also marks Zemeckis's return to the Festival afterFlight, the 2012 Closing Night Gala selection. Today's announcement coincides with the release of the film's trailer, which can be viewed at movies.yahoo.com. The film will be released in 3D and IMAX 3D on October 2, 2015.
New York Film Festival Director and Selection Committee Chair Kent Jones said: "The Walk is surprising in so many ways. First of all, it plays like a classic heist movie in the tradition of The Asphalt Jungle or Bob le flambeur—the planning, the rehearsing, the execution, the last-minute problems—but here it's not money that's stolen but access to the world's tallest buildings. It's also an astonishing re-creation of Lower Manhattan in the '70s. And then, it becomes something quite rare, rich, mysterious… and throughout it all, you're on the edge of your seat."
Robert Zemeckis added: "I am extremely honored and grateful that our film has been selected to open the 53rd New York Film Festival. The Walk is a New York story, so I am delighted to be presenting the film to New York audiences first. My hope is that Festival audiences will be immersed in the spectacle, but also to be enraptured by the celebration of a passionate artist who helped give the wonderful towers a soul."
Sony Pictures Entertainment Motion Picture Group Chairman Tom Rothman said: "On behalf of TriStar and Sony, I want to thank Kent and the NYFF for this great honor. The Walk is a love letter to the Twin Towers, which through the unique magic of cinema, come back to vibrant, inspiring life. But it is also a universal story of the determined pursuit of impossible dreams, told by one of our greatest living filmmakers, and the NYFF has always been a place where such dreams come true."
The film also stars Academy Award® winner Ben Kingsley, James Badge Dale, Ben Schwartz, Steve Valentine, Charlotte Le Bon, Clement Sibony, Caesar Domboy and Benedict Samuel. Directed by Zemeckis, the screenplay is by Robert Zemeckis & Christopher Browne, based on the book To Reach the Clouds by Philippe Petit, and produced by Steve Starkey, Robert Zemeckis, and Jack Rapke.
The 17-day New York Film Festival highlights the best in world cinema, featuring top films from celebrated filmmakers as well as fresh new talent. The selection committee, chaired by Jones, also includes Dennis Lim, FSLC Director of Programming; Marian Masone, FSLC Senior Programming Advisor; Gavin Smith, Editor-in-Chief, Film C.; and Amy Taubin, Contributing Editor, FC and Sight & Sound.
NYFF previously announced Luminous Intimacy: The Cinema of Nathaniel Dorsky and Jerome Hiler, the first-ever complete dual retrospective of the experimental filmmakers works that will include the world premiere of Dorsky's Intimations, a new untitled work, and New York premieres of Summer, December, February, and Avraham.
Tickets for the 53rd New York Film Festival will go on sale in early September. Becoming a Film Society Member at the Film Buff Level or above provides early ticket access to festival screenings and events ahead of the general public, along with the exclusive member ticket discount! To find out how to become a Film Society member, visit filmlinc.com/membership.
For even more access, VIP Passes and Subscription Packages give buyers one of the earliest opportunities to purchase tickets and secure seats at some of the festival's biggest events including Opening, Centerpiece and Closing nights. VIP passes also provide access to many exciting events including the invitation-only Opening Night party, " An Evening With…" Dinner, Filmmaker Brunch, and VIP Lounge. Benefits vary based on the pass or package type purchased. VIP Passes and Subscription Packages will go on sale Tuesday, June 9.  For information about purchasing Subscription Packages and VIP Passes, go to filmlinc.com/NYFF.
New York Film Festival Opening Night Films

2014    Gone Girl (David Fincher, US)
2013    Captain Phillips (Paul Greengrass, US)
2012    Life of Pi (Ang Lee, US)
2011    Carnage (Roman Polanski, France/Poland)
2010    The Social Network (David Fincher, US)
2009    Wild Grass (Alain Resnais, France)
2008    The Class (Laurent Cantet, France)
2007    The Darjeeling Limited (Wes Anderson, US)
2006    The Queen (Stephen Frears, UK)
2005    Good Night, and Good Luck. (George Clooney, US)
2004    Look At Me (Agnès Jaoui, France)
2003    Mystic River (Clint Eastwood, US)
2002    About Schmidt (Alexander Payne, US)
2001    Va Savoir (Jacques Rivette, France)
2000    Dancer in the Dark (Lars von Trier, Denmark)
1999    All About My Mother (Pedro Almodóvar, Spain)
1998    Celebrity (Woody Allen, US)
1997    The Ice Storm (Ang Lee, US)
1996    Secrets & Lies (Mike Leigh, UK)
1995    Shanghai Triad (Zhang Yimou, China)
1994    Pulp Fiction (Quentin Tarantino, US)
1993    Short Cuts (Robert Altman, US)
1992    Olivier Olivier (Agnieszka Holland, France)
1991    The Double Life of Veronique (Krysztof Kieslowski, Poland/France)
1990    Miller's Crossing (Joel Coen, US)
1989    Too Beautiful for You (Bertrand Blier, France)
1988    Women on the Verge of a Nervous Breakdown (Pedro Almodóvar, Spain)
1987    Dark Eyes (Nikita Mikhalkov, Soviet Union)
1986    Down by Law (Jim Jarmusch, US)
1985    Ran (Akira Kurosawa, Japan)
1984    Country (Richard Pearce, US)
1983    The Big Chill (Lawrence Kasdan, US)
1982    Veronika Voss (Rainer Werner Fassbinder, West Germany)
1981    Chariots of Fire (Hugh Hudson, UK)
1980    Melvin and Howard (Jonathan Demme, US)
1979    Luna (Bernardo Bertolucci, Italy/US)
1978    A Wedding (Robert Altman, US)
1977    One Sings, the Other Doesn't (Agnès Varda, France)
1976    Small Change (François Truffaut, France)
1975    Conversation Piece (Luchino Visconti, Italy)
1974    Don't Cry with Your Mouth Full (Pascal Thomas, France)
1973    Day for Night (François Truffaut, France)
1972    Chloe in the Afternoon (Eric Rohmer, France)
1971    The Debut (Gleb Panfilov, Soviet Union)
1970    The Wild Child (François Truffaut, France)
1969    Bob & Carol & Ted & Alice (Paul Mazursky, US)
1968    Capricious Summer (Jiri Menzel, Czechoslovakia)
1967    The Battle of Algiers (Gillo Pontecorvo, Italy/Algeria)
1966    Loves of a Blonde (Milos Forman, Czechoslovakia)
1965    Alphaville (Jean-Luc Godard, France)
1964    Hamlet (Grigori Kozintsev, USSR)
1963    The Exterminating Angel (Luis Buñuel, Mexico)


ABOUT FILM SOCIETY OF LINCOLN CENTER
Founded in 1969 to celebrate American and international cinema, the Film Society of Lincoln Center works to recognize established and emerging filmmakers, support important new work, and to enhance the awareness, accessibility, and understanding of the moving image. The Film Society produces the renowned New York Film Festival, a curated selection of the year's most significant new film work, and presents or collaborates on other annual New York City festivals including Dance on Camera, FC Selects, Human Rights Watch Film Festival, New Directors/New Films, New York African Film Festival, New York Asian Film Festival, New York Jewish Film Festival, Open Roads: New Italian Cinema and Rendez-Vous with French Cinema. In addition to publishing the award-winning FC magazine, the Film Society recognizes an artist's unique achievement in film with the prestigious Chaplin Award, whose 2015 recipient is Robert Redford. The Film Society's state-of-the-art Walter Reade Theater and the Elinor Bunin Munroe Film Center, located at Lincoln Center, provide a home for year-round programs and the New York City film community.The Film Society receives generous, year-round support from American Airlines, The New York Times, HBO, Stella Artois, The Kobal Collection, Variety, Trump International Hotel and Tower, RowNYC, the National Endowment for the Arts, and the New York State Council on the Arts. For more information, visitwww.filmlinc.com and follow @filmlinc on Twitter.Support for the New York Film Festival is also generously provided by Jaeger-LeCoultre, Fiji Water, and WNET New York Public Media.