Wilmington on DVDs: 21 Jump Street; Spider-Man; Spider-Man 2; Spider-Man 3; Erin Brockovich; Sister Act; Sister Act 2: Back in the Habit
21 JUMP STREET (Two  Stars)
U.S.: Phil Lord/Chris Miller, 2012 (Sony Pictures Home Entertainment)
Why is it that so many American movie-makers (scriptwriters mostly), are obsessed with going back to their high school years (in imagination, at least) and trying to make or imagine  a success of what was apparently, for many of them, and us, a horrible angst-ridden, sexually-repressed botch of broken hearts, frayed nerves. dictatorial teachers and abject humiliation? We were all Jonah Hills, presumably, but we wanted to be Channing Tatums. And guess what, according to 21 Jump Street, the Channing Tatums sometimes wanted to be Jonah Hills — at least after he lost a little weight.
      21 Jump Street, which is set up as a spoofy knockoff movie-ization of  the 1987-91 tv cop drama series about young DEA agents masquerading as highschoolers (the show that made a star of of Johnny Depp), is also another of that Peggy Sue Got Married–The Best of Times sub-genre of comedies about high school years revisited or redeemed. It's about how short, nerdy unpopular Morton Schmidt (Jonah Hill, of course) and studly ultra-popular jock-dumbo Greg Jenko (Channing Tatum, natch), who were once stud-vs.dweeb antagonists in some 2005 New Orleans high school, meet up again in cop training in 9012, and become cop-buddies — each supplying the brains (or brawn) the other guy lacks.
Sure. Sure. They're also assigned to what their boss, surly Captain Dickson (Ice Cube, in full snarl mode, with an old NWA song on the soundtrack) describes as a remake of an old, defunct program called — let's see, what is it, could it be, I don't know, 37 Jump Street? Give a hand to scriptwriter Michael Bacall for avoiding the obvious line, 69 Jump Street. Or 22 Jump Street. Or 21 Hump Street. Whatever. No matter. This is one movie that is refreshingly unafraid of all its own cliches or stereotypes, a show where one character, a full-of-himself drama teacher, insists "Embrace your stereotypes!" And does.
True to the template of buddy-buddy-cop comedies,  21 Jump Street (The Movie!) turns these two old enemies into fast friends — in a brand new post-John Hughes high school world where the dope dealers amd the Pineapple Express James Franco types are politically correct. (Dave Franco, James' brother, is Brit-inclined yearbook editor Eric Molson). In a maneuver that left me pretty bewildered, Schmidt and Jenko wind up getting mistaken for each other, and assuming each other's profiles, and assigned to each other's hand-picked (by Dickson) course schedules (Jenko takes science; Schmidt takes drama.) when it might have been fairly easy, at first, to just straighten out the mistake. (Not that it should have been straightened out, but, for the good of the story, somebody should have tried and failed. )
These brothers in narcdom also set up housekeeping, as fake brothers, in Schmidt's semi-quasi-palatial suburban home (his eccentric parents, Caroline Aaron and Joe Chrest, have his photos all over the walls), and throw wild high school parties there, complete with dope they borrow from the evidence room. Now, it might seem that many people in the neighborhood, relatives, acquaintances, a number of alums from the guys' old school, would easily notice something awry here, or at school, But amnesia seems to have afflicted the neighborhood, or at least  Bacall's script. Schmidt and Jenko also spend a lot of time racing out of their classes to help each other out, and Schmidt ditches the opening performance of the schoool play Peter Pan (in which he has the title role) to pursue the dope gang headed (it seems) by hip-hop Domingo (DeRay Davis) and somebody who looks like ZZ Top unplugged.
Wait a minute. We forgot sex. Schmidt, the one time loser, strikes it rich with the movie's Renee Zellweger look-and-sound-alike Brie Larson as his fellow drama student Molly., while ladykiller Jenko has to content himself with a science teacher out of Bridemaids (Ellie Kemper). There are also jokes where a surprise villain gets his penile implement (dick for short) shot off in a gunfight, and then has to pick it up with his teeth. (Farrellys, eat your hearts out.) I didn't laugh.   But the fact that I found it not very funny, not very entertaining, visually scrappy, and full of dopey scenes that made little or no sense will count for little or nothing here in Box Office Mega Land.
"Well anyway, that's the whole point," 21 Jump Street partisans may say: It's supposed to be full of stereotypes and dopey scenes that make no sense. That's entertainment! The movie is a spoof of a sendup of a satire of a knockoff: a satire of itself as well as of movies in general, and even of critics. 21 keeps knocking itself before you/we carpers can unload on it. This movie knows that it's a stupid movie. It's knowing, funny, dumb-like-a-fox stupidity and deliberately stereotypical and not just the stereotypes we see all the time.
Well, yeah, granted. Okay. Maybe. I guess. Ya think? I'm perfectly willing to concede that, where this movie is concerned, I'm on the wrong wavelength. Maybe it's really the Adaptation of TV series knockoffs. But it still seemed a waste of  time for the audience, for Jonah Hill, for Channing Tatum, and even for Johnny Depp and Peter DeLuise. (Oh, wait a minute: Spoiler Alert, End of Spoiler, ah the hell with it. At least Depp is a good sport about this movie. And at least he didn't send over, in his place, the Johnny Depp impersonator from Tim and Eric's Billion Dollar Movie.)
21 Jump Street has been directed by Phil Lord and Chris Miller, the writer-directors of the cartoon feature Cloudy with a Chance of Meatballs, and written by Bacall, who scripted the fairly funny Scott Pilgrim Vs. the World. I'm perfectly willing to give them all the benefit of the doubt.Maye something horrible happened and this show was the result.  But then high school was a horrible, humiliating time, wasn't it? So are a lot of  movies.
Extras: Commentary with directors Lord and Miller and the cast; Featurette; Deleted scenes.
Spider-Man" (Blu-ray) (Three and a Half Stars)
U.S.; Sam Raimi, 2002 (Sony,
"Spider-Man 2" (Blu-ray) (Four Stars)
U.S.; Sam Raimi, 2004. (Sony)
  "Spider-Man 3" (Blu-ray) (Three Stars)
U.S.; Sam Raimi, 2007. (Sony)
The first three episodes of what many aficionados regard as the best of all superhero comic movie series: Sony and Marvel's smashingly exciting, surprisingly emotional adaptation of Stan Lee's comic book masterpiece.  Here, sumptuously produced, is the continued tale of angst-ridden teen turned journalist Peter Parker (Tobey Maguire) and his alter-ego, the web-slinging, skyscraper-scaling, supervillain-bashing, super-costumed Spidey and his friends and enemies, played by a stellar gallery that includes Kirsten Dunst (M.J.), Rosemary Harris (May), JK Simmons (JJJ), Alfred Molina (Doc Ock), and Willem Dafoe (Goblin).
The first two Spider-Man movies were such smash critical hits (Spider-Man 2, co-scripted by Alvin Sargent, has been hailed as the acme of the whole genre, until The Avengers), that an inevitable backlash plagued the vulnerable and tearful Spider-Man 3.  (Seen by itself, most critics would have probably liked it fine – just as the public liked all three).  But some smasheroos deserve their popularity and this is one (excuse me, these are three) of them.  (Also available: the Trilogy in HD.)
Extras: A Mother lode.
ERIN BROCKOVICH (Universal 100th Anniversary edition) (Blu-ray/DVD/Digital copy) (Three and a Half Stars)
U.S.; Steven Soderbergh, 2000 (Universal)
Based on real life, and starring Julia Roberts, the only movie actress I dreamed about for the whole decade of the 2000s, this is the story of Erin B., a feisty para-legal who goes up against corporate greed, power companies, and dangerous water pollution — and wins. (Now she should tackle health care and the insurance industry, so they don't ruin any more lives.) Scripted by Susannah Grant; co-starring Albert Finney (as Erin's salty attorney boss, Ed Masry),  Aaron Eckhart (as a biker boyfriend), and, in a cameo as a waitress, the real Erin Brockovich. A stirring film.
As for comparisons with Soderbergh's 2000 best-director Oscar-winner Traffic, released the same year as Erin Brockovich, and rewarded at the same Oscar Night ceremony,  it's excellent too, though Brockovich moved me more. And I prefer to the American Traffic, the original British mini-series, "Trafik." And I prefer Julia Roberts to many other moivie actresses (so did Ingmar Bergman, another Roberts fan), as well as to all of our current corporate polluters — who are also, no doubt,  heavy political contributors (and could use an Erin Brockovich on their tail.
SISTER ACT:  20th Anniversary Edition (Three Discs) Overall rating: Two and a Half Stars)
U. S.: Emile Ardolino/Bill Duke, 1992-3 (Touchstone/Walt Disney).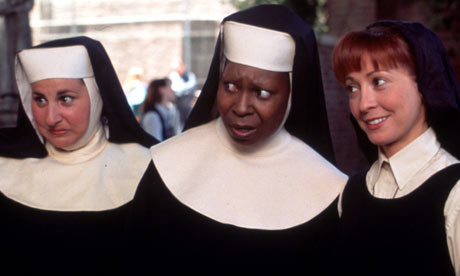 Two tries at a glossy mix of comedy, sentimentality, gangsters, religion and music, with Whoopi Goldberg as a brassy lounge singer hiding in a convent from the Mafia, and proceeding to jazz up the nunnery and the choir. The first one works, the second has too much sassy piety and auto-pilot writing.
Included: Sister Act (U.S.; Emile Ardolino, 1992). Three Stars. With Goldberg, Maggie Smith, Harvey Keitel, Bill Nunn and Mary Wickes.
Sister Act 2: Back in the Habit (U.S.; Bill Duke, 1993) Two and a Half Stars. With Goldberg, Smith, Wickes, Jim Coburn and Michael Jeter.