Wilmington on Movies: The Skeleton Twins
THE SKELETON TWINS (Two and a Half Stars)
U.S.: Craig Johnson, 2013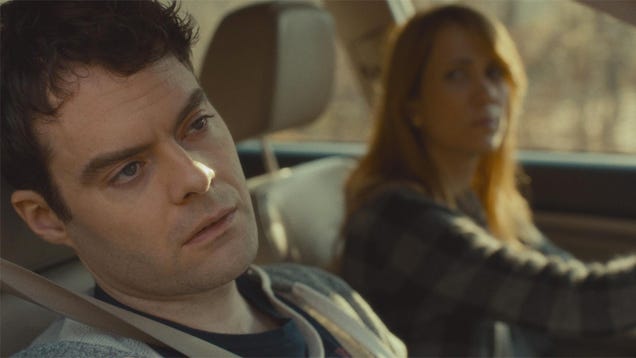 Many American  plays and movies about families are horror stories of a sort. That's true of some of the masters of the form, like Tennessee Williams and Arthur Miller and Eugene O'Neill—and it  also goes somewhat for Craig Johnson's The Skeleton Twins, in which Bill Hader and Kristen Wiig, two brilliant comic actors taking a whirl at drama,  play a pair of New York-born  suburban twins, Milo and Maggie, who've been alienated for a decade (since their mid-'20s) and are now drawn together by what was very nearly a double tragedy: near-simultaneous near-suicides of both because of unhappy love lives.
These two haven't talked for ten years, and they live on opposite coasts — Milo is an actor (or would-be actor) in L. A., and Maggie is a dental assistant back in New York. But Milo's near death (he slits his wrists, while the more skittish Maggie merely contemplates some sleeping pills), convinces his sister that they should try to rekindle what was once apparently a warm and loving and mutually supportive relationship.  So Maggie and her amazingly tolerant and almost outrageously understanding husband Lance (Luke Wilson) bring the recuperating Milo back to his old home town, where, back in his teens, he triggered a local scandal, and caused the schism with his sister, by having a gay affair with his English teacher, Rich (Ty Burrell, of Modern Family).
You'd expect Milo to be grateful, or at least appreciative, for this gesture by Maggie and Lance of familial love and solidarity, But writer-director Johnson and his co-writer Mark Heyman have written Milo as partly a show-stopping comic part:  a cute, bitchy, smarty-pants wise-cracker, whose first big routine involves making fun of the dead doggie in "Marley and Me." Milo is also somewhat reckless sexually. When  he comes home, the prodigal tries to hook up again with his old mentor-lover Rich the Teach (a fatherly type who gets thrown into a tizzy by the attempted reconnection). Milo also cheerfully acts to undermine and sabotage what seems to be the fairly simpatico relationship between his sis and her kind, good-natured hubby. Maggie has been cheating on the estimable but seemingly clueless Lance for years, and she's currently, and guiltily, sneaking off with her studly scuba diving instructor,  Billy (Boyd Holbrook), an aggressive Aussie  who could be honestly described as a randy asshole.
The movie, which was a hit at Sundance, and has been a critical hit here,  is about how, in the face of all these dramas and traumas and conflicts, Milo and Maggie realize how much they need each other — because they understand each other, because the read each other's minds and finish each other's sentences, because they have the same kind of sense and humor and the same danger-laden sexual venturesomeness — and, most importantly, because they can karaoke the living daylights out of (Jefferson) Starship's 80's anthem of fortitude and perspicacity, "Nothing's Gonna Stop Us Now."  (If there's any pressing need to see The Skeleton Twins, it's to watch what Hader and Wiig do with this rousing number, the movie's inarguable high point.)
Anyway, The Skeleton Twins, whatever its flaws, is a real actors' show and it's a pleasure to see actors as good as Wiig and Hader and Wilson and Burrell and the others enjoying themselves and their parts so much. But I've got to say that I think the movie, which has been pretty generally hailed as a  ground-breaking drama-comedic triumph for Saturday Night Live vets and old pals Hader and Wiig, a triumph for Johnson, and one of the year's best movies so far, is being overrated. The show's script, which won Johnson and Heyman a Sundance Waldo Salt screenwriting award,  is  crisp and snappy and fairly humane. But it's almost totally unsurprising — and occasionally over-preachy in a reverse-logic kind of way.  If you can't pretty much guess everything that's going to happen in the first ten minutes of  The Skeleton Twins,, then you've probably been reading too many books like "Marley and Me."
This movie is a "you-and-me-against-the world-babe" sort of story, of the kind that began to be popular back in the early '60s — except that here the funny, alienated couple are brother and sister, and the brother is gay. And even though it's not necessarily bad to give an audience what they expect and want, The Skeleton Twins is sometimes, like Milo, a little too smart-ass. In the beginning, Milo at times doesn't act much, I thought, like someone who just tried to shuffle off  a mortal coil or two. He acts like a cute, bitchy, smarty pants show-stopper — someone who's far more clued in and in-the-groove than his laughably good-natured brother in law, his laughably new-agey mom (Joanna Gleason), his laughably promiscuous and secretive sister — and even such laughably  so-called great American novelists as Herman Melville, who gets a wise-cracky going-over from Milo, when Milo's laughably hero-worshipping ex-lover Rich, praises the author of "Moby Dick" to the skies (deservedly, I thought), while Milo (presumably with the screenwriters' approval), blasts this great dark epic book and its wondrously gifted, gutsy author, for all its unnecessary whaling lore and technical data (exactly, by the way, what a cliché-friendly Hollywood executive would dislike) and bitch-slaps Herman Melville's writing (in which some scholars have detected homoerotic elements)  as "pretentious."
SPOILER ALERT
Milo lost me at that point — and the movie lost me later on, when it matched its thoroughly implausible opening (the twin near-suicides), with an even more implausible climax: Maggie tries to kill herself, again, by hurling herself, with weights,  into a seemingly deserted gym pool, only to be rescued, in the last second, by Milo, who comes racing in like Rin Tin Tin. Or maybe Marley.
END OF ALERT
Both Hader and Wiig have been hailed for displaying their usual high-level comedic specialties, but also for hitting the film's darker, more dramatic elements. And, in many ways, they deserve the praise. But I would have been happier if Wiig had been given even more acting room by that script. I also would have been happier if The Skeleton Twins had been a fraction kinder to Joanna Gleason's cliché-spouting mother Judy, or if Judy had been funnier, or if Lance hadn't been dumped from the movie right after he learns the truth about Maggie. (Would this seemingly fairly smart guy really have been that incognizant all these years of her affairs?) And I would have been happier without that slam at Melville and "Moby Dick." The movie is very compassionate toward the twins, but not always toward the people and world around them.
I'm being nasty, I guess. (But then why not? It pays.) The Skeleton Twins is no classic family dramady (though it would like to be one). But it's better than more than a few of the movies we see these days, a fairly sparkly show with a very good cast and with big, warm, crowd-pleasing performances. As for Herman Melville, maybe I'm being too protective. After all, almost none of the audience who hears Milo trash one of the greatest American novelists —  a major artist who spent most of his life as an outsider and an underpaid  public servant, and deserves better than he gets  from these (I suppose) high-living Hollywood cut-ups — will have read the book anyway. More of them will probably have read "Marley and Me." And they certainly won't be eager to pick up "Moby Dick"  after hearing Milo's tart dismissal.
Now, if Melville were a writer worthy of a Waldo Salt award, maybe he would have found a 19th century Gracie Slick and livened up Moby Dick by churning out something like "Nothing's Gonna Stop Us Now" — which might be a perfect number for Captain Ahab, Ishmael, Queequeg and Starbuck, as they all chase the great white whale and karaoke down to Davy Jones' Locker. By the way, that's Starbuck, Ahab's second-in-command, not Starbuck the coffee-shop.